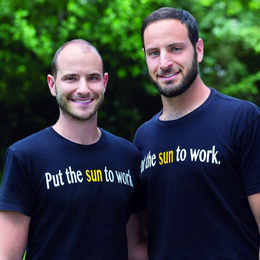 Sponsored Content: Put the Sun to Work
After years of working for others in the solar industry, Rob Warren knew he could do it better. He envisioned a small company with better quality control and better customer service.

So, four years ago, Rob decided it was time to venture out on his own and open his own South Jersey based residential solar company he named Impact Solar. He also knew that he couldn't run the business by himself. He had to rely on his family for support, especially one of his fraternal triplet brothers, Sam. Now Impact Solar's project manager Sam, left his corporate job in New York City to help Rob launch and grow Impact Solar.
Impact Solar, a full-service solar provider servicing New Jersey is small by design to ensure a high level of personalization and customer service with each system. With over 35 years combined experience among its small five-person team, Impact Solar has completed more than 200 installations since its inception in 2015. Rob is the lead designer and installer and will work with clients to find a solution, no matter their unique circumstances.
"To me, having Rob, my brother, as my partner-in-crime, has been rewarding. In fact, while yes, we are doing good for the Earth, working with and for my brother has been the most rewarding part," Sam says. "Leaving corporate America, you build all these relationships. But nothing beats the bond of a family member."
Because of their strong bond, Rob and Sam find that working together comes naturally. Although being siblings inevitably leads to having disagreements, Rob says that there is nobody he trusts more than his own brother to work in accounting, payroll and on other office tasks.
Having a family-owned business is nothing new for the Warren family. The two come from multiple generations of family owned- businesses. Their father, who is a surgeon, shared a practice with their mother; and their grandfather, also a physician, worked alongside their grandmother.
"Being in business together came easily for us, because it's in our DNA. We've seen how well it has worked through different generations in our family," Sam says.
The Warrens hope that their clients understand there will be no surprises when it comes to their purchase; the system itself, how it looks and the expected savings. "Working with us, you can get big company results while supporting a small, local, family-owned business," Rob says. "Clients get my number and Sam's number, as there's no middle management. The project doesn't get passed off to different people; it's two people working on projects, ensuring that there are no mistakes and that each customer is handled by us."
Contact Info:

202 Glenwood Avenue, Haddonfield
888-251-1676 |
Rob@ImpactSolarNJ.com
ImpactSolarNJ.com
To read the digital edition of South Jersey Magazine, click
here
.
Published (and copyrighted) in South Jersey Magazine, Volume 16, Issue 4 (July 2019).
For more info on South Jersey Magazine, click
here
.
To subscribe to South Jersey Magazine, click
here
.
To advertise in South Jersey Magazine, click
here
.