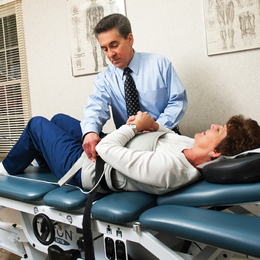 Sponsored Content: Where Do I Go When Back or Neck Pain Strikes?
Why people are turning to chiropractic treatment for their spinal symptoms.
"In my practice, there are an ever increasing number of patients who are medical physicians, physician family members, and patients referred to my office by physicians," says Dr. Michael O'Keefe, founder of O'Keefe Chiropractic Center in Medford. "Chiropractic treatment, once considered alternative care, is now becoming mainstream in its approach."
Millions of people on a daily basis need an answer to the question of where to go when back or neck pain strikes. You may have debilitating back, leg, neck or arm pain, or maybe you suffer from chronic stiffness and restriction in your spinal motion; whatever your spinal symptoms, a recent policy bulletin put out by United Healthcare Optum Health is recommending that patients initiate their care with a conservative intervention like chiropractic.
"When back or neck pain occurs, the experience is frightening and disabling, patients find themselves limited in daily activities such as sitting, walking, driving and even sleeping," says Dr. O'Keefe.
"When patients present to our office with these symptoms we take a careful and thorough history. We perform a physical examination, emphasizing movement of the spine and extremities (orthopedic exam). We also evaluate nerve function (neurological exam)—this would include an assessment for weakness, numbness or lack of function in the arms or legs. If your condition indicates, imaging studies will be arranged that may include X-ray or MRI. The most important part of a patient evaluation is to make an accurate diagnosis, that is to say we need to know what is causing the pain, and then we can begin to treat you."
A recent study published in the medical journal Spine, found that patients who seek chiropractic care for back pain are less likely to undergo surgery. Approximately 43 percent of patients who saw a surgeon first for treatment ended up having surgery, as opposed to 1.5 percent of patients who first saw a chiropractor. According to Dr. O'Keefe, these findings support the long-held position that many health care providers subscribe to, that treatment for back pain should begin with conservative approaches, such as chiropractic care.
"Our practice specialty is treating patients with DTS spinal decompression for back and neck disc degeneration, disc herniation, and leg and arm pain that will many times accompany a disc condition," says Dr. O'Keefe. DTS decompression therapy utilizes computer modulated comfort-based traction to relieve pain associated with disc conditions of the spine. DTS decompression therapy is not a standalone application. "We also support this therapy with modalities such as muscle stimulation, laser therapy and muscular applications such as therapeutic exercise," he continues. "We also utilize manual therapy techniques performed on specially designed manipulation tables that allow for painless manual correction. Our specialized treatment tables allow for correction with no pain."
At O'Keefe Chiropractic, the doctors don't just treat the symptoms of pain; they treat the root cause, and aim to return patients to their normal lifestyle. "Our goal is to relieve pain, which is what brings them to our office, but in that process we are also looking to improve the functionality of the spine so the patient can begin to assume normal daily activities without continual reoccurrence of pain brought on by a non-functioning or dysfunctioning spinal column," says Dr. O'Keefe.
Having suffered through her life with mild issues like scoliosis and back spasms, Denise Farnath-Alber, MD, made matters "drastically worse" when she herniated two discs. Her property was damaged by Hurricane Sandy, and the injury occurred while lifting heavy items in the cleanup process.
"It got to the point where I could not drive it was so bad," she says. "I was looking at the possibilities of taking time off from work until I saw Dr. O'Keefe and he saw my need was urgent and he took me right away."
Dr. Alber has been practicing ophthalmology for 29 years and is the past president of the New Jersey Academy of Ophthalmology. As a fellow physician, Dr. Alber felt comfortable with the full evaluation Dr. O'Keefe conducted, including ordering an MRI to make sure that surgery wouldn't be a better option.
"He was very conscientious in terms of not being aggressive with treatment until I had a proper diagnosis with orthopedics," she says. "It helped me feel comfortable that a correct diagnosis was made."
Dr. O'Keefe recommended some changes to her daily life, like wearing a back brace during work and no heels, but shoes with better support. He began with treatment modalities that ranged from back manipulations to electric stimulation. He felt she was also a candidate for DTS therapy, which would help relieve disc pressure.
Dr. Alber says her pain is always immediately relieved after seeing Dr. O'Keefe. "He has really helped. Without him, I don't know if I would have been able to work," she says. "I would highly recommend him, especially if medical therapy is not relieving your pain."
Michael Albert-Puleo, MD, first sought care from Dr. O'Keefe 25 years ago. The family physician says he was encouraged by another doctor to see him. "I had been dealing with back problems and ended up throwing my back out," Dr. Puleo says. "I was in severe pain. It was affecting me at work. I have facet syndrome, and my back will lock up. I had been just dealing with the pain for a long time. I should have gone sooner to see him."
Dr. Puleo would typically manage the pain with Motrin or Aleve and it only helped a little. "There was a point, in my late 30s-40s, where I didn't know if I could go the rest of my life with this pain," he says. "Dr. O'Keefe did spinal manipulations, and it's given me more motion and less pain. I'm able to do more. I go in now for maintenance, once every six weeks. If I find myself getting to the point where I can feel things are heading in the wrong direction, I know where to go. For me, the results have been excellent."
The mindset of treating chiropractic as alternative medicine is outdated, says Dr. Puleo. "I don't think it's alternative … it's mainstream," he says. "It's recognized by the Veterans Administration and Medicare. I'm not sure why this would still be considered alternative. My dad was a doctor and used a local chiropractor for certain things, but I think some MDs looked at them as competition, but I think if you find a good one and you have a back problem, chiropractic can be helpful."
And it fits with Dr. Puleo's personal approach to treating his own patients. "I like to start with a nonsurgical or noninvasive approach, if appropriate. I look at myself as a quarterback or train director. I do what I can do for my patients and if I can't do something to help, then I might refer them to Dr. O'Keefe for certain problems," he says. "He is conscientious and ethical and sticks to cutting-edge chiropractic treatment. If he can't help, he will tell the patient. But I would say 80 percent of my patients get better with him, which is a pretty good record. Some patients I've had to twist their arm, but they come back and are impressed with how scientific he is."
For more information on DTS spinal decompression therapy, visit OKeefeChiropractic.net, and click on the DTS icon on the home page and then click on the DTS video. You can also call to speak to one of the doctors or schedule a consultation to discuss your condition.
O'Keefe Chiropractic Center, P.A.
Dr. Michael J. O'Keefe

Dr. David L. Jones

99 Taunton Road, Medford
609-654-4299 |
OKeefeChiropractic.net
To read the digital edition of South Jersey Magazine, click
here
.
Published (and copyrighted) in South Jersey Magazine, Volume 16, Issue 2 (May 2019).
For more info on South Jersey Magazine, click
here
.
To subscribe to South Jersey Magazine, click
here
.
To advertise in South Jersey Magazine, click
here
.