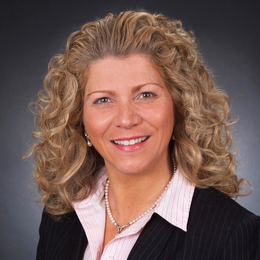 Sponsored Content: Protective Instincts
Whether in the Air Force or her career in real estate, Cathy Hartman of Keller Williams has always been committed to looking out for others.

Growing up in a large family with three siblings, Cathy Hartman was always considered the protector of the group. In times of trouble, everyone knew exactly where to turn.
"I'm a giving person by nature," she says. "I've been that way since I was very young. I've naturally always been 'the problem-solver' who tries to always help people out in times of need."
Not surprisingly, her protective instincts—along with a strong sense of patriotism—led Hartman to dedicate over 12 years of her life to help protect our country. After 9/11, she felt compelled to serve in some capacity and her commitment led her to two tours in the Air Force as an Intelligence Specialist during the War on Terror in the Middle East. She earned several medals during her military career and is very proud to have had the opportunities that were afforded her.
After returning from abroad with her respective military tours, she moved into a civilian role at the joint Base McGuire-Dix- Lakehurst. She has proven to be a fighter both professionally and personally as she is also now a cancer survivor. Unfortunately while in the Middle East, she was diagnosed with stage 2 melanoma skin cancer and is now a disabled U.S. Air Force Veteran.
Hartman was not going to let this slow her down, however, and as fate would have it, she was led to a different career path. She has successfully gone from being a war hero (serving and protecting all Americans) to now serving and protecting the best interests of all of her real estate clients.
In 2005, Hartman became a licensed realtor and immediately emerged as a top producer in the first full year of her new career and is currently an agent with the Keller Williams office in Moorestown. She has successfully transferred the skills she learned in the military to real estate and works tirelessly to protect her clients in every step of the buying and/or selling process.
"I have a lot of drive and discipline from being in the military, and I'm meticulous with getting things done," she says. "I want to make sure my clients are getting the best service during the entire process. From start to finish, I'm very involved and protective of anyone who comes into my world."
That bulldog tenacity is especially helpful at the negotiating table. Whether she is representing buyers or sellers, Hartman knows that the transaction is usually a major life event for her clients, and she strives to get them the best deal possible.
"Protecting my clients' interests and assets is extremely important to me," she says. "That's why I push for extra things in home inspections or closings or look for credits whenever possible. Not everyone is able to do that, but I love negotiating."
Another benefit Hartman brings to her clients is her expertise in home staging. Even before entering the real estate field, she trained in California under Barb Schwarz, the creator of the home staging industry. Upon completion of Schwarz's course, she was the first master accredited professional home stager in this region.
Shortly after earning that designation, Hartman was hired by a realtor in North Jersey who was having complications with one of his listings.
"The house was listed at $1.5 million; it was on the market for five months and they couldn't sell it," Hartman recalls. "I staged the house and within three days, they got an offer for $1.6 million—$100,000 over the asking price. That was the turning point for me. I realized how much of a positive impact I had in the transaction and the value I provided to the homeowner. At that point, I knew this was a natural profession for me as I had the ability to meld the two talents (staging and selling homes) into a very rewarding career helping people get the best results."
Now, instead of charging her clients thousands of dollars for her home staging techniques, she offers them as a complimentary service. It is not uncommon for Hartman to help a client pick out furniture or paint colors that will make their home enticing for a buyer.
"That makes a huge difference," she says. "When people walk into a house, they might not be able to express it or verbalize it, but they just know when it feels right. Staging is all about balance and having everything in proportion. Fortunately, I have an eye for it."
A Philadelphia native who has been living in South Jersey for nearly 40 years, Hartman has a strong knowledge of the desirable neighborhoods throughout the area. Although she has worked with clients from the Shore all the way to North Jersey, she is especially fond of her home county.
"Personally, I think Burlington County is the best bang for your buck in terms of real estate in our area," she says. "Be- tween the schools, property values, open space and taxes, Burlington County is very appealing."
Hartman is currently looking to expand her team, which includes fellow agent John Laskowski and licensed assistant Nicole Miller. Anyone who works with her will learn that customer service is of the utmost importance—Hartman believes in being accountable and making sure every deadline is met and every contract is scrutinized carefully so the client's best interests are always being protected.
"Clients appreciate that I'm available, honest and upfront," she says. "When I walk into a house, I examine it with a professional eye, checking for any potential problems that could arise. I'm not emotionally attached to a home, as my clients often are.
"I want to make sure that nothing was overlooked and they're buying a good in- vestment as well as their dream home. I look out for them the same way I would for myself or my own family."
When Hartman is not tirelessly working for her clients in some capacity, she enjoys her volunteer work with various organizations that are very important to her. These include, but are not limited to C.A.S.A (for children), the YMCA, various local animal shelters and many others, especially any- thing that would benefit her fellow Veterans in our area.
Clearly she is the type of person who embraces everything life as to offer and dedicates every day to living it "to the fullest," helping as many people (and animals!) along the way.
Cathy Hartman | Keller Williams Realty
513 S. Lenola Road, Moorestown
856-316-1100 |
HomesByCathyHartman.KWRealty.com
To read the digital edition of South Jersey Magazine, click
here
.
Published (and copyrighted) in South Jersey Magazine, Volume 16, Issue 2 (May 2019).
For more info on South Jersey Magazine, click
here
.
To subscribe to South Jersey Magazine, click
here
.
To advertise in South Jersey Magazine, click
here
.