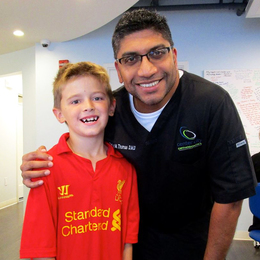 Sponsored Content: Inspired to Make a Difference
Dr. Tejjy Thomas benefitted from life-changing orthodontics as a child, and now he is doing the same for South Jersey patients at Center City Orthodontics, Cherry Hill.
Dr. Tejjy Thomas occasionally has a conversation with his friends in which they discuss the alternate career paths they would choose if given a second chance. He does not have much to offer to this discussion, however, because aside from world-famous soccer star, he can't imagine being anything other than an orthodontist.
"I've thought long and hard and there's just nothing else that comes to mind," he says. "This is my life's calling."
Dr. Thomas was fortunate to come to that realization at an early age. He can relate to many of the children and adults who walk into his office, because he was once in their shoes.
After undergoing life-changing jaw surgery with orthodontic treatment, he knew he wanted to make a difference in people's lives the way his orthodontist had made in his.
"I had orthodontic reconstructive surgery when I was a teenager, and that totally changed my life," he says. "It increased my self-esteem and made me more confident. I decided that I wanted to be an orthodontist, and all these years later I get to do that for my own patients."
Now Dr. Thomas is getting a chance to bring his life-altering skills as an orthodontist to even more people. He founded Center City Orthodontics in Philadelphia six years ago, and recently expanded to South Jersey with the opening of a second location in Cherry Hill.
He is thrilled to be extending his reach to more patients hoping to discover their smiles.
"We had patients coming to see us in Philadelphia from Cherry Hill and they were always telling me we should open an office across the bridge," Dr. Thomas says. "We never expected it to happen, but about a year ago an orthodontist was getting ready to retire and sell her practice. We heard about it and thought it was a great opportunity to get into the South Jersey community. So we did and it's been a great experience so far."
Dr. Thomas earned his doctorate in dental medicine from the University of Pennsylvania, graduating with honors. After several years of working as a general dentist he returned to the University of Pennsylvania for his post-doctoral training in orthodontics and dentofacial orthopedics. He remains affiliated with his alma mater and continues to teach as a clinical associate faculty at present. Dr.Thomas is also currently the President-Elect of the Pennsylvania Association of Orthodontists.
He was inspired to start his own practice and wanted to focus on clinical excellence and the patient experience. He is proud that Center City Orthodontics does the most number of surgical orthodontic cases in the Philadelphia and South Jersey area and he attributes this to the effect that surgical orthodontics had on his own life.
An added benefit has been the proliferation of adult patients at his practice, many of whom take advantage of his status as an "Invisalign Diamond Provider." "Adult orthodontics has seen a surge
in the last few years," he says. "As you can imagine, a lot of adults don't want to wear traditional braces, for many different reasons. With clear aligners like Invisalign we are able to provide the same standard of care and it is more appealing to an adult."

Along with Dr. Courtney Rubin, Dr. Thomas is supported by a dynamic and skilled team. They know that trips to the orthodontist can sometimes be stressful for patients of any age, and go above and beyond to make their guests feel comfortable.
"The practice is not just me," Dr. Thomas says. "I have a phenomenal team with me, both in Philadelphia and Cherry Hill. Everyone plays a role and I have to give credit to them. That's what makes our practice."
Center City Orthodontics' influence extends past the walls of the office. Despite being new to South Jersey, Dr. Thomas has already become active in the community, and his practice is the sole sponsor for the Cherry Hill Soccer Club.
"I'm a former soccer player myself so I'm a little biased toward soccer clubs," he says. "Working with Cherry Hill Soccer Club has been an amazing experience. It's important to give back to the community in any way that we can, and sponsoring clubs and promoting activities is a big part of that."
Dr. Thomas has also made philanthropy a priority in his life. For several years he has been donating his time and expertise to Smiles Change Lives, a nonprofit based in Kansas City that provides braces for children who can't afford them.
"We're their biggest provider in Pennsylvania and now that we're in New Jersey we're hoping to do the same thing there," Dr. Thomas says. "We take one child every month and do their entire orthodontic treatment for free. A lot of these kids, from a financial standpoint can't afford orthodontic treatment. So we're lucky that we're able to give back and make an impact."
Dr. Thomas is also a medical volunteer with Operation Smile, an international organization that performs free cleft lip and palate surgeries around the world. He hopes to continue making a global impact going forward, but is also committed to making a difference in his own backyard by starting his own foundation. So that is what is in the pipeline for 2020.
"The feeling you get when you have made a positive impact in someone's life never gets old. It makes it all worthwhile."
Center City Orthodontics
411 Route 70 E., #103, Cherry Hill
856-429-9419 |
CenterCityOrtho.com
To read the digital edition of South Jersey Magazine, click
here
.
Published (and copyrighted) in South Jersey Magazine, Volume 16, Issue 2 (May 2019).
For more info on South Jersey Magazine, click
here
.
To subscribe to South Jersey Magazine, click
here
.
To advertise in South Jersey Magazine, click
here
.