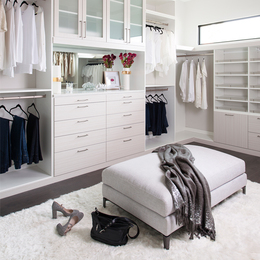 Sponsored Content: Keep it Contained
Closet & Storage Concepts stands out by offering a variety of organization designs for a unique finished product.

As the brunt of winter winds down and the weather begins to heat up, it will be the perfect time of year to open the windows, let the fresh air in and get a head start on spring cleaning. But it's more than using the mop and broom to carry out a deep clean. Organization is certainly one of the most important aspects of giving the home a fresh look. After all, you have summer barbecues and get-togethers to look forward to and you never want to give off a cluttered appearance to guests.

That's where Closet & Storage Concepts comes in, providing every one of its clients a unique design with an effortless transformation no matter the room in the house. Whether it's a closet, home office, bedroom wall bed, pantry, utility room or garage you're looking to arrange, Closet & Storage Concepts takes away the headache of organizing and makes it enjoyable to tidy up the home.

Today Closet & Storage Concepts is a national franchise in 18 states with 41 locations, but it began as a small South Jersey closet company that offered the only closet organization design that was available over 30 years ago—simple shelving and bars to hang clothing. After about a year of doing closet design on the side, president and CEO Bob Lewis started the business in 1987 and has been expanding the brand and products ever since.

When a client chooses Closet & Storage Concepts, they can expect nothing but professionalism and a hassle-free process. The team offers a free in-home consultation to every customer and always meets with the homeowner first, whether it's at their home or at a showroom, to discuss space utilization.

"We ask a lot of probing questions [such as] what do you use this closet for; what's most of your wardrobe comprised of; let's count your shoes; let's measure your clothes," Lewis says. "We literally go through a needs assessment with every single client. Then after we've gone through that process, we custom design a solution for that unique customer and their unique needs."

The showroom location in the Marlton Crossing shopping center is one of the newest additions to the franchise and lets clients see a glimpse of how their finished product could look. The Marlton showroom has 16 displays including a walk in closet, a reach-in closet, a garage system of cabinetry and tool hooks, a pantry organizing system, an entertainment center and five wall bed styles. In addition to those displays, the showroom also has accessories and hardware options with different finishes to choose from.

"Every solution we create is custom designed, and custom manufactured and custom installed by our own people. We own our manufacturing facilities, we don't sub-contract anything out [to] anybody," Lewis says. "We build everything ourselves in our own factories. … Every installer who brings the product into the consumer's home and installs it is a company employee."

Installations on average take about one day to complete and when the process is over, the Closet & Storage Concepts team asks every client to complete a satisfaction survey along with a follow-up phone call regarding their experience. They want to guarantee each client receives a quality customer experience.

"We're not trying to sell square pegs to fit in round holes. We're not saying this is what we offer, this is the size of the cabinet and take it or leave it," Lewis says. "We're meeting with every client, we're designing the solutions based on the customer's needs and wants and then custom manufacturing everything ourselves, so we control the process; we control quality. There's no middle man markup where we're buying it from a manufacturer who's making a profit, so we're priced more competitively."

As far as where Lewis sees the business going in the future, the company will continue to evolve into working with other areas of the home, and the business will grow as more finish options become available.

"Wall beds, for example, [are] the hottest category in our business right now," he adds. "It's growing faster than any other category. I think part of the reason is that you've got a lot of baby boomers who are downsizing when their children have grown and left the home, and so they're looking for flexible spaces."

Lewis also sees Closet & Storage Concepts expanding in the retail showroom area. He started the business when showrooms weren't much of a concept for closets. "Today, with all the different finish options and all the different hardware and styles/ accessories, you need a showroom for that consumer to be fully informed about what's available to them," he says.

Closet & Storage Concepts
207 Route 73 S., Marlton
856-457-6709 |

ClosetAndStorageConcepts.com



To read the digital edition of South Jersey Magazine, click

here

.



Published (and copyrighted) in South Jersey Magazine, Volume 15, Issue 12 (March 2019).

For more info on South Jersey Magazine, click

here

.
To subscribe to South Jersey Magazine, click

here

.
To advertise in South Jersey Magazine, click

here

.