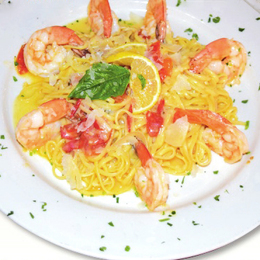 Sponsored Content: Joe's Pizzeria & Bistro
Where a passion for food and people meet.

If the strip mall—the Shoppes at Elmwood off Route 70 in Marlton—were a crown, thenJoe's Brick-Oven Pizzeria & Bistro would be the gem.

Open daily with an extensive menu that offers much more than pizza, hence the word "Bistro" in the name, owner and self-trained restaurateur, Joe Casale, runs the establishment with a double helping of passion for both food and people.

"Everything we do here is done the best we can do. I hand pick and train the staff, I select the ingredients and I am here every day," says Casale.

And for Casale, who also owns an establishment with the same name on the boardwalk in Wildwood, you might think food was his first love, but you'd be wrong.

"I grew up in Cinnaminson. As kids, all my friends worked in the restaurant or food business. But I was a motorhead; a mechanic. That's what I enjoyed," says Casale.

But opportunity knocked and, in this case, opportunity presented itself when a childhood buddy told Casale of a pizza joint for sale on the boardwalk. Casale, who has an uber-confident entrepreneurial spirit, purchased the place without seeing the interior. "It was on the boardwalk. What else did Ineed to know?" he says.

That was almost 10 years ago.

In the spring of 2016, he spotted the closed Pizza Hut in the Shoppes at Elmwood and well, opportunity rang its bell again.

More seasoned this time with the successful interior and exterior transition of the boardwalk restaurant behind him, Casale went to work to renovate the former Pizza Hut's seating area by bringing in televisions, new carpet, booths and tables and a fireplace in the main dining area. The textured walls add to the warmth and OldWorld-feel of the restaurant and artfully sketched glass panels allow light to filterthrough from the main dining area to the adjoining party room. The kitchen layout that works so well in the Wildwood location was recreated here.

Knocking out walls, installing four brick ovens, creating a pizza display case with a finesse that rivals the diamond case at Tiffany's, Joe's Brick-Oven Pizza and Bistro was open for business. Capable of seating80 in the main dining area and 40 in the party room (for a total capacity of 120), the bonus comes in the form of the drive-through where you can call ahead and pick up anything off the menu.

At the intersection of pizza joint and brick-oven bistro, diners at Joe's will find a menu that is both straightforward in presentation and bold with flavor. White porcelain cups (or bowls) hold the soup of the day, which includes minestrone and pasta fagioli. "Soup to go" is sold in two sizes; 16 ounces and 32 ounces.

Pasta dishes, which can be topped in your choice of sauce including pomodoro, vodka and bolognese to name a few, include a house salad and a basket of bread. Choose from capellini, fettucine, linguine and more. Joe's also offers gluten-free penne and whole wheat spaghetti.

In the chicken and veal category, some options include francaise, saltimbocca, sorrento and marsala and again all are served with a house salad and basket of bread.

Portions at Joe's are generous, and sharing is not uncommon.

Casale embraces the farm-to-fork movement and sources local ingredients, meats and fish as the season permits.

"I think of it this way: I use the freshestingredients, I serve guests as if they were my mother, father, my family. If I wouldn't serve it to them, I wouldn't serve it to my guests," he says.

Casale, who has a gregarious personality with a sense of humor, talks just about anything openly until it comes to the sauce. On that topic, the family sauce is top secret. "My mom and grandma could cook. The sauce I learned from them."

The seafood options include mussels over pasta, crab alla rosa, shrimp and spinach and more. On Friday, Saturday and Sunday the menu offers other fresh fish options including salmon served with leeks and flavorful tomatoes along with wedged potatoes with fresh rosemary.

With four big screen TVs, Joe's is a great gathering place for friends to watch sports. BYOB is allowed. Lunch specials (dine-in only) are available from 11 a.m. to 12:30 p.m. Monday through Thursday. Here a half cheesesteak, small French fries and small soda rings up at $6 plus tax.

At Joe's, the brick-oven pizza and the bistro offerings are stars and both share the limelight alongside Casale, who likes to meet and mingle with customers including some area sports celebrities who frequent his place as well.

Come to Joe's Pizzeria & Bistro hungry and leave with a satisfied stomach and good memories to match.

Joe's Pizzeria & Bistro
789 E. Route 70 | Marlton | 856-334-7000


JoesBrickOvenPizzeria.com



To read the digital edition of South Jersey Magazine, click

here

.



Published (and copyrighted) in South Jersey Magazine, Volume 15, Issue 12 (March 2019).

For more info on South Jersey Magazine, click

here

.
To subscribe to South Jersey Magazine, click

here

.
To advertise in South Jersey Magazine, click

here

.