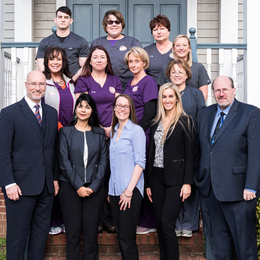 Sponsored Content: Comprehensive Care for Complex Cases
Patients with Multiple Sclerosis find relief at South Jersey MS Center at Bromley Neurology.

For Dr. Steven Bromley, there's never a typical day at the office.

As a double board-certified neurologist specializing in the treatment of patients with Multiple Sclerosis and neuro-immunologic disease, Dr. Bromley says that no two days are the same at his South Jersey practice.

And given the unique way the chronic disease can affect each individual, that's as it should be.

He works with the medical team at the South Jersey MS Center at Bromley Neurology, located in Audubon and Linwood.

"With MS, no two people are alike," Dr. Bromley says. "They manifest their condition differently. It certainly requires an individualized approach to treatment, and it requires an understanding of that person's life—to get a handle on how thedisease is affecting them, and how they are influencing their disease."

Multiple Sclerosis is a disease of the central nervous system that affects the brain and spinal cord. It can affect patients with enough complexity to prevent them from getting the complete care they need from only one doctor to treat their entire condition.

Dr. Bromley says being a center with a focus on MS and neuro-immunology allows for the treatment of patients on a more complete level because this approach touches on so many different aspects of the body.

"What is really neat about the conceptof neuro-immunology is that it crosses regions into several different sub-specialties," he says. "This is particularly important when running clinical trials to study effects of newer therapies. It's not just a matter of applying the concepts of neurology [the nerves and connections throughout the nervous system of the body], but it's also about allergy, immunology, internal medicine, rheumatology, dermatology, cardiology, psychiatry and others. All of these fields must be applied at times so we are able to offer patients a multi-faceted way to diagnose, treat and study their disease."

He also notes that the staff at South Jersey MS Center—comprised in part of Drs. Bromley, Indrani Hightower and Keith Preis, nurse practitioner Brandee Fonseca and seven infusion nurses—takesthe time to get to know the individuals behind the disease, and all this is done in a setting that makes the patients feel comfortable and at ease.

"We have people who come in for therapies every week, and the focus is on how to make them comfortable," Dr. Bromley says. "It feels like you're coming home, but with a high level of medical support and comfort. We're not a massive operation, and that's big for us. We keep it on a level that's both comfortable and academic for folks."

Though the setting is more like a home than a hospital, South Jersey MS Center offers most of the essential testing that is required of the patient in-house, and also boasts being one of the largest private, independent infusion suites in the state of New Jersey.

It is the ability to offer such services that has allowed South Jersey MS Center to be involved in several key trials of new drugs that were recently approved or yet-to-be approved by the Federal Drug Administration to help in the treatment of MS.

Being able to offer patients such treatments is an accomplishment Dr. Bromley is proud of and says his team has worked hard to achieve.

"I've been working in South Jersey for many years, but opened [South Jersey MS Center] in 2015. Since then … you have to continue to prove yourself worthy," he says. "You have to have the infrastructure to accommodate the highest standards of clinical research. … It's taken a while, and we had to prove that we could do it. Not just any doctor can be a part of these trials; they have to be experienced and certified on many levels to treat our kind of patients."

Though participating in the trialsbrings South Jersey MS Center to both national, and international, levels, Dr. Bromley says he likens the situation to the quote, "Think globally, act locally."

"It's all about the patient," he says. "Why not do what the rest of the world can do, but do it here? Bring it to our folks and do it in this area."

As a native of South Jersey, Dr. Bromley says he feels strongly about being able to offer such comprehensive and state-of-the-art services to the region.

"I grew up here," he says. "I turned down jobs in New York and Philadelphia and other places, and it was the best decision of my life.

"We can do it our way, and we don't need to be a 'machine' where we funnel patients through," Dr. Bromley continues. "We are literally just the opposite of that. Even if we see just a few patients in a day, we do everything we can for them. If you do it right the first time, you save everyone across the board time, energy and money."

Notably, though South Jersey MS Center does focus on the treatment of Multiple Sclerosis, it also offers a variety of other services to treat other complex neurological conditions.

And aside from just being an office where patients can schedule appointments, South Jersey MS Center offers services for patients whenever they may need them.

"We're not just available for regular appointments," Dr. Bromley explains. "We actually work more like an urgent care for our own patients. When [a patient] has a problem, they can just show up."

This means, for example, that if a patient is suffering from an MS attack—oreven a migraine headache—instead of having to schedule an appointment to be seen, the patient can come in right away for an infusion of medication or other relevant therapy with immediate relief.

"You can be treated right here for many acute neurological problems," Dr. Bromley says. "We do it all in-house. You don't have to waste time waiting in a local urgent care or emergency room."

By offering such services, Dr. Bromley's commitment to treating the whole patient, and doing what is necessary to make sure the needs of all patients are addressed, is truly realized.

"Most people with the conditions that we deal with need TLC," Dr. Bromley says. "With a strong emphasis on high level academic care, that's really what we offer here."

South Jersey MS Center at Bromley Neurology
739 S. White Horse Pike, Audubon
856-546-2300 |

SJMSCenter.net



To read the digital edition of South Jersey Magazine, click

here

.



Published (and copyrighted) in South Jersey Magazine, Volume 15, Issue 12 (March 2019).

For more info on South Jersey Magazine, click

here

.
To subscribe to South Jersey Magazine, click

here

.
To advertise in South Jersey Magazine, click

here

.