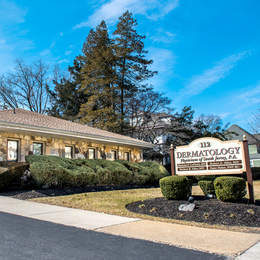 Sponsored Content: A Welcome Addition
Nurse practitioner Daisy Fisher has been a perfect fit at Dermatology Physicians of South Jersey, which has been offering top-notch care to local residents for nearly 50 years.

Aisy Fisher, FNP-C, ANP-BC has always been willing to accept a challenge.

So after a few years of working in primary care as a nurse practitioner and realizing it was not her true calling, she was offered the chance to transition to dermatology. Although she knew embarking on a new career would not be easy, her interest was piqued—so she jumped at the opportunity and neverlooked back.

"I knew it was the best decision for my long-term future," Fisher says. "I've been doing dermatology now for nine years and I just love the field. It's something that definitely keeps me learning because in dermatology every patient is different. What an eczema rash looks like on one patient might look completely different on another. That's one of the reasons I stay in dermatology—because of how challenging it is."

The original dive into dermatology may have required a leap of faith on Fisher's part, but her move to Dermatology Physicians of South Jersey (DPSJ) last August was a much easier decision. Joining an es- tablished practice with a sterling reputationwas simply a logical step.

Philip LoPresti, MD, a pioneer in the field, founded Dermatology Physicians ofSouth Jersey in 1969 and was a dependable provider for his patients until retiring in1996. Herbert Allen, MD, was a partner in the practice from 1977 until 2002 and went on to become a respected professor and chair emeritus of dermatology at Drexel University College of Medicine.

Fittingly, the dermatology practice is now being led by the next generation, as Nicholas LoPresti, MD, and Robert Allen, MD, have followed in their fathers' footsteps. Dr. Herbert Allen also recently rejoined DPSJ as a senior partner working side by side with his son.

Fisher was thrilled to connect with an office steeped in tradition, where the focus on family extends to patients as well.

"It's so rare and it's nice to see something being passed on from generation to generation," she says. "I thought that was really special and I was excited to be a part of that. It's been a great fit.

"At DPSJ we treat every patient like family. We live in a fast-paced environment and it's easy to feel as if you're another number. But we encourage patients to ask questions and we make sure to address all of their concerns before leaving the room."

While Fisher's compassion and experience in dermatology make her an asset for the practice in general, she is especially awelcome addition for female patients who are more at ease being treated by a woman. She joins a long list of dedicated female providers at DPSJ, including Drs. Emily Miller and Dr. Sandra Whipple, who both retired in recent years following distinguished careers.

"I see men and women patients of all ages," Fisher says. "I've heard from patients that women sometimes prefer a woman provider in general. They just feel more comfortable disrobing and things like that."

Fisher's ability to form lasting relation- ships with her patients—women and men— has stood out in her brief time with DPSJ,according to Nicholas LoPresti.

"Daisy's bright and pleasant personality, combined with her fund of nursing and dermatological experience, allows our patients to feel quite comfortable in her presence while receiving the utmost in care that DPSJ has long been known for," Dr. LoPresti says.

"The patients love her and our staff gets along with her great. She fits in and it's worked out very well."

Although the partners have seen cosmetic dermatology gain popularity in the last decade and believe it has its place in the field, DPSJ remains a medically oriented practice. The office setting is traditional and comfortable, and the services include full body screenings for cancer, removal of warts, and diagnosis and treatment of skin conditions such as acne, rosacea, psoriasis and more.

There has been a rise in melanoma cases and Fisher and her colleagues stress to their patients the importance of enjoying time in the sun responsibly. She says to be extra careful between the hours of 10 a.m. and 2 p.m., to wear hats and clothing and to remember to apply sun block two or three times per day.

As for her patients with skin conditions, Fisher finds it rewarding to help restore their self-esteem and confidence.

"It can be quite debilitating and some- times you don't think of it as such," she says. "I see teenagers who come in and they're just not happy. They have these breakouts on their face and it really takes a toll on their self-esteem. We treat acne patients and it's amazing to see from the first encounter to three or four months later when they've been improved and their face has less breakouts. You can see the smile on their faces and how much happier they are."

In addition to Fisher's contributions as a nurse practitioner, the partners at DPSJ have been delivering top-notch care to their patients for decades. Dr. LoPresti is a member and past president of the Philadelphia Dermatological Society, while both Dr. Robert Allen and Dr. Herbert Allen are board-certified dermatopathologists, meaning they specialize in diagnosing disorders of the skin under a microscope.

Dr. LoPresti and Dr. Allen have known each other since they were kids and are proud to be continuing the family tradition. Dr. LoPresti notes that the practice will celebrate its 50th anniversary this September, a meaningful milestone for him because of all that his father has meant to his career.

"My father was very supportive from the beginning," he says. "He did not force me to be a physician. He said, 'Whatever you do, do it well and do your best and the rest will take care of itself.'

"When I joined the practice, there were huge shoes to fill with my dad being a pillar of our society in general, not just in dermatology. I realized quickly that he had won his patients over with his demeanor and his expertise. For me, it was just a matter of maintaining that legacy, and now I'm taking care of the children, nieces and nephews and grandchildren of the people who saw my dad. It's been a joy over the last 20 years to treat the next generation of patients."
Dermatology Physicians of South Jersey

112 White Horse Pike, Haddon Heights
856-546-5353 |
DPSJ.us
To read the digital edition of South Jersey Magazine, click
here
.
Published (and copyrighted) in South Jersey Magazine, Volume 15, Issue 12 (March 2019).
For more info on South Jersey Magazine, click
here
.
To subscribe to South Jersey Magazine, click
here
.
To advertise in South Jersey Magazine, click
here
.