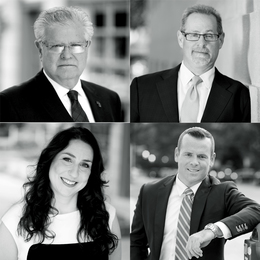 Sponsored Content: Navigating the Path to Divorce Takes Trusted Partners
The experienced and passionate team of attorneys at Adinolfi, Molotsky, Burick & Falkenstein helps its clients through the difficult process of family law issues.
As a native of Pennsauken who has lived in this area his entire life, Robert Adinolfi takes great pride in having served hisbeloved South Jersey as a family law attorney for more than four decades.

Working with clients who are going through difficult issues such as divorce, mediation, alimony, child custody, domestic violence and much more—and helping to deliver timely, cost-effective resolutions—is quite rewarding. That is why Adinolfi has no plans of slowing down.

"I love every bit of it," he says. "I've been doing it a long time, but I'm still practicing full-time because I love the firm, I love working with the partners and I love working with the clients. I especially appreciate the financial challenges from our most complex cases because it allows me to leverage all the experience I've gathered over the years to benefit clients."

One does not compile decades of success like Adinolfi's without a great team. Although he is the founder and senior partner at Adinolfi, Molotsky, Burick & Falkenstein, he gives credit to not only his three partners, but also the associates and other members of one of the largest family law firms in South Jersey.

Like Adinolfi, Drew Molotsky has completed the rigorous process to become a certified matrimonial lawyer by the New Jersey Supreme Court. He is a humble family man with a deep respect for family issues.

"It's important to stay at the leading edge of any industry in order to provide your clients with the best services," Molotsky says. "Family law is no different. Through things like advanced certifications, board appointments and attending conferences, we are able to help our clients more by learning more."

Julie Burick has almost 20 years of experience in family law and previouslyserved as president of the Gloucester County Bar Association. She focuses on the kids with a keen knowledge of children's rights, the state's protective services and domestic violence issues. The youngest of the group, Kevin Falkenstein, has emerged as a trusted ally in all aspects of family law and resonates the most with younger families.

All three became partners within the last year, and Adinolfi is thrilled about the direction the firm is headed.

"It's a very exciting time for us," hesays. "I continue to be in the mentor role while carrying cases. Drew and Julie both have extensive experience and are well respected. Then we have Kevin, who is an up-and-coming family law attorney with an incredible amount of experience successfully trying complex cases and a passion that is felt by both his peers and his clients.

"It's a great mix. We all have different viewpoints and if a difficult issue arises, the four of us can brainstorm and look atit from our unique perspectives."

Because of that team approach, the firm is able to handle a wide variety of legal matters. Adinolfi also has a degree in accounting and is well versed in the financial aspects of divorce, resulting in representation of many high net-worth individuals.

"Because of the firm's size, our vast experience and quality of attorneys, we are able to serve clients from all walks of life," Adinolfi says. "It's important for people to know that whether you're wealthy or working paycheck to paycheck, you can get help."

At the same time, the firm strives to provide the personal attention and constant communication that is required of clients enduring a stressful period of their lives. The attorneys are focused on ensuring that their clients understand the law and grasp that every case has its own distinct set of characteristics.

"Every case is unique," Adinolfi says. "Factors that come into play include the length of the marriage, the age of the parties, the health of the parties, the employment history of the parties, the number of children and whether the children have any disabilities. There are multiple factors that come into each case that you have to analyze. It gets very detailed.

"We make sure our clients have a very good understanding of the law as it applies to all areas of their specific case. The four partners stay intimately involved in the files and we monitor every case that we're responsible for."

That level of commitment has led to the firm being nationally recognized in negotiating and litigating family law matters.

"You never plan for things like divorce, but that doesn't mean you can't have a plan if it happens," Burick says. "That's what we're here for—to help lay out the plan, whether it be a financial plan, a plan for your kids or a plan for how you'll move forward after your settlement is complete." Adinolfi has seen the practice of family law change drastically since he first entered the field more than 40 years ago. One of the major differences is that women were often stay-at-home mothers in the past and would usually be awarded residential custody of children. Nowadays, two-income families are much more common, leading to joint custody in many instances.

Another significant development is the new tax law that went into effect Jan. 1. Having an experienced firm like Adinolfi, Molotsky, Burick & Falkenstein could become even more critical as the tax repercussions of divorce play themselves out this year.

"That's going to have a huge impact on how both sides of the table negotiate settlements," Adinolfi says. "Previously, alimony was taxable to the recipient and deductible dollar for dollar by the payor. As of Jan. 1, that is no longer the case. Now we're going to be working from net income, so obviously the tax impact to a higher wage earner is going to be much different than to a recipient who may be in a much lower tax bracket. It's definitely not like 'your parents' divorce anymore.

"And we're still not sure how that's all going to shake out. Even the judges are split as to how they're going to handle it. That's one of the biggest financial changes that has come around in a while and it's going to be huge."

Regardless of the challenges that the firm's clients will face in the future, one thing remains certain—that Adinolfi, Molotsky, Burick & Falkenstein, and all of their associates and support staff, are there to help navigate the road to life post-divorce. "Everyone hears about the four Cs of buying the engagement ring," Falkenstein says. "But there also are some Cs to the divorce process—being composed, communicative and compassionate. These Cs are part of our firm's philosophy and what we practice every day for every person who walks through our doors."

Adinolfi, Molotsky, Burick & Falkenstein
4 Kings Highway E., Haddonfield
856-428-8334 |

SJFamilyLawyers.com



To read the digital edition of South Jersey Magazine, click

here

.



Published (and copyrighted) in South Jersey Magazine, Volume 15, Issue 10 (January 2019).

For more info on South Jersey Magazine, click

here

.
To subscribe to South Jersey Magazine, click

here

.
To advertise in South Jersey Magazine, click

here

.