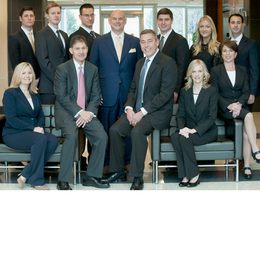 Sponsored Content: Committed to Your Future
The experienced and knowledgeable professionals from Fox, Penberthy & Dehn at Morgan Stanley are passionate about helping clients reach their financial goals.
Securing our financial future is a primary objective for most of us, but finding the right advisors to help us reach our goals can seem overwhelming.

South Jersey Magazine recently sat down with the team from Fox, Penberthy & Dehn at Morgan Stanley to discuss important factors in choosing a financial advisor and to learn more about how they can assist with critical decisions in their clients' lives.

In addition to enlisting professionals with a track record for helping navigate the complexities of wealth management, it is also crucial to work with a firm where our hopes, dreams and concerns are given serious consideration and become part of the overall strategy.

Fox, Penberthy & Dehn places a high value on relationships. They strive to get to know their clients on both a professional and personal level and have a passion for delivering positive outcomes.

"When you allow us into your financial life to share our solutions-based approach, you see how much we care—not only through our words, but our actions," says Albert A. Fox, Executive Director and Financial Advisor, CFP®, CIMA®, who leads the firm along with partners Edward M. Penberthy, Executive Director, Financial Advisor, CFP®, CIMA®, and Joseph G. Dehn, First Vice President, Financial Advisor CFP®. "As your financial advisors, we strive to deliver a world-class experience to you and your family."

Enhancing the client experience is one aspect of the Forbes ranking of Best-In-State Wealth Advisors, developed by SHOOK Research. The comprehensive list of top advisors from across the country also takes into account such factors as assets under management, compliance records, industry experience and approach to working with clients. Unlike similar rankings, it is based on exhaustive research that includes telephone and in-person interviews with the thousands who are nominated for inclusion, according to R.J. Shook, president of SHOOK Research.

Because Forbes and SHOOK have established such high standards, the fact that Fox and Penberthy were both named to the inaugural 2018 list speaks volumes about them. South Jersey Magazine learned more about the distinction during a conversation with Fox, Penberthy and Dehn, along with other helpful hints for charting a road map to a successful financial future.

Q: What significance does the recognition from Forbes have for your team?
Albert Fox: It's a list that you would be happy to give to your closest friends and family to help them begin to choose an advisor. Forbes is a recognizable publication and I believe it is used widely in the finance and investment community as a bellwether for real, legitimate financial stories and commentary. I think being named to the inaugural Forbes Best-in-State list says all. We are truly humbled by this honor.

Q: Why should a client allow Fox, Penberthy & Dehn into his or her financial life?
Albert Fox: Our team takes an exhaustive discovery approach to learning about someone's goals and objectives; to learning about what's important to them and why it's important; and to learning about what keeps them up at night. By our actions, we demonstrate how much we care about each of those individual goals and how much we care about putting those individual goals into a complete financial planning package. We help clients develop a definable, quantifiable, and very diligently planned out road map that is designed to help them to get from where they are now to where they're trying to get in the future.

Joseph Dehn: If you're looking for a team that cares and is willing to go through walls and be your client advocate, we're the team for you.

Q: The client-first approach is a foundation of your practice. What does that entail?
Edward Penberthy: Our passion for our clients and their success is the cornerstone of our practice. We come to work every day engaged in making a difference, with every decision focused on doing the right thing for you. … Our team is dedicated to helping them simplify their financial life, offering the best solutions for their consideration with unbiased, objective advice. To that end, we are focused on the core values of complete transparency, full disclosure, autonomy of choices and a pursuit of perfection.

Joseph Dehn: Our actions speak louder than words. It's being there for someone in their time of need; it's anticipating their needs; it's anticipating a problem and being prepared with a solution; it's driving them to their end goals and dreams and getting them to the finish line, whatever that finish line looks like.

Q: What are your clients' expectations?
Albert Fox: Everybody wants to retire at some point in time, or have work be a choice and not an obligation. We focus on helping people whose lives are in transition, specifically individuals retiring from Fortune 500 companies and business owners selling their business, as well as those managing a life-changing event like the loss of a spouse or a divorce. People want to educate their children; they want to leave a legacy; they want to take care of their family in the event there's a premature death; they want to sell their company and take their life's work and turn it into a paycheck for the rest of their lives; they have philanthropic goals. One goal at a time, we create a plan and a road map and we work backwards to solve each of their particular financial matters. Every client should understand where they're trying to go, what road it takes to get there, the amount of risk and uncertainty they're comfortable accepting in their journey, the factors that could potentially put them off target or lead to a bad outcome and what criteria they're going to use to measure a good outcome.

Q: Do you have a process in place to motivate your clients to achieve and maintain their financial goals?
Edward Penberthy: We have developed a five-step consulting process over the years. It involves:
• A detailed discovery interview to establish their financial objectives;
• Goal clarification, in which we develop an in-depth summary of their goals and how each will be addressed;
• Current position and goal navigation, in which we gain a deep understanding of their current wealth structure and establish a tailored outline of specific, measurable and time-targeted objectives;
• Strategy recommendations, a step focused on creating strategies custom-designed to your risk tolerance and time horizon;
• And a proposed goal map and service model, where we share an overall road map to manage their assets and provide our highly personalized service model for working with clients and their families.

Q: How does your team of professionals work in a concerted manner with its clients?
Edward Penberthy: Our team is experienced, well-credentialed and always seeking to enhance our skills and personal service. We are extremely nimble and want our clients to know they can count on us, no matter what the issue, no matter who takes the call. When you work with one of us, you get the best of all of us.
Albert Fox:
It is also a collaborative effort. There is no doubt clients need to have a seat at the table and need to participate in the process. We strongly encourage every decision-maker and interested party in the family dynamic to play an active role.
Q: How does your cohesive, goals-based outlook include coordinating with professionals outside your firm?
Albert Fox:
Our job is to work collaboratively with all advisors; to lead the financial discussions and help the client reach their goals and objectives. We continue the team effort and work jointly with pertinent specialists—such as an estate-planning attorney, a CPA or insurance professional—to help ensure our client is taking advantage of the full range of available knowledge.

Q: How do you help families and businesses manage life-changing events with confidence?
Joseph Dehn: We believe wealth management should take into consideration your real-world, everyday challenges. Our solutions-based methodology closely looks at a client's income, spending habits, liabilities andtax matters, as well as their planned giving strategies, living trusts and wealth transfer goals.

Albert Fox: Given our mission to be the go-to advisors for lives in transition, our service philosophy is simple: We build relationships and we get things done. Period. If it's important to you, then it's important to us. By clearly understanding your world, we can develop a course of action that aligns your values and your vision with a passion for the outcome.

Fox, Penberthy & Dehn at Morgan Stanley
330 Fellowship Road, Suite 400, Mount Laurel, NJ 08054
856-231-4800 |

FA.MorganStanley.com/fpd



To read the digital edition of South Jersey Magazine, click

here

.



Published (and copyrighted) in South Jersey Magazine, Volume 15, Issue 10 (January 2019).

For more info on South Jersey Magazine, click

here

.
To subscribe to South Jersey Magazine, click

here

.
To advertise in South Jersey Magazine, click

here

.