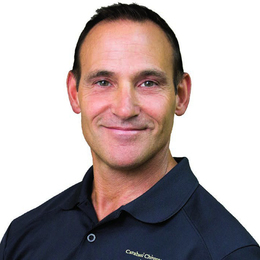 Sponsored Content: Carabasi Chiropractic Center
Professional Achievements:
Dr. Carabasi did his undergraduate work at Fairleigh Dickinson and his doctorate work at the prestigious Palmer College of Chiropractic in Iowa. His continuing education includes extensive credit hours and certifications from various universities in the fields of physical rehabilitation, nutrition, neurology and advanced orthogonal, just to name a few. Dr. Carabasi's precise work and dedication to his patients has earned him Best Doctor recognition by South Jersey Magazine multiple years running.
Future of the Field:
Each year chiropractic care plays a bigger role in people's lives. Of course correcting the spine is key to restoring the body's function but there are other interventions we offer that speed healing and impact the overall health of our patients. The Class IV K-Laser speeds healing and reduces pain and inflammation naturally. Rehabilitative exercise, core training, orthotics, nutritional counseling and weight loss programs all play a part in helping my patients achieve maximum health. So, I think the future of my field includes more of these all-natural modalities.
What is your favorite aspect of the job?:
Helping people. My patients' lives can be sidelined by pain or injury. Helping my patients return to lives that they miss and improve their health, that's everything.
What makes your practice unique?:
Referrals. My patients honor me by sending their friends and family. There really is no greater compliment.
Rewarding Aspects of the Profession:
This is my 30th year in practice. The age of my patient ranges from infant to elderly and their occupations run the gamut as well. I am extremely fortunate to be able to take care of such a vast array of individuals.
The spine houses your nervous system, which controls the function of every other system and organ in your body. A misaligned spine will put pressure on the spinal nerves, which in turn creates physical problems and symptoms. So, although I am fixing the spine and alleviating things like related pain and restricted motion, I witness huge changes in the overall health of my patients. I have seen patients become free from a vast number of conditions and symptoms like migraines, digestive issues, chronic heartburn, colic, vertigo, allergies, fatigue—the list goes on.
To see my patients' health improve and see them flourish in their lives is extremely rewarding.
Affiliations: ANJC, Association of New Jersey Chiropractors


Carabasi Chiropractic Center

6 E. Main Street, Marlton

856-983-3373 |
CarabasiChiropratic.com
To read the digital edition of South Jersey Magazine, click
here
.
Published (and copyrighted) in South Jersey Magazine, Volume 16, Issue 5 (August 2019).
For more info on South Jersey Magazine, click
here
.
To subscribe to South Jersey Magazine, click
here
.
To advertise in South Jersey Magazine, click
here
.