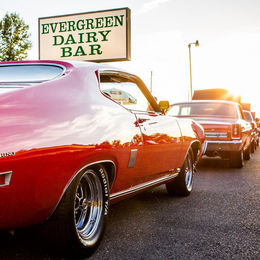 Still Holding On
Despite the changing economy and tech-driven business landscape, these South Jersey establishments are proving that there is success in nostalgia.
All around South Jersey the physical landscape is changing. Intersections we once knew as traffic "circles" have disappeared, empty strip malls are being replaced by mixed-use developments and towns are embracing more walkable communities. While much of this change is for the better, it has rendered the area a bit unfamiliar. However, there are the holdouts in the bunch—establishments that remind us of our roots and a time when life moved just a bit slower. Even with all the changes around them, these businesses continue to provide locals with a healthy dose of nostalgia, and we couldn't imagine South Jersey without them.
South Jersey can proudly lay claim to New Jersey's longest-running business. The Barnsboro Inn was established as a tavern in 1776 by John Barnes, who owned a cabin (built in 1720) at the intersection of several main roads in Mantua Township. All he had to do for the license was keep two spare beds for travelers and stabling for their horses and the license has been continuously renewed since. As the landscape evolved, so too did the Inn, which transitioned from boarding people and horses to only food and drink. The Inn has had some interesting names, including the Spread Eagle and the Crooked Billet Inn, but Barnsboro has stuck the longest and seems only right to pay homage to its founder. Today, the Inn may be bigger than what Barnes first established, but its look still honors the cabin aesthetic while continuing to serve locals or those just passing through.
Of Note
: The Inn's current owner, Tom Budd, is an ancestor of the original log cabin's builder, John Budd—a discovery made after he purchased the business. Additionally, Teddy Roosevelt campaigned in the Inn's parking lot in 1912 while running for president.
If you want to see a drive-in movie in New Jersey, this theater in Vineland is your only option. A relic of a different age, the Delsea Drive-In reminds us of a time before the multiplex took over the movie scene. Originally opened in 1949, the Drive-In, like all drive-ins at the time, was an outlet for suburban families in need of an inexpensive night out. In fact, free baby bottle warming was a commonly advertised feature at the time. It did close in 1987 but was re-opened in 2004 by new owners who added a second screen in 2008, and both screens now use digital projection. Among the other updates are the concession offerings, which boast more than popcorn—moviegoers can snack on sandwiches, pierogies, edamame and gluten-free and low-carb options—all of which can be ordered via app from your car. Despite these modern conveniences, the Delsea Drive-In has remained true to the nostalgia of this American pastime.
Of Note
: The first movies played here were The Drum with Sabu Dastagir, and Midnight Serenade with Peggy Lee.
THE BROADWAY THEATRE OF PITMAN
Generations of people in this area can remember visits to the Broadway, which has been in operation since May 1926 when it began with vaudeville acts, and has since hosted live theater productions, movie matinees, musicians, comedians and more. The theater was built in a French Revival motif, with ornate touches like the crystal chandeliers in the lobby and house, gold and red wall stencils and gold leaf accents. Its original Kimball theater pipe organ also remains and is played before every performance. Peter Slack became the theater's latest owner in 2006 when he purchased it at auction for $323,000. Slack then invested a reported $1 million into renovations and repairs to the theater, restoring it to its original glory. The Broadway's continues activity in Pitman's downtown has been credited for the town's economic vitality and ability to attract businesses.
Of Note
: The Broadway has hosted some big names in entertainment, including Abbott & Costello, Bob Hope, Bing Crosby, Jerry Lee Lewis and George Carlin, to name a few.
The original Weber's was started in Tulsa, Oklahoma, in 1933 and it is believed its founder was the creator of the American hamburger, placing a grilled beef patty on a bun, served alongside his own "Superior Root Beer." As cars became more attainable to own, drive-ins began popping up across the country for families who would venture out for those long Sunday rides. At one point, there were 67 Weber's locations nationwide, including the one in Pennsauken, which opened in 1951 and is now thought to be only one of three left operating. Other South Jersey locations included Brooklawn and Stratford, which is set to re-open this summer. The Weber's sign is an iconic symbol on Route 38, with its tell-tale orange spinners signaling drivers to stop in for their homemade root beer, burgers, shakes and fries, all served carside.
Of Note
: The menu has remained unchanged since the '50s except for the owner's addition of a tuna hoagie and veggie burger.
In Sept. 1927, Haddon Township's Ritz Theatre opened to much fanfare, showing vaudeville films, expanding to fine art and foreign films over the next few decades. Constructed in the Greek revival style with 25-foot-high neo-classical canvas murals, carved balustrades and gilded columns, the theater has 336 seats and is on the National Register of Historical Places. However, in the '70s, the theater stepped away from its roots, until 1985 when a group of artists came together to rent the space and perform live plays and musicals. Over the past three decades the theater company has won several awards, including two Emmys. The theater remains a focal point in the community, producing mainstage shows, original musicals and hosting kids' theater camps. Approximately 40,000 patrons attend annually.
Of Note
: In 2011, the theater won an Innovator Award for its Shadow Interpreting program where costumed sign language interpreters perform and shadow the other cast members.
This establishment is the oldest deli in Cherry Hill, and among the oldest in South Jersey. It all started in 1959 when Lou Napolitano was out on his bread delivery route and he decided he wanted to run a deli. Along with his wife Ann, whom he married in 1944 after returning from WWII, Lou & Ann's Deli opened on Route 70 near the Ellisburg Circle and it has remained in the same location to this day. Although Lou and Ann have passed away, their son Lou Jr. now runs it, continuing the tradition of serving hoagies and homemade soups and sauces in what feels like your own family kitchen.
Of Note
: Ann Napolitano worked at the deli up until her passing at age 89 in 2012.
The recipe for Bayard's legendary chocolate dates back to 1939 when James Bayard Kelly II created it from scratch and made it available to neighbors. He eventually expanded into storefronts and it was his son's idea to draw on the European chocolate "house" where the shop felt more like visiting someone's home. The company was sold in 2004 to James Candy Co., which also produces Fralinger's Salt Water Taffy. Bayard's locations included the now-closed Pennsauken and Cherry Hill stores, the latter having just shut down this past February when James' Candy filed for bankruptcy. However, the Cinnaminson location, opened in 1960, still stands, and chocoholics can still get their fix of the famous confections.
Of Note
: The displays of candy in the store, arranged in towers and placed neatly on glass shelves raised by brass candle holders, were inspired by Kelly's visits to European chocolatiers.
After serving in the army, Thomas Cienkowski opened Evergreen Dairy Bar next to his family's farm in 1949. The menu consisted of ice cream treats and its location on the main thoroughfare on Route 70 just two miles from the Medford Circle meant it saw many customers on their way to and from the Shore over the years. In 1956, Cienkowski opened a restaurant portion, serving breakfast and lunch. The vintage atmosphere remains with the flat roof providing coverage for parked cars and the recognizable green and white sign outside. Cienkowski, who was known for his philanthropic contributions to the community, passed in 2014 and since his wife Marion's passing in 2017, the business has been maintained by longtime employee and family friend Deborah Ware who says the late founder was like a father to her.
Of Note
: Evergreen was one of the first places in South Jersey to host cruise nights with vintage cars and hot rods on display, a tradition that continues every Tuesday in the summer.


To read the digital edition of South Jersey Magazine, click
here
.
Published (and copyrighted) in South Jersey Magazine, Volume 16, Issue 5 (August 2019).
For more info on South Jersey Magazine, click
here
.
To subscribe to South Jersey Magazine, click
here
.
To advertise in South Jersey Magazine, click
here
.