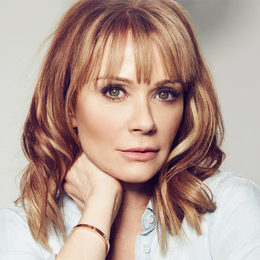 Lasting Impression
After 35 years in Hollywood, Designated Survivor star Lauren Holly still has a big place in her heart reserved for South Jersey.
For nearly three and a half decades, Lauren Holly has been a fixture of stage and screen. She has enjoyed starring roles in beloved TV series (Chicago Hope, All My Children, NCIS) and films that have earned cult-like status (Dumb and Dumber, Beautiful Girls, The Adventures of Ford Fairlane), often sharing the spotlight with stars such as Jennifer Connelly, Al Pacino and Rip Torn, as well as her former husband, the inimitable Jim Carrey.
The acting bug bit Holly at an early age, while she was growing up in and around South Jersey. Holly was born in the Philadelphia suburb of Bristol in Bucks County, right across the river from Burlington, and treasured the time she spent with family along the Jersey Shore. Although her family moved to upstate New York when she was 7 years old, she says her childhood home, on both sides of the river, "takes up a big place in my heart" to this day.
"For me, it was LBI," she says when asked about the Shore town she remembers most. "My one set of grandparents who lived in Bucks County also had a summer home in Manahawkin. I was young, but I have a lot of memories from those trips to the beach."
These days she lives near Toronto with her family, including three sons. Living so close to the Canadian metropolis offers its share of advantages, including access to the city's booming TV and film production industry. In fact, much of the filming for her latest gig—a recurring role on the final season of the Netflix series Designated Survivor, the U.S. political thriller/drama starring Kiefer Sutherland, Anthony Edwards and Kal Penn—takes place a stone's throw from her home.
"I ended up working here on a show that went four seasons, and that rolled right into Motive," she says, referring to the Canadian police procedural drama. "We stayed here [in Toronto] in large part because of my boys. They were ensconced in school, so I said, 'OK, let me see what happens,' and I just kept working here. Most of the filming for Designated Survivor is shot 10 minutes down the road."
We caught up with Holly to discuss her role in the show's final season and why she considers it an important one, the odd jobs she took while trying to make a name for herself as an actor, and what she has in store for viewers in the near future.
In Designated Survivor, you play Lynn Harper, the wife of the president's chief of staff. What should people expect from the season and from your role on the show?
Loyal fans will be very happy with the show. Netflix opened up a wild world that network TV is not allowed to do. Neal Baer, the showrunner, likes to run it in a way that people can learn from TV. He did an interesting study when he was the showrunner of ER. They did a focus group in the early '90s, in which they asked people about their awareness of HPV (

human papillomavirus

), and it turned out people didn't know much. He then screened an episode [of ER] that had HPV as a subject matter, and then re-gave the question afterwards, and it was almost shocking how much the audience retained. From there, he made a decision to write for TV in a way that was more than just entertainment, using it as a social platform. With Designated Survivor, it's primarily political subject matter, tackling different policies and leaving it to the viewer to make the decision.
My story line is that my character is addicted to opioids, which is so important considering the crisis facing us now in the world. That particular subject matter gets into big pharma, which is playing a part in providing these pills to people. That's not the only big issue the show tackles. President Kirkman [played by Kiefer Sutherland] has a transgender sister-in-law. There's a same-sex relationship that deals with AIDS. There's child marriage, immigration—Neal really tackles a bunch of things, providing both sides of the issue so people can make their own decisions.
What excited you about the role?
First of all, Anthony Edwards was already cast, and I was excited to work with him. Second of all, when Neal explained to me what the role was, that I am a white privileged woman from a wealthy political family who hurt her back in a horse-riding accident and became addicted to opioids, I thought it was important. It showed that the crisis knows no boundaries. The first thing I did was read Dopesick, on Neal's insistence. The book just galvanized me, because it helped me understand what people face when they are going through this struggle. From there, I just started reading everything. It wasn't easy preparing for the role itself; from what I've learned, there aren't a lot of signs [of opioid addiction] until you're too far gone. People can function and carry on jobs, but their organs become more and more dependent.
In a way, I'm dealing with it with my own immediate family; I have two teenage boys, and both have to have knee surgery at the end of this month. I can assure you they will have none of those pills. It's nothing major in terms of surgery—just the result of boys being boys, from skiing, snowboarding, and track—but it seems doctors are ready to prescribe stuff that people might not need. It's easy to see how something that seems so innocent can turn into a lifelong issue.
You've enjoyed a lot of landmark roles throughout your career, from Maxine Stewart in Picket Fences to Mary Swanson in Dumb and Dumber. How did you first get into acting?
It wasn't my plan from childhood, though my parents might disagree. I did act in my first play, The Wiggly Worm, and I was the Wiggly Worm. I enjoyed the applause very much. My parents were young when I was born, meaning I was fortunate to have grandparents and great-grandparents around, so I was the center of attention. Maybe from that something was born inside of me. I intended to go to law school, but when I was 13, I got into the London Academy of Music [and Dramatic Art], and I also worked with the Royal Shakespeare Company. I got instruction on real technique. When I went back to the States, it was just a hobby. I then went to Sarah Lawrence [College], where I auditioned for a play on campus being done by a guest director, and I got the lead. Francis Ford Coppola and Fred Roos saw me in the play, and Fred hired me for a film [Seven Minutes in Heaven] with Jennifer Connelly. I loved it so much.
At what point did you feel as though you had "made it"?
I told my parents at graduation I wasn't going to law school. I was so nervous and stressing about telling them, but they were thrilled. I got a couple of [acting] jobs right away, but I also had to work second jobs to make ends meet—driving a forklift, modeling dresses. I got on a soap opera within the first year. From that point on, that's how I made my living. Once I didn't need the second job, that's when I felt like I just made it.
Beyond the final season of Designated Survivor, what's next for you?
A couple of things, none of which I can talk about yet, but I'm very excited about something I wrote and created that was bought. Let's just say I have some stuff in the hopper.

To read the digital edition of South Jersey Magazine, click

here

.



Published (and copyrighted) in South Jersey Magazine, Volume 16, Issue 5 (August 2019).

For more info on South Jersey Magazine, click

here

.
To subscribe to South Jersey Magazine, click

here

.
To advertise in South Jersey Magazine, click

here

.