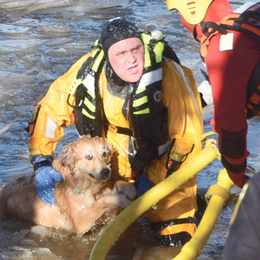 Hometown Heroes
Meet some of South Jersey's first responders who are making an impact in our communities.

Ask any first responder who has ever gone above and beyond the call of duty, and they will more than likely give you a standard selfless response on how they were just doing their job. While they may eschew any accolades, we thought it was only right to recognize those who are helping create a better South Jersey. So, we reached out to several local towns in order to find out which first responders are making their presence felt in a big way.
Officer William "Bill" Webb, Medford Police Department
To say that this newly appointed Corporal (effective Sept. 2019) is involved in the community would be vastly understating Webb's impact. Having worked in Medford for the last 18 years, he has served many roles for the community. Webb regularly participates in policing events, served as a school resource officer at Lenape and Shawnee high schools, and he volunteers his own time as deputy fire chief with the Taunton Fire Company and Medford Township Department of Fire and EMS. Aside from saving lives, Webb coaches baseball at Shawnee High School, surpassing the line of duty by being a role model for the community both on and off the clock.
Officer Laura LeMay, Mount Laurel Police Department
This Lenape High School alum joined the Mount Laurel Police department in 2015 and has been giving back to her own community and any others that she can fit into her busy schedule. As a current student at Thomas Edison University and member of the Air National Guard; LeMay has juggled her studies with deployments overseas that have included trips to Kuwait for Operation Enduring Freedom as well as other missions in support of Odyssey Resolve and Juniper Shield. Officer LeMay also enjoys working with community youth programs such as the Police Explorers andr the EMS Divas. Showing solidarity and support for her fellow officers in 2020, Officer LeMay will ride in the Police Unity Tour—a 300-mile bike ride to honor officers who were killed in the line of duty.
Officer Jeremy Borden, Evesham Police Department
See a need, fill a need. Jeremy Borden did just that at the Children's Hospital of Philadelphia in May. A member of the Evesham Police Department for a decade, Borden was made aware that more than half of a stock of toys donated to CHOP had been stolen. That's when Borden sprung into action, organizing an toy drive event which attracted a large quantity of donations. Borden personally delivered the toys on behalf of the department and FOP Lodge #143.
Jack Matty, Haddonfeild Police Auxiliary
The Haddonfield Police Auxiliary is a volunteer based organization that was founded during World War II and is one of few still operating in the state. Matty is one of the nearly dozen residents that make up the auxiliary. He balances being a father of two, his full-time job as an accountant and the minimum 20 hours a month he has volunteered to the auxiliary for the past 20 years. As one of the longest serving members, Matty has become one of the most reliable and selfless leaders with the group.
Sandra Lynch, Evesham Fire Rescue
While officers and other first responders take an oath to uphold and serve their community, Lynch does that and then some. Her career in Evesham started in 2001 and she has bravely served this community with her variety of expertise for the past 18 years proudly. Emergency medical services and public education aren't even the start of Lynch's extensive professional profile, but where she really goes above and beyond is off the clock. Serving as the director of the Mercury Critical Incident Response Team, Lynch and her crew have a mission to help other responders deal with a variety of challenges that come along with their line of work. The critical incident stress management The Mercury Team provides support for those dealing with some of the traumatic situations they encounter on the job. Seeing the toll the job can take on a mental state, she volunteers her free time to keep her peers in good health and her community safe.
Corporal William Mann, Officer Kevin Sloan, K-9 Chico, Officer Frank Gregorio, Moorestown Police Department
High stress situations tend to garner high stress responses, but the composure and coordination that these officers implemented helped save multiple lives and get one man the mental health treatment he needed. In late May, the four Moorestown officers were dispatched to a domestic call with a reported physical confrontation. Sloan arrived first with his K-9 partner and they encountered the male subject walking down the driveway with two large knives. Sloan was able to use Chico as a distraction and a means to deescalate the situation while Gregorio surveyed matters out of eyeshot. As the subject approached closely to Sloan's patrol car, still armed, Gregorio was able to use his taser to incapacitate the man. Mann was then able to handcuff the subject and transport him to the hospital for mental health treatment. The teamwork and collectedness that was exemplified by these officers and Chico will be formally recognized at a township council meeting later this year.
Firefighters Kyle Jarozynski and Julian D'Alonzo, Collingswood Fire Department
On a frigid afternoon in late January the Collingswood Fire Department was dispatched to Cooper River in response to a dog that had reportedly fallen through the frozen sheet of ice over the water. Upon arrival, the dog was spotted in the icy waters about 100 feet from the shoreline. Both Jarozynski and D'Alonzo plunged into the river and used axes to chip away at the thick ice in order to clear a path to the dog. After 14 minutes they were able to retrieve the pup and the crew on land used ropes to pull everyone to safety. The dog, wrapped in blankets, was transported to North Start Veterinarian in Maple Shade for treatment and was ultimately released back to her owners in good condition.
Patrolman Ryan Alcott, Woodbury Police Department
Being a school resource officer for an entire district sounds like a lot of multitasking, because it is. Alcott has become a jack of all trades—finding balance in being a role model, an educator and a protector. Alcott works one-on-one at after school programs and holds in-school advisory boards for middle school and high school students. Alcott also happens to be the department's sole bilingual Spanish-speaking officer. Seeing a niche that needed to be filled, Alcott went back to school to become a certified translator. Having an officer who speaks another language creates a bridge of trust and with a growing Hispanic population many victims have reported their crimes directly to him. Alcott's involvement and commitment to his community made him the perfect recipient of the Gloucester County Officer of the Year Award.
Officers Vaughn Edwards, Joseph Mair, Brain McCline, and Vincent Russomanno, Camden County Police Department
These four officers were recognized in April for their timely and heroic actions when a two-car collision turned into a fiery wreck. Mair was patrolling the area when he heard a car crash and saw flames coming from the direction of Interstate 676. After relaying the information via radio, he was first on the scene and observed two badly damaged vehicles side-by-side and on fire. With two adult males in each vehicle, Mair was joined by Edwards, McCline and Russomanno and with help from the Delaware River Port Authority and several civilian motorists they were able to free the victims from each vehicle. The victims were taken to the hospital and treated for the extensive burns they suffered. The officers' quick actions helped ensure the survival of all four victims of the accident.

To read the digital edition of South Jersey Magazine, click

here

.



Published (and copyrighted) in South Jersey Magazine, Volume 16, Issue 5 (August 2019).

For more info on South Jersey Magazine, click

here

.
To subscribe to South Jersey Magazine, click

here

.
To advertise in South Jersey Magazine, click

here

.