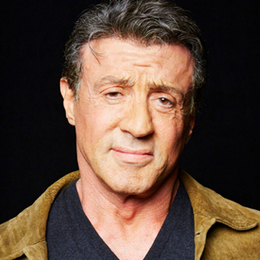 Still Standing
After all these years, Sylvester Stallone has plenty more to give.

With a career spanning five decades, Sylvester Stallone has proved to be, if nothing else, resilient. He's experienced both the highs and lows that come with life in Hollywood, and yet after all this time, the rugged and chiseled 73-year-old is still going strong. And it's with that mindset that he has made a regular habit of offering his millions of fans across the globe some inspiring words of wisdom: "Keep punching."
A fighter's mentality is something that's always been closely associated with Stallone, who famously made the iconic character and ultimate underdog Rocky Balboa so beloved it would birth two successful film franchises and have a lasting impact on the city of Philadelphia. To this day, people still run up the "Rocky" steps at the Art Museum and raise their arms in a V as they stare out into the city, doing their best recreation of one of cinema's all-time scenes.
Of course, Stallone's ties to the area run much deeper than the film's connection. He spent part of his formative years growing up in Northeast Philadelphia, where he made few friends and went by his middle name Michael to avoid ridicule. After getting into his fair share of scuffles in the neighbourhood, Stallone eventually ended up at a Chester County private school that catered to youth with similar struggles and it was there he found himself as an athlete, playing football, fencing and throwing discus. During the summer, his family kept a cabin in Medford Lakes. He's also a big Eagles fan who grew up idolizing running back Timmy Brown, and so it's not surprising to see him pop up at a local sporting event or pass through town even when he's not filming here.
Stallone's longevity has proven he's more nuanced than a has-been, antiquated action hero. In 2016, he revitalized the role of Rocky in Creed, portraying a modern day version of the weathered fighter alongside Michael B. Jordan. His captivating performance earned him an Oscar nod for Best Supporting Actor, joining the likes of Bing Crosby, Peter O'Toole, Al Pacino, Paul Newman and Cate Blanchett as the only people to ever be nominated twice for portraying the same character.
Now, almost 40 years after author David Morell's book was adapted for the big screen, Stallone returns to the box office this month as another familiar character—John Rambo—in Rambo: Last Blood. In the film, the troubled war veteran meets his past head-on and is forced to reignite his merciless battle skills to gain revenge in one final conquest.
We spoke to Stallone about returning to familiar roots, his creative approach and learned why in real life he never stood a chance in an actual boxing ring.
You're bringing John Rambo back for the final time; what can you tell us about this film?
Yeah, at the end of the fourth one he returned home and when we re-join him, he is out in this terrible storm helping others try to rescue people who need saving. The storm gets so bad that they start bringing people off the hill, and one of them is on horseback and it's Rambo. He is volunteering as if in recompense for being unable to save his friends in Vietnam. So, he has PTSD and that comes out as "survivor" guilt. He is going through a pretty rough time.
After that, we see that he has this beautiful ranch as a home, but he chooses instead to live underground. There are miles and miles of tunnels which he has dug himself as he was a "tunnel rat" in Vietnam and there is something subterranean with the darkness, the stillness, the enclosure. [The film's] very cool and I like it.
He has an adopted family and his own father has died. He has a housekeeper—who is probably 70 years old—whose granddaughter also stays with them as her mother has died and Rambo is like a surrogate father. However, he is extremely paranoid about anything ever happening to her.
But she is a young girl and when she finds out who her father is, she tells Rambo that she wants to go and see him. He's in Mexico, but he is a bad man and Rambo doesn't want her to go. She says that she won't, but she does and it's then that bad things begin to happen.
Rambo has been fighting his PTSD and once he crosses that line outside of his property, he feels as though he cannot control what is out there and more so that it will control him. Sure enough, he goes out to Mexico and bad things start to take place. A lot of people are getting hurt in this film. [Laughs].
There is similar theme of resilience with a lot of your characters over the years. Would you say that ability to overcome relates directly to the type of person you are in real life?
Yes, I think I would. There is something about the nature of man and woman, just the creatures themselves and we've been through so much upheaval over thousands of years. We've seen civilizations being destroyed, only to come back and I am very much into that theme of fighting back and not accepting defeat easily.
If we do get defeated, then we mostly rebuild ourselves and come back. I do think that it's a very interesting cycle, which is also timeless.
How much of that's something that is reflected in your writing?
I like to inject a lot of that into my characters and I don't separate myself from anyone else. I think all of us have a thread which goes through us, we are familiar with fear and what it is, the same with loneliness and isolation, what victory and failure are. I think that if you can tell that story then the audience can relate to it.
But if you are someone who feels that they are above pain or above fear, then who cares? You cannot be human if you don't identify with those emotions. Being human means that you are able to balance all of your weaknesses and trying to make them a strength. Because that's what life is—life is juggling things every day. It could be beautiful one day. Then, you can get one phone call and your whole life is changed.
John Rambo and Rocky Balboa are your two most popular characters and they are both very different. What do they mean to you?
It's a constant battle and that's what I try [to do] when I am successful—and I am not successful all of the time, I do fail. But when it works, like with Rambo and Rocky ... I do really like those characters. I love Rambo because his character has a lot in common with those people who, unfortunately, deal with isolation every day.
In contrast to Rambo, Rocky is different with his optimistic view of the world and of his own life. He quickly realizes that he is not special, and that life owes him nothing, but he tries as much as he can to make his life better and to be special.
Also, it's a common misconception that Rocky is a boxing movie, it's not. It's more a movie that has boxing in it and Rocky exists in isolation and is reborn once he meets a woman. Boxing is just his job; he could have been anything in life. But the boxing element is a metaphor because life is a fight against the odds and a race against time. It will always be that.
One funny thing is that I still have the two turtles from the first Rocky film almost 45 years ago and they're about as big as I am. They are the only friends that I have left [laughs]. Maybe I should just make another Rocky movie and join them in the bowl; they are nearly as old as I am.
How much do you enjoy the creative process of writing?
Well, my daughter wanted to be a writer and I told her: "No you don't!" Writing is a horror, it is so difficult and whereas it is so rewarding, it is also so painful at times because you are constantly challenging yourself to put words onto a piece of paper.
It's an extremely difficult, precise endeavour and it requires so many rewrites until you read something, and you shout: "I got it!" Then, the next time you read it, it makes you wonder who wrote it because it's that bad. I always say to those people who want to write: "If it's not your passion, don't do it!"
My daughter tells me she wants to be a writer and so I went and got about 100 notebooks from my office and it made me realize again that I wish I could type. I told her that for every one word that you are going to use, there are 500 more that you're not. After that, she decided to go back to college.
As a kid, you were teased a lot. Why was that?
Well, I had a speech impediment which I probably still carry to this day and it was one of those things. I was born in Hell's Kitchen, so I had my accent to overcome and I was very, very thin.
So, it wasn't until I saw a film called Hercules Unchained and I thought, "Hey, here's a guy who can single-handedly defeat the Roman army with the jawbone of an axe." I was obsessed with trying to emulate him and wondered what he was eating to get like that. Ever since then, I have followed Steve Reeves [the actor who played Hercules in the film] and I was very impressed with that.
I actually had a very late start in athletics, and I didn't have a lot of interaction with sports early on. In fact, I remember that when I was in third grade in school, we were playing baseball and I was catcher. Someone hit a pop-up and I put my hands up to cover my head instead of trying to catch the ball. It was a traumatic experience for me and to this day that haunts me.
You had undiagnosed attention deficit disorder and during high school you played on a football team where all the players suffered from the same thing. What was that experience like?
Yeah, the huddle before each play became a group therapy session [laughs]. It became like an intervention, everyone having a meltdown. People asking, "Where's my medication?"
It was horrifying and we lost all of 10 games that we played. So, I know what the kids of today are going through when they feel frustrated and everyone labels them as a "bad kid." It's just about being focused on an activity or a job which keeps them busy and then they will learn about life properly.
You were very convincing as Rocky at the height of your training. Do you think that you could have made it as a professional boxer?
[Laughs] Probably not, no. The reason being that I actually had a few reality checks when I was training for Rocky III. In the first Rocky movie, I was so awkward. So, for the third film, I thought to myself, "You know what, let me use a real fighter [to train]."
So, I brought in Joe Frazier and he was in the ring for maybe 11 seconds and I had four stitches above my left eye. He just thought it was no challenge, it's an actor. Then, I brought in Earnie Shavers and he just started to bob and weave and I thought, "Oh, I will be able to run him no problem."
Some people told me that Earnie was slow. Slow? First of all, he's a former all-state halfback—total speed. The bell rings and the next thing, I am in the corner and I can't get out. He starts to unload and he hits me just on the arms and I said: "Someone has released a Buick into the ring!"
It literally felt like I was bouncing against chrome and I started to squeal. I got in touch with my feminine side very, very quickly. Then, I did one with [Roberto] Duran and I'm thinking, "I'll beat him." Yeah, right.
I don't know if you've ever saw a man go from a young Italian to Roquefort cheese. You know the colour of Roquefort? Blue cheese. Blue, yellow, tapioca-colored. He was extraordinary.
But there were certain earmarks they'd give away [that should have served as a warning sign]. When [Duran] was starting to work the speed bag with his head, you know that you shouldn't be in a ring with him. [He was doing it] with his head, as fast as I can move my hands.


To read the digital edition of South Jersey Magazine, click
here
.
Published (and copyrighted) in South Jersey Magazine, Volume 16, Issue 5 (August 2019).
For more info on South Jersey Magazine, click
here
.
To subscribe to South Jersey Magazine, click
here
.
To advertise in South Jersey Magazine, click
here
.