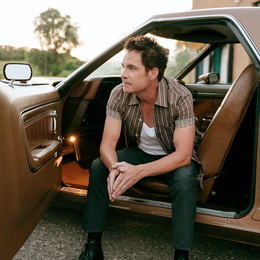 Full Steam Ahead
Train frontman Pat Monahan talks about the band's latest tour, making new music and why there's a lot more to give.
Pat Monahan is one of those rare musicians who has been around for decades and hasn't missed a beat. Lead singer for Train, he has been the heart and soul of the Grammy-winning band since they formed in 1993 and the group has various hits spanning decades, from their earlier alternative rock days with "Meet Virginia" and "Drops of Jupiter," to pop hits such as "Marry Me," "Hey, Soul Sister" and "Save Me, San Francisco."
Over the years they have released 11 albums, and that included a short hiatus in 2006. Monahan released a solo album during that time, and the band did some soul-searching and made the necessary changes to help them move forward. They changed their sound from alternative rock to pop which caught the attention of many music-goers and found a new fan base, while still bringing their original fans along for the ride. And they sound better than ever.
They are touring with Goo Goo Dolls for the first time and making a stop at the BB&T Pavilion in Camden on Aug. 10. We spoke with Monahan in the midst of the tour to talk about where he gets his inspiration for writing music, his memories of the area and what's to come in the future.
Train's first time playing in Camden…
The first time we played in Camden was the first time we knew "Meet Virginia" had a chance to be a hit. We were playing at a festival and I remember someone saying, don't call it Philadelphia. This is New Jersey, even though Philadelphia is right there.
Lyric writing has always been to me based on my father's perspective of music. He loved a guy called Johnny Mercer; soon after I loved him, and he was my biggest lyrics inspiration. Right after our first album my record company president—who is still a friend—said, "Pat, you don't have any hits." I was so stressed out about it because when you don't have any hits, especially in 2000, you probably are making your last record. My mother had just passed away. One night I had woken up maybe 20 minutes after I fell asleep and I had every lyric in my head, and there's no way my mother didn't send the song to me because I wrote the whole thing down the next day; I sang it and that's how that happened. She was basically telling me what it was like on the other side. You get to swim through the other planets and come back with drops of Jupiter in her hair.
On why Train went on hiatus…
We needed a break because we had gone so hard for so long, and the only way to survive was to dismantle instead of break up. Everyone went to do their own thing; I did a solo record to get it out of my system and when I came back, we made a lot of really positive decisions, changed management and moved forward. I wrote 'Hey, Soul Sister' which kind of woke up everything for us again and we traveled the world, and you know now it's about the music more than ever. It's not about hits and being on pop radio where it was that way for many years. Now you can make a record that people will find if it's good enough and that's exciting for me.
On his favorite collaborations…
The favorite is always the one to come. There have been a lot of fun ones. Brandi Carlile sang on a solo record for me—she's sweet and awesomely talented. Aimee Mann and I sang together once which was awe-some. There's not really a favorite, but there's one coming I might really love—I might sing with Jewel, we'll see if that works out.
We made a record of Johnny Mercer songs I'm going to hold for awhile and will work on over the next few years. Recently I've written two songs for what's coming; it seems a lot like the first Train album. It's going to be less of a pop record and more of an alternative, rock, folk album. I'm excited for what's next to come from Train.
One of my favorite times was maybe 10 years ago when we went to Philadelphia—I did Bikram Yoga and had one of the best meals I've ever had before our show that night. And just last year when we were in town we went to The Trocadero, and then I heard they recently sold it? That place will be missed.
What fans can expect on this tour…
It will be a lot of fun. Come early and see (opener) Allen Stone. He's such a great kid and so talented; you're going to be blown away by him. Definitely come early enough for Allen. You'll come for the Goo Goo Dolls and Train, and you'll leave a huge Allen Stone fan.
What he'd like to be remembered for…
There's a quote about Johnny Mercer: "If you were around Johnny Mercer, you always felt like you belonged in the room with him." He always included everybody, whether you are a stranger or family, he made everybody feel like they belonged. If someone ever said that about me, I think I would rest easier after my passing. I think that's what I'd like to be known for.
To read the digital edition of South Jersey Magazine, click
here
.
Published (and copyrighted) in South Jersey Magazine, Volume 16, Issue 4 (July 2019).
For more info on South Jersey Magazine, click
here
.
To subscribe to South Jersey Magazine, click
here
.
To advertise in South Jersey Magazine, click
here
.