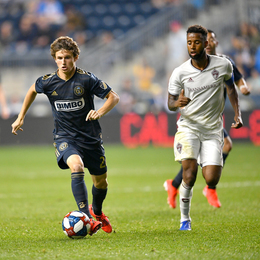 Teenage Dream
At just 18 years old, Medford's Brenden Aaronson is living out his fantasy as a professional soccer player for the Philadelphia Union.
There are times, Brenden Aaronson admits, when he thinks about what it would be like to be a "normal teenager." As the friends he grew up with in Medford were spending their final year of high school doing fun things likesenior trip and prom, he was going to work every day.

But it helps that his job just so happens to be the one he has been dreaming about since he was 5 years old. A professional soccer player, Aaronson is in his rookieseason as a midfielder for the Philadelphia Union in Major League Soccer (MLS).

So while he certainly missed out on certain experiences had he stayed on the traditional path, getting the chance to play the sport he loves in front of thousands of fans is a pretty good trade-off.

"I think if you want to be a pro at something, you have to leave some things behind," Aaronson says. "You have to leave the social life behind you and all the other fun things that you're going to have throughout high school. You just have to take that step. There were some nights I was missing all of those things; I felt bad and I wanted to go back. But it was worth it because of where I am. You just have to shake the other stuff off and follow your dream."

Aaronson has been standing out from the crowd since his days playing for Medford Soccer Club and Real New Jersey, a South Jersey club led by his father, Rusty. He eventually became one of the first players accepted to the Philadelphia Union Academy program and went on to star as an amateur for Bethlehem Steel FC, a professional club affiliated with the Union.

Last September, about a month before his 18th birthday, he signed a homegrown contract withthe Union and he made his MLS debut in March, scoring a goal against Atlanta United FC. He has emerged as a starter at central attacking midfield, all while completing his senior year at YSC Academy, the school he transferred to after spending his freshman year at Shawnee.

South Jersey Magazine recently caught up with Aaronson to discuss the highlights of his rookie season, his future goals and his favorite Jersey Shore town.

Adjusting to pro soccer…
It's kind of been crazy, because it all came out of nowhere, I guess you could say. Going into this year as a rookie, I didn't really think I would play this much. Things didn't work out in the way we planned,but in a good way, and it happened for the better for me. I took the chance and it's been going really well.

Competing against grown men…
I think the physicality is the biggest thing. These guys are a lot bigger and stronger so I have to use my body in a different way. I have to think the game and not get in these physical battles. I've always been small for most of my life, so it's something I got used to at a young age. I've had to learn the game through thinking and not just using my physical attributes.

His mentor on the Union…
Haris Medunjanin; he's the 6 for us. He's unbelievable. We were roommates in the preseason and he's helped me so much.I can't thank him enough. He always gives me tips and we're super close.

Scoring a goal in his first game…
Coming from a kid who grew up having season tickets and going to every single Union game when I was little, it was definitely surreal. In the moment I wasn't even thinking about it, but afterward it hits you. It's like, 'Oh my God, what just happened?' Then I was getting all these text messages telling me 'Congrats.' It hit me that I just scored a goal for the team I've been playing for since I was 13 years old and going to their games since I was10. It was pretty crazy.

Attending Union games as a kid…
I think they played their first season at the Eagles' stadium, but I was at the first game at Talen [Energy Stadium], which was PPL Park at the time. I remember going to the games and how awesome it was. Soccer was finally becoming big in the U.S. When I was younger all I used to watch was the EPL [English Premier League] and Serie A, all the different leagues [around the world]. So it was crazy to see it here.

Working toward a pro career…
I've always wanted to be a professional soccer player. That's been my dream since I was 5 years old. I've worked super hard to get to where I am; it's always been a goal for me and I saw it the entire way. I think I had a pretty good idea of what I wanted to do. When I got my chance with Bethlehem Steel I started thinking, 'Wow, I have a chance at this.'

Becoming a soccer phenom in South Jersey…
I played at the Medford Soccer Club for three years, and then we went to Real New Jersey, which is my dad's club now. From Real New Jersey I went to the Union Academy. For me to become a pro, that was the best situation. The U.S. Development Academy was just starting to come around and that was the best chance to become a pro and get a homegrown contract or something like that. I always wanted to go to the Philadelphia Union Academy, but it was just hard leaving my friends.

Representing his hometown…
I think there's one other Medford guy to [play in the MLS]; his name was Stephen King. I try to be a role model for kids from that club. I was just there about three or four weeks ago. Nike gave us some balls and we donated them to the club.

Transferring from Shawnee…
I went to Shawnee for my freshman year, but after that things didn't work out. I had to go to summer school because I missed too many days for national team camps and all the traveling I was doing. … It was the best decision for me to go to YSC Academy, because we trained twice a day and that really helped. The school is super flexible too if you're missing time.

Coming from a soccer family…
My younger brother Paxten and my younger sister Jayden are also into soccer. My brother is in the Philadelphia Union Academy and my sister plays for Real [New Jersey]. My brother doesn't want to say it, but I think he looks up to me a little bit. He definitely wants to go on the same route that I have; he's doing really well right now so I'm happy for him. He just has to keep pushing. I think my sister has the same goal too, so I try to train with them as much as I can and help them out. I think they're on a really good path.

Hobbies away from soccer…
Definitely hanging out with my friends and hanging out with my girlfriend. I like to play ping pong too. I play tennis and golf. I play at Medford Village; my golf game isn't very good but it's getting better. I just started last year and I kind of got hooked, so I'm going to try to get out more.

Hanging out at the Jersey Shore…
I go to Diamond Beach in Wildwood Crest; we have a house there. I actually just went down because I had two days off. I got pretty sunburned. I try to get down as much as possible.

Attending training camp for the U.S. U-23 team in Utah…
That was amazing. Being called to represent your country is always an amazing feeling, especially for the U-23s. It was an awesome experience and the RSL, where they train, is unbelievable. There will be another camp in September or October, and the Olympics will be next summer. So if I'm chosen I'll go to the Olympics. Representing my country in any way would be a dream come true. I grew up always watching the U.S. Men's National Team in the World Cup and to represent my country would mean a lot.

His future in soccer…
My long-term goal would definitely be to go play in Europe's leagues; any league in Europe would be amazing. Having a team like that around you just makes you so much better. Right now I'm definitely focused on the Union and I want to do the best I can for them. But I would love to go over there at some point. When I was younger I went over a lot; I went to Amsterdam and England. It's awesome over there. Here football is the big sport, but football here is not as big as soccer over there. That's what they live and breathe.

To read the digital edition of South Jersey Magazine, click

here

.



Published (and copyrighted) in South Jersey Magazine, Volume 16, Issue 4 (July 2019).

For more info on South Jersey Magazine, click

here

.
To subscribe to South Jersey Magazine, click

here

.
To advertise in South Jersey Magazine, click

here

.