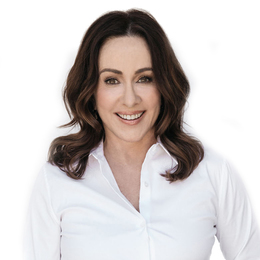 Ready to Entertain
With a new homewares line and upcoming return to television, Patricia Heaton is back to doing what she does best.
Patricia Heaton doesn't really know the definition of downtime. Having just wrapped nine seasons of The Middle last year, the Emmy-winning actress is doing anything but sitting idly by. This fall, she'll return to the world of television comedy as the star of a new CBS show, Carol's Second Act, where she'll play a retired teacher and mother of two adult children who decides to pursue her dream job as a doctor.
In the meantime, she decided to fill the seemingly non-existent void in her schedule by launching her first-ever homewares line, Patricia Heaton Home, with Walmart.
"I had a little time off which is a very dangerous thing; things start happening," Heaton quips.
Things have been happening for Heaton for quite some time now. Best known for playing Debra Barone for nine seasons on the wildly popular show Everybody Loves Raymond, Heaton garnered two Emmys for the role and was nominated a total of seven times. The Middle was a critically acclaimed success as well and further catapulted Heaton into the lexicon of favorite TV moms, a bit of a badge of honor for the real-life mother of four sons.
In the midst of her success on The Middle, she hosted Patricia Heaton Parties on the Food Network for two seasons. The show would win a Daytime Emmy award and helped inspire her first cookbook, Patricia Heaton's Food for Family and Friends. The new home- wares line is seen as an extension of her passion for good food and good company and a project she long had her eye on and was finally able to bring to light with the help of her longtime stylist and decorator, Ricci DeMartino.
We had the opportunity to chat with Heaton about her new line, the upcoming show and how she finds the balance to juggle everything. Speaking with her, she's as pleasant as one would expect with an amenable personality that feels extremely genuine. She has never been blinded by her success, she simply just wants to entertain, whether that means on your television screen or at the dinner table.
What inspired Patricia Heaton Home and how did it all come together?
Well, being in California now, in Los Angeles for 30 years, I have actually moved a number of times as my family continues to grow. We are blessed in California to have a variety of architecture from the 1900s throughout the modern styles we have today. I've had the opportunity to be in lot of different architectural environments, and I've always loved design.
My stylist Ricci DeMartino is my partner in this venture and he's a wonderful interior decorator and knows how to do things for less. [The line] appeals to my Midwestern roots and it's a natural progression from cooking show to cookbook to creating environments for family and friends. … I'm super excited for it to become a reality.
You also have a new show coming out this fall. How excited are you for that and what can you tell us about it?
As an actor, there's no retirement plan, you hope you can continue working. After being on such well-written shows like Everybody Loves Raymond and The Middle, I thought it was going to be difficult to find something that was fresh and was well written.
The show is about a woman of a certain age whose husband left her. Her kids are out of the house and instead of retiring into book clubs and Chablis, she has more to offer the world and pursues her lifelong dream of be- coming a doctor.
It's interesting, at my age in the entertainment industry, [actors] used to have to go fade into oblivion. But for myself, I've never had more opportunities than I do right now. Coming off the #MeToo movement, many things were exposed that needed to be exposed, and this show reflects that. For women—and men—aging shouldn't be a thing we fear, it should be a thing we celebrate. The world needs people with experience and wisdom and that's the theme of this show. And for me the No. 1 things is it had to be funny, being a veteran of comedies, and this one is.
As a mother, how do you juggle the hectic schedule of your work with home life; how have you found your stride over the years?

My kids are now 25, 23, 21 and 20, so the oldest ones are permanently out of the house. Not that they were banished or anything; they have their own lives. The two younger ones are both at university … [so] for all intents and purposes, I am an empty nester. Going back to shooting a multi-camera show was interesting to me, it's less hours than on a single-camera show like The Middle. For those hours, you are working the whole time. I forgot how intense the day could be. Then I think about me doing that kind of schedule when my kids were little … I was pregnant the first season of Raymond and looking back, I cannot believe I did it. It was one of those things when you don't have a choice. Now, it's much easier for me and I realize that it was quite a feat during Raymond and The Middle, it was really some- thing. When I see couples in their 30s with babies and toddlers, I get PTSD. How did I do it with four? Thank goodness I didn't really know it at the time.
You have four kids and come from a big family yourself, so I would imagine that family plays a huge factor in your life.
Yes, especially as you get older, as you have kids … everyone is very tight. With our own kids, it's really wonderful to have these relationships as they become young adults. Hope- fully you see them making some good choices and you feel like you did something right. You have to learn when you don't necessarily agree with their choices, they are adults and have to make their mistakes. That's when the actual growth and learning happens. When we visit them or they visit us, it's so wonderful to have everyone back in the house. It's a little tough to go through the heartbreak of missing them right away when they leave, but it's kind of a wonderful pain.
One of your sons on The Middle, Char- lie McDermott, is from West Chester originally. Have you ever spent any time in Philly or New Jersey?
I used to live in Hoboken in the '80s, you have to go in the wayback machine. That was when Hoboken was not hip and it was affordable.
You've been fortunate to work on some pretty popular shows that really resonated with audiences. In what ways is that a rewarding aspect of the job? You want to do good work, but you also want people to enjoy it.
I think you're right, coming from a Midwest background and I'm still very close to that background. I really didn't start making my living as an actor until my late 20s, early 30s. I relate to the struggle and feel fortunate to be where I am.
I think it's important to reflect on those experiences in our culture, to represent people from all different parts of the country. That's what was great about Raymond and The Middle. So many people have written on social media how great it was to see their lives reflected on a TV show, with warmth and love. It was a family experience. Not only that; but to bring joy to people is so important. Many times people said they had an illness in the family and Raymond or The Middle brought them a spot of joy or laughter; that's really meaningful. You think as an actor you are being a clown. In the Hollywood community, comedy can be the low man on the totem pole, but it brings a lot of joy and pleasure to people.

To read the digital edition of South Jersey Magazine, click

here

.



Published (and copyrighted) in South Jersey Magazine, Volume 16, Issue 4 (July 2019).

For more info on South Jersey Magazine, click

here

.
To subscribe to South Jersey Magazine, click

here

.
To advertise in South Jersey Magazine, click

here

.