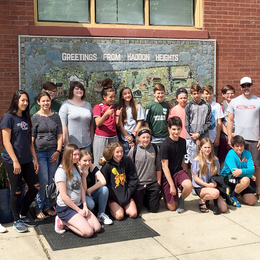 Creative Outlet
ArtPride New Jersey advocates for arts funding across the state and highlights how the creative industries contribute to the economy and our community.
Art is something many of us likely take for granted on a daily basis. During a morning commute for instance, it's easy to become immune to the creative aspects, from a mural to the programming on the radio. But there's no question the arts influence much of the world around us, including education, business and community development, and for one organization in particular, arts are always at the forefront.

ArtPride New Jersey began in 1986 with the goal of representing the state's art community with a unified voice not only in Trenton but to the public as well. The organization represents members in the nonprofit sector, including theaters, museums, galleries, symphonies, local arts councils as well as for-profit industries such as film, radio, TV, graphic design and publishing.

The organization has grown tremendously in its 30-plus years, yet according to Adam Perle, president and CEO, it still embodies the original mission of supporting and representing the entire New Jersey arts community, regardless of discipline. "What we're doing today is we're trying to make positive change for artists and organizations by working with community leaders, government officials, residents and nonprofits through both advocacy and promotion," he says.

ArtPride was instrumental in helping to save funding for arts, history and tourism when cuts were proposed to the 2003 state budget. Perle says there was huge backlash from the arts community, and the united front resulted in the creation of the NJ state hotel/motel occupancy tax. This tax became a funding source for arts, history and tourism and a minimum is given to several organizations annually, however, that minimum has remained the same for 15 years, which Perle says is a challenge.

"It has not kept up with inflation. Having the same amount of money every year means we have less money," he says. "We'd like to see it increase appropriately to reflect the economic impact to make it fair so these entities can grow and expand, and fund new and diverse arts organizations."

But Perle is also optimistic that, thanks to the work of ArtPride and its partners, the correlation between arts and quality of life has become more evident to elected officials and the public. "We've done a good job educating them about the importance of art and creativity and how it manifests itself in the culture, but that doesn't mean our job is done," he says.

According to a study by ArtPride NJ and Americans for the Arts, the nonprofit arts stimulate approximately $520 million in economic activity and return$41 million to state and local funds. Over80,000 people in the state are employed by arts-related businesses, says a 2017 creative industry report.

There are also studies showing the clear correlation between arts in early childhood development and academic achievement, and in this respect New Jersey is at the forefront, providing nearly universal access to students—a reported99.8 percent. But access is different than participation, notes Perle, adding that more than one million (or 80 percent) of students participate in arts education.

"We've grown a lot over the last decade. In 2006, 75,000 students had no arts access. In 2017, that number was down to 3,000," Perle says. "Students who participate have better test scores; become better students and better citizens of the education community with an ability to think on an advanced level. We're very lucky in New Jersey."

ArtPride works to build relationships between local and national partners insupport of arts education and last year played a significant role in assisting some students from South Jersey with their participation in the Scholastic Art & Writing Awards, the nation's longest-running and most prestigious recognition program for creative teens in grades 7–12. According to ArtPride, until recently, New Jersey's southern eight counties lacked a regional partner, forcing students to submit their work through the Newark Public Library.

"However, in 2018, ArtPride New Jersey connected the Alliance for Young Artists & Writers, which sponsors the Scholastic Art & Writing Awards, to Appel Farm Arts & Music Center in Elmer," says Perle. "Now, in addition to its many arts education programs that cultivate and support local talent, Appel Farm acts as the South Jersey Art Region Affiliate Partner of the annual competition. ArtPride works tirelessly to create connections like this that help New Jersey organizations shine a light on local arts students and teachers."

ArtPride also runs a program called Art Matters, which encourages communities to explore the public value of arts. "Arts are fundamental to our lives. Not only do they have intrinsic benefits for enjoying— taking in a play or seeing visual arts in public—but they have been scientifically proven to play a vital role in our quality of life," Perle says. "The creative use of public spaces—like pop-ups in abandoned stores, parklets, maker spaces, public art and festivals—create busier, safer and more valued communities where people from diverse backgrounds come together and share in a common sense of community pride."

One example is in Camden, which just received $1 million from Bloomberg Philanthropies for a public art project that will transform previous illegal dumping sites along the major transit corridors. The project will include art installations and creative programming along Camden's train, car and bike routes. Other examples exist in places like Millville, Hammonton and

Collingswood, where art is embraced on so many levels, Perle says. "Cultural institutions in these towns, Wheaton Arts, the Perkins Center for the Arts and the Rutgers-Camden Center for the Arts, have embraced this. It's driving people to these towns and they are thriving. Arts are part of the recipe for reinvesting in New Jersey's towns and cities."

These organizations are just as thankful to have a partner in ArtPride. Diane Felcyn, associate director at the Perkins Center for the Arts, says access and equity in the arts play an important role in sustaining and growing our quality of life and are instrumental in creating vital and healthy communities. "ArtPride New Jersey works with groups across the state to ensure that the arts continue to thrive in our communities," she says. "From helping us have a voice in the national arts agenda, to supporting programs in small towns across New Jersey, ArtPride's work is critical in advancing the arts. They're both our cheerleader and our bodyguard, helping us create and try new things and reach new audiences. With ArtPride, we can make sure arts will be here to serve everyone now and in the future."

To read the digital edition of South Jersey Magazine, click

here

.



Published (and copyrighted) in South Jersey Magazine, Volume 16, Issue 4 (July 2019).

For more info on South Jersey Magazine, click

here

.
To subscribe to South Jersey Magazine, click

here

.
To advertise in South Jersey Magazine, click

here

.