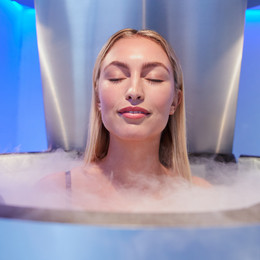 All Well and Good
From breathing in salt air to laser skin treatments, a look at the latest beauty and wellness trends in the area.

With the arrival of warmer weather comes the urge for us to look and feel our best, no matter if we are headed to the beach or a backyard barbecue. So we explored some of the ways people in South Jersey are keeping up with the latest beauty and wellness trends to help them get ready for the summer season.
Platelet-Rich Plasma Therapy
This cellular rejuvenation technique at Davis Cosmetic Plastic Surgery in Cherry Hill uses your own blood to restore youth and vivacity in the face and skin. A small amount of blood is drawn into a test tube, spun in a centrifuge to separate certain components of the blood and leaving behind cyclic rich plasma. These platelets can be injected or spread on the skin for healing and can help stimulate hair growth while also improving skin health.
Used to help treat varying issues pertaining to the skin, this technology works to correct a wide range of vascular and benign pigmented lesions. "Many patients seek treatment for broken blood vessels or redness of the face, predominantly the nose, cheeks and chin areas," says Dr. Sandra Elder, medical director of Aesthetic Dermatology. "These problems, as well as flushing and blushing, are common in fair-skinned individuals and people with rosacea and are quickly and easily treated with this laser. In addition, brown sun spots and freckles respond very well to this laser."
This unique service found at Ageless Skin Center in Sewell is intended to restore, replenish and rejuvenate. First is the salt application, followed by an ultrasound with hyaluronic gel that promotes hydration. Finally, LED light therapy is used to reduce inflammation in the skin and increase collagen production.
Becoming increasingly popular, this treatment utilizes cold temperatures to freeze away your pain by placing you in an icy chamber to help re-oxygenate the blood upward of 80 percent. At Orange Cryo Wellness in Voorhees, temps range anywhere from minus 202 to minus 256 degrees. In turn, this therapy helps with inflammation and recovery as well as produces hormones such as testosterone, estrogen, serotonin and adrenaline. But it's not for everyone as those with heart conditions, deep vein thrombosis or untreated high blood pressure should avoid this.
Halotherapy, also known as salt therapy, is a treatment designed to clean out histamines and heal the body from the inside out. Breathable salt particles are dispersed into the air to help promote better respiratory function. Kristi Hansen, general manager at The Salt Suite in Moorestown, is a firm believer after seeing her son, who suffers from asthma, make a transformation. "Within a month he was off every medication. He hasn't been on anything in close to four years," she says.
Sensory deprivation pools are filled with dissolved Epsom salt creating a density that allows the body to float on the surface. In addition to simple relaxation, other immediate benefits include helping with recovery by lessening the pressure on joints, muscles, tendons and ligaments while also reducing swelling and inflammation. "It's great for physical relief; it's great for relaxing people; it's great for post-traumatic stress disorder; results are great for improving performance. The same way that you would improve your laptop's performance by resetting it," says Tom Bazis, owner of Float SNJ in Marlton.
This newer hydration therapy mostly seen on the West Coast has made its way to the area and is helpful with hydration and boosting the immune system, typically through one liter of intravenous saline. Revive Hydration in Sewell can also add vitamins during the process, which are absorbed fully since IV bypasses the GI tract.
Cupping Therapy
A frequent add-on therapy to massages and acupuncture, specialists use cups to create suction on the skin which brings blood flow to the surface, improving circulation and overall healing of designated areas of pain. "I once treated someone for neck and shoulder issues with the cupping and then the inflammation they had around their face and eyes reduced because of it. It helps a lot with inflammation," says Van Dinh, acupuncturist at AcuVanture in Haddonfield.

To read the digital edition of South Jersey Magazine, click

here

.



Published (and copyrighted) in South Jersey Magazine, Volume 16, Issue 2 (May 2019).

For more info on South Jersey Magazine, click

here

.
To subscribe to South Jersey Magazine, click

here

.
To advertise in South Jersey Magazine, click

here

.