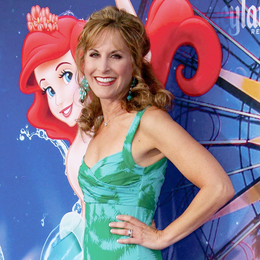 Under the Sea and Over the Moon
Three decades after the release of The Little Mermaid¸ Jodi Benson feels more connected than ever to the character of Ariel.

Jodi Benson admits that while she was very interested in auditioning for the role of Ariel in The Little Mermaid back in the late '80s, the Broadway star wasn't as keen on letting it be known to her peers in the industry.
"I absolutely had no clue it would change my life. In fact, when I recorded it I was doing a Broadway show, flying back and forth and kind of kept it under wraps because voiceover was not a very great job back then; it's what you did when your career was going downhill," Benson says. "And our names weren't going to be revealed, it was going to be a secret project that would disappear forever. But obviously it changed my life forever, such a blessing."
Now as the cast and crew get ready to celebrate the 30th anniversary of the film, the venerable star is looking forward to marking the milestone and connecting with fans young and old.
"Every seven years or so, we pull it out of the vault and we get to now talk to another generation of kids," she says. "We have grandparents and some great grandparents who share it with their kids, so that's very exciting."
We had the opportunity to talk with Benson as she was gearing up for a multi-city promotional tour and taking a break from touring colleges with her daughter, one of two children she has with husband Ray, who also serves as her manager.
A veteran of the theater world, there's no denying Benson's connection to Ariel and vice versa. Here she tells us about what the transformation has been like, what kind of things happened behind the scenes during filming and why she is now perhaps the most in-demand wedding singer in the country.


At the time you auditioned for The Little Mermaid, voiceover work wasn't exactly a coveted job. Obviously that has changed quite a bit since then. Were you unsure about even auditioning? What was the experience like for you?
There was absolutely no doubt about it, I was going to audition. Anything that [producer] Howard Ashman asked me to do, I would jump on board; he's absolutely brilliant. So when he invited all the girls from our Broadway musical Smile—which was ill-fated and closed way too early—to audition for The Little Mermaid, we all jumped at the opportunity.
The audition itself was really neat, I had never done anything like that, never been behind a microphone before. It was in a Broadway rehearsal studio in New York City with a reel-to-reel big tape, and Albert Tavares who was the casting assistant. It was just he and I in the room alone. I ran to the ladies room with the script in my hand and looked in the mirror and waited for people to leave so I could try and create the voice I thought she might have [laughs]. I kind of talked to myself in the mirror and ran back in time for my name to be called.
As the film gets ready to mark its 30th anniversary, how often do you reflect on its success and what it would ultimately mean for your career?
It changed my career, changed my trajectory and the direction in my life and I probably reflect on it daily. Ariel is a big part of my family's life and my living and my career and our day-to-day life.
Your voice is your instrument and a lot of people probably don't realize the amount of work that goes into taking care of it. What are the special techniques you practice to keep your voice in tiptop shape?
I have been with my vocal coach in New York City, Joan Lader, since 1984 and I still coach with her on Skype over the phone. I think the biggest thing for me is to get eight hours of sleep, drink lots and lots of water, no alcohol … get a good amount of exercise, eat healthy, warm up daily as much as possible and just continuing to sing. Just like an athlete you've got to keep everything kind of going all the way around. I have one cup of coffee in the morning, but really no other caffeine. Those types of things make a difference for me. I usually don't eat anything four hours before I go to bed, which helps with reflux laryngitis.
Last year, you also went viral when you surprised a couple at their wedding in Avalon. How did that all come about and what did you think of the bride's reaction?
They are such a sweet couple. They contacted my agent in Los Angeles, then contacted my husband as my manager and we went through an agency that handles celebrity appearances that was based in the New York area, and we kind of vetted through to make sure it was legitimate. I spoke with the father and mother of the bride and just fell in love with them, they were so precious. It was an amazing surprise and tribute for their daughter.
I had never sung at a wedding that wasn't family or friends. I had to stay hidden … far away from everyone involved in the wedding party so no one would find me. I love the family and the bride was completely shocked.
After the video became so wide-spread, were you thinking, oh boy, I'm going to be asked to do everyone's wedding now?
It has turned into requests on a daily basis, so my husband now has another full-time job searching and going through every inquiry and request to see if they are legitimate and to see if it lines up for the character of Ariel and the music of The Little Mermaid. The wedding in New Jersey was an Ariel wedding.
When was the first time you realized you could really sing and potentially make it your career?
I think I was about 8 years old when I announced to my mom that I wanted to be a working actress who could sing, dance and act. I didn't want to be famous, I didn't want to be a star, but I wanted to be a working actress. I started singing when I was pretty much coming out of the womb, but around 5 years of age, my sister and I sang at Catholic guitar mass service. My sister and I used to sing at weddings and got hired out. There was lots of music in my household.
You have been quoted as seeing a lot of yourself in the Ariel character. How so?
We do have a lot in common. I think we are both tenacious, both strong willed, we both think outside of the box. Coming from a small town in Illinois and wanting to go to Broadway without ever seeing a Broadway show is pretty ridiculous. So I felt like that was something that Ariel and I could really connect on, trying to live outside the box, dreaming big and thinking beyond what looks possible. I think tenacity, strong will and a slightly stubborn personality is something that Ariel and I have in common.
The Little Mermaid
is such an iconic Disney film, but is there anything that people may not know about the movie, any tales from behind the scenes?
My fondest memories would be all of the recording sessions with Howard Ashman and Alan Menken. Our table reads with the whole cast are just great memories for me. Anything to do with Howard is just a really fond memory. Working with Howard and Alan and of course our directors Ron Clements and John Musker as well.
One of the funny things that happened was I kept hitting the microphone with my hands. I'm Italian so I use my hands a lot when I talk. I, of course, hadn't worked behind a microphone before and would constantly hit the microphone with my hands. I practically needed to strap my hands down.
I [also] think there was a lot of burping going on [laughs]. As a joke the engineers would save these funny little clips of things that I would do or say and I know it will come back and haunt me one day.
Ariel was a once-in-a-lifetime role to be sure, but if you could have had your pick to play any other Disney princess, who would you like to take a crack at?
This is easy because I grew up with Cinderella in 1961 and she was my girl and my princess. If I could have a crack at voicing another princess that is more of a classic, it would definitely be Cinderella. I love the script, love the story, love the music and I think that would be so much fun.
If I took a crack at more of a contemporary princess, I think Anna and Elsa [from Frozen] would be tons of fun, because not only are they great vocal parts but there's a great score with great music. Both characters, I love their songs. I do sing "Let it Go" in concert, it's so much fun, a great story song and those are my favorites.

To read the digital edition of South Jersey Magazine, click

here

.



Published (and copyrighted) in South Jersey Magazine, Volume 16, Issue 2 (May 2019).

For more info on South Jersey Magazine, click

here

.
To subscribe to South Jersey Magazine, click

here

.
To advertise in South Jersey Magazine, click

here

.