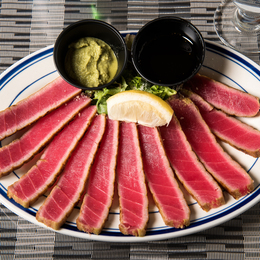 Palate: Hooked
The Little Tuna reels diners in with a seafood-centric menu that dazzles.

There are few names around South Jersey that have been truly institutionalized in our dining scene. They've built their reputation through the years, outlasting lean times and surviving whatever obstacles come their way.
The Little Tuna is inarguably one of those restaurants as it has remained a presence in Camden County in one form or another for 18 years. It started out seated on Haddon Avenue in Haddonfield—the dining room that is now occupied by another local staple, Tre Famiglia—before moving around the corner to Kings Highway in 2004. From a two-floor dining space, it evolved for a time to include its own seafood and catering market directly next door.
Then in the blink of an eye it was gone, shuttering its Kings Highway location suddenly in April 2018. We barely had time to miss it though because within the same month its third iteration opened its doors in Lindenwold.
It's a smaller space than the previous home, but still maintains the upscale, relaxed touches that you've come to expect of owner Marcus Severs' dining room.

White tablecloths dot a room packed with cherry wood accents and lined with windows and exposed brick. The view outside of the White Horse Pike may not be much to look at, but the natural light and attention to detail certainly brighten things up.
The menu combines classic seafood fare with modern touches. You'll find a spread of traditional fish entrées, pasta preparations and a few turf selections, as well as their signature selection of wild-caught, sushi-grade tuna filets, prepared several different ways and served either rare or medium rare.
I appreciated the menu's various offerings from traditional, steakhouse-style plates to new and unusual takes on old favorites. We began the meal with a starter of Creole Crab Minis—the impossibly meaty cakes were about the size of a traditional meatball, very lightly floured and plated over a cold Creole lobster bisque sauce that packed a punch. There was no shortage of shellfish in both the appetizer as well as in the bisque it sat in, though I was hoping for more of a crispy exterior on the crab cake for a bit of texture.
The Barbecue Bacon-Wrapped Jumbo Shrimp featured massive and tender shrimp that were enveloped with just the right amount of crispy bacon and then rested atop a bed of sautéed spinach, finished with a healthy dosing of barbecue sauce. I loved the freshness that came with just that small, considerate addition of spinach, and the shrimp and bacon were cooked perfectly so that the bacon's saltiness counterbalanced the sweet sauce.
Entrées come with a classic house salad, but for a small upgrade you can opt for their soups or a Caesar salad. The Maryland-style Crab Soup featured big chunks of lump crab meat swimming in a rich, tomato-based broth. It was one of the many examples of how shellfish are showcased on every part of the menu, especially with the pasta dishes.
The Little Tuna's house-made Lobster Ravioli come alongside sautéed sea scallops, a nice change of pace that added a helpful burst of flavor. I didn't get much of the actual lobster flavor I was looking for in the pasta, but the fresh sauce they were cloaked in was packed with tomatoes and a buttery flavor that paired nicely with the all the ingredients on the plate.
It's clear that the restaurant lives up to its namesake as you'd be hard-pressed to find a more extensive selection of tuna entrées in South Jersey, each Ahi tuna filet offered with its own variety of seasoning and crusts. The Pan-Seared Wasabi Tuna, for example, was coated with fresh amounts of the paste and kissed slightly by the pan until it was perfectly prepared to a rare temperature and ultimately served alongside a sesame-ginger soy broth. Every bite of this plate—including a perfectly seasoned rice pilaf on the side—was considerate and flavorful. The wasabi crust on the outside was mild but still added just a slight zing. The soy broth added more freshness, alongside a bit of salt and richness from the sesame oil.
Desserts were classic and simple. The most exciting option, a pistachio-crusted brownie, was warm and decadent; slathered in chocolate sauce and topped with vanilla ice cream. It was an easy way to wrap up the meal, but not necessarily eye-opening.
Despite having shuffled around South Jersey a bit, Severs and his staff seem to have no problem diving right back into what has made them so loved for so long. With a menu that still manages to excite the senses and a kitchen that is executing dishes with proper care, it would appear The Little Tuna is poised to drop anchor for the foreseeable future.
The Little Tuna
4 N. White Horse Pike, Lindenwold
856-795-0888 |
TheLitteTuna.com

To read the digital edition of South Jersey Magazine, click here.
Published (and copyrighted) in South Jersey Magazine, Volume 16, Issue 2 (May 2019).

For more info on South Jersey Magazine, click here.
To subscribe to South Jersey Magazine, click here.
To advertise in South Jersey Magazine, click here.