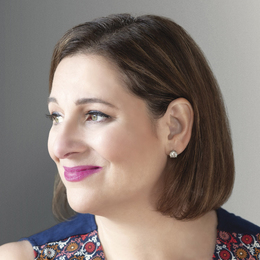 Getting Personal
With the release of her latest book Mrs. Everything due out in June, bestselling author and former Philadelphia Inquirer writer Jennifer Weiner tells us about owning only one television, finding inspiration at Princeton and her preferred daily reading material.



1. I always wanted to be a writer. I always loved reading, and as soon as I figured out that there were actual, living people who made up stories, I knew that was the job for me.
2. We only have one television set on our house. Growing up, I wasn't allowed to watch non-PBS TV. While my peers grew up on The Brady Bunch and Happy Days and Dukes of Hazzard, I got books. And now I have serious gaps in my pop-culture knowledge, but I became a life-long reader, a habit I'm hoping to instill in my daughters.
3. I graduated from Princeton in 1991. While I was there, I studied creative writing with Joyce Carol Oates and Toni Morrison, and non-fiction with John McPhee. I graduated in 1991, and John McPhee was the one who encouraged me to get a job writing for a small, local newspaper, where I'd see a new part of the country, and write every day. I worked for a small paper in central Pennsylvania, a larger paper in Lexington, Kentucky, and I moved to Philadelphia to work for the Inquirer in 1994.
4. The two dogs I've owned as an adult have both been rescue rat terriers. My first little guy, Wendell, was adopted— my roommate and I found him listed in the classified ads of the newspaper where we worked. "One dog, small, spotted, free to a good home." Wendell lived to be 17 and saw me all through my 20s, and into marriage and motherhood. It took me over a year before I was ready for another dog. I wanted one because I wanted my girls to have a pet, and so we got Moochie in 2011. She loves everyone in the family, but I'm her person. She's within five feet of me at almost all times. She naps at my feet while I'm writing and sleeps tucked up under my knees at night.
5. My new favorite daily routine is getting a poem emailed to me each day from Poets.org, the Academy of American Poets website. Last month, Tracy K. Smith, the United States Poet Laureate, curated the selections, which highlighted the work of younger and emerging poets. I love sitting down to my own writing with those rhythms and images in my head.
6. My older daughter, Lucy, is a sophomore in high school and a theater geek. She's stage-managed just about every show her middle school and high school has put on, and wants to work in theater when she's done with school. Which is fitting. When she was little, I'd play her Broadway musical soundtracks in the car. One day, she was in her car seat, and she kept yelling, "Ocher! Ocher!" I couldn't figure it out, until I realized that she was trying to say "Overture."
7. I love to cook, but I'm not a great baker: too much precision. However, I have found that Joan Nathan's challah is almost impossible to screw up, and I've been making it every Friday afternoon to serve to my family for Shabbat dinner on Friday night.
8. The best cookbook I've discovered is Samin Nosrat's Salt, Fat, Acid, Heat. I love cookbooks that explain the science of cooking in ways a non-scientist can understand, while also telling the stories behind the dishes. This book does both, and it's also set up in a way that each recipe has endless variations. Lately, my husband and I have been playing around with her pork shoulder with chilis, substituting pomegranate molasses for some of the heat.
9. My all-time favorite beach book is Susan Isaac's Shining Through. It's about a smart, funny secretary in New York City, at the start of World War II, who's hopelessly in love with her married boss, and who ends up saving the world. It's funny and gripping, with an unforgettable heroine and the happiest of happy endings.
10. I try to exercise four or five days a week, not to lose weight, but for the physical and mental health benefits. I do barre classes, yoga, outdoor boot camps when the weather's nice, and I'm a very slow runner. Once, my husband and I did a race on the Boardwalk in Atlantic City—he did a 10K, and I did a 5K, and when it was over, we went to the Borgata and sat in the hot tub and got massages at the spa. That was a good day.

To read the digital edition of South Jersey Magazine, click

here

.



Published (and copyrighted) in South Jersey Magazine, Volume 16, Issue 2 (May 2019).

For more info on South Jersey Magazine, click

here

.
To subscribe to South Jersey Magazine, click

here

.
To advertise in South Jersey Magazine, click

here

.