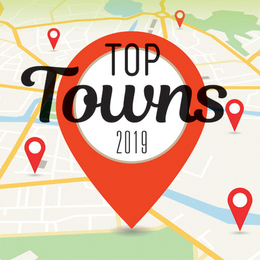 Top Towns 2019
One of the things that makes South Jersey such a wonderful place to live are the individual communities, each offering their own bit of charm that collectively help make the area truly one of a kind.
To help determine this year Top Towns' rankings, we spent time factoring in various aspects of what makes each town stand out from the pack. We used date compiled from the New Jersey State Police, the New Jersey Department of Education and the state's Division of Local Government Services. Using a weighted formula, we combined average property values and taxes, crime incidents reported per 1,000 residents and high school performance numbers (consisting of average SAT scores, high school graduation rates and more). We then broke the rankings down into two categories: a population of more than 10,000 (big towns) and smaller than 10,000 (small towns).
Moorestown took the No. 1 spot for the first time since 2016 and with good reason. A renowned educational system, high property values and a desirable quality of life make the town one of the best places to live not only in South Jersey, but across the country.
Certainly, the rest of the towns on the list could make their own argument to be atop the list, and the data supports that, with many of them being separated by only a few percentage points. It's just further evidence as to why we are so lucky to be able to live, work and play in South Jersey.

THE TOP 25 OVERALL

THE TOP 10 TOWNS BY COUNTY
Burlington

THE TOP 10 SMALL TOWNS
A look at what is attracting home buyers in today's market and where they are finding it in South Jersey.
It's no secret why places like Moorestown and Haddonfield continually chart so high in our annual Top Towns rankings. Beautiful homes that hold great value, topnotch school systems and a strong sense of community are just some of the reasons why they are such coveted places to call home.
But as more and more people look to plant their roots in South Jersey, neighboring communities are seeing an uptick in interest and are poised to become the next hot spot. Whether its families in search of larger properties or empty nesters looking to downsize without sacrificing the quality of life they've grown accustomed to, the local real estate market is abuzz. And while individual desires differ, the overriding considerations of education, home value and convenience remain the cornerstones.
"Homebuyers have various reasons for moving and look for many different things, but what they almost always think about is family, work and convenience," says Jacki Smoyer of Weichert Realtors.
The convenience factor is huge when talking about being close to schools or cutting down the commute to the office, not to mention having attractive dining and retail options nearby. But it can also signify the convenience of finding a turnkey property that doesn't require large upgrades which can make the move feel more like a project.
"People want a home that is done … one with a finished basement, a knockout backyard. … They don't want to put in a pool, or update the bathroom. They want to move in and start to entertain the next weekend," says Nancy Kowalik of the Nancy Kowalik Real Estate Group.
Gary Vermaat, of Lenny, Vermaat and Leonard, sees areas like the Erlton and Barclay Farms sections of Cherry Hill gaining in popularity because of the quality homes available as well as their proximity to restaurants and shops along with easy accessibility to Philadelphia for those who work on the other side of the bridge.
"Maybe you are a downsizer looking to move out of Haddonfield and you don't need that big house anymore or wish to pay those taxes, but you are looking for those areas that surround," Vermaat says. "Areas such as the Erlton section are affordable and pretty popular right now."
Vermaat has noticed other parts of Camden County starting to thrive as well. "The areas I see [that are becoming popular] are what I like to call the High Speedline Corridor. Places like Collingswood, Haddon Township and even Haddon Heights. They offer convenience to Center City, but also have their little downtown areas and people seem to like the community atmosphere," he says.
Over in Burlington County, Mount Laurel is garnering plenty of attention, specifically from folks moving from not only Philadelphia, but also Central Jersey, according to Smoyer.
"Mount Laurel's home prices and taxes are more affordable [than Central Jersey] and its quick, easy access to major highways, including the New Jersey Turnpike, make traveling to places like Princeton or Trenton relatively painless," says Smoyer. "Philadelphia residents are moving there for much the same reasons. They want more space at an affordable price with decent schools and comparatively reasonable taxes."
Smoyer also cites Merchantville as a town seeing resurgence. "It is a cute town with older homes and a downtown like Haddonfield and Moorestown. However, the homes are more reasonably priced and their new arrangement to send students to Haddon Heights High School has also had a positive impact on the town's attractiveness."
In Gloucester County, Mullica Hill continues to see a lot of activity, but also neighboring towns like Mantua, East Greenwich and Mount Royal are capitalizing on the growth. And with new projects in the works like Inspira Health Network's move to Mullica Hill and Rowan University's continuous expansion, things will only ramp up.
"You're getting a mix of activity and country," Kowalik says of the area. "There are some amazing options coming, including a very prominent builder coming to Mullica Hill that will be made public in the next few months. It will be a gorgeous family community, very close to the historic district with amenities that will be wonderful."
As buyers become more willing to fork over the cash to make their dreams a reality, they are also becoming more educated and thus spending their money wisely.
"These buyers walk into a house that is done and spectacular; they are willing to pay the price for not having to upgrade a home. But they are not going to overpay for it," Kowalik says.

To read the digital edition of South Jersey Magazine, click

here

.



Published (and copyrighted) in South Jersey Magazine, Volume 16, Issue 2 (May 2019).

For more info on South Jersey Magazine, click

here

.
To subscribe to South Jersey Magazine, click

here

.
To advertise in South Jersey Magazine, click

here

.