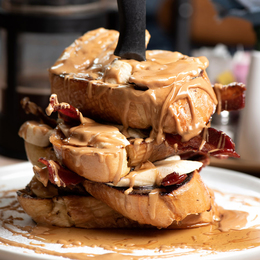 The Best of the Brunch
If you're like us, you love a good brunch. There's just something about being able to toe the line between late morning and early afternoon, no matter whether you're partial to breakfast, lunch or somewhere in between. And while the over-the-top, all-you-can-eat buffets are great on occasion, we find ourselves more excited by the tantalizing options that can be found on area menus that pay homage to the classics while adding a touch of modern flair and finesse. We traveled around South Jersey—including down the Shore– to uncover the dishes you should be ordering the next time you sleep in a little late.

Chesapeake Crab Benedict
The Bistro in Haddonfield
We'd rise and shine any day of the week for the chance to sink our teeth into this one. Two miniature crab cakes and two poached eggs sit atop the requisite English muffin before being overrun by a silky smooth hollandaise that's been seasoned with Old Bay to bring cohesion to the plate.
Jerk Chicken Fondue
Redstone Grill in Marlton
What better way to gather with friends and family for brunch than to order a plate where everyone gets to join in on the fun? Such is the case with this shareable order of smoked gouda fondue which arrives to the center of the table replete with chunks of marinated grilled jerk chicken, sliced apples, grapes and sourdough croutons.
Pork Roll Scramble
Zinc Café in Medford

Like a deconstructed version of your favorite breakfast sandwich, this combination of salty pork roll (sorry, never Taylor ham) and perfectly prepared eggs is topped with cheddar cheese and some chipotle ketchup for good measure.
Power Breakfast Quinoa Bowl
First Watch in Cherry Hill
For a protein-packed way to start your day, feast on this mix of quinoa, roasted crimini mushrooms, tomatoes, kale, Italian sausage and parmesan cheese that is topped with two basted eggs and finished with extra virgin olive oil to boost the flavor and complexity.
Cornbread French Toast
Turning Point in Cherry Hill, Marlton and Moorestown
Sweet, dense (and home-made) cornbread is the foundation for this clever take on a breakfast staple. Dollops of vanilla mascarpone add a creaminess while sliced apples and walnuts provide textural balance before giving way to heavy-handed drizzles of a sinfully sweet caramel sauce.
Italian Shakshouka
La Scala's Birra in Pennsauken
We often daydream about this Italian rendition of a Middle Eastern favorite that consists of three eggs bathing in a rich, piquant tomato sauce alongside pancetta, peas and zucchini. The balance of flavors is sublime and there's something overly satisfying about breaking the yolks and watching them ooze into the dish.
Blackened Short Rib Omelet
Kitchen 519 in Glendora
This hefty omelet is stuffed with short rib meat that's as tender as a Sam Cooke ballad and enhanced with caramelized onions, sautéed mushrooms, a little blue cheese and a finishing touch of balsamic for added richness.
Shrimp and Grits
Roots Café in Maple Shade
Well-seasoned shrimp float on the surface in a bowl of mouthwatering grits made from stone ground hominy. Chopped up bits of andouille sausage and smoked pork belly provide added depth and a little saltiness that is absorbed wonderfully by the slightly runny (read perfectly executed) grits.

Croque Provençal Crepe
Café Flora in Cherry Hill

It's hard to choose from the array of specialty crepes here, but this selection from the savory side of the menu is definitely one of the stand-outs. A light and airy crepe envelops the staple French combination of ham, Swiss cheese, tomato and Dijon mustard to create an undeniably palatable plate.
French Toast Fried Chicken
The Pour House in Westmont
There's a lot to digest here (no pun intended) so make sure you arrive with an open mind and a hearty appetite. Crispy, juicy buttermilk fried chicken breast and brioche set the sweet and savory stage while
a fried egg, crispy bacon, cheddar cheese and a hit of maple syrup make strong cameo appearances to round out the show.
Chicken Fried Steak
Hash House a Go Go in Moorestown
If you like to do brunch big, look no further than this huge plate of good old-fashioned comfort food. The steak is pounded out to roughly the size of a Mini Cooper and then lightly breaded and fried before being heavily cloaked with homemade sausage gravy and served over mashed potatoes.
Cape May Frittata
Station House Restaurant in Haddon Heights
The next best thing to waking up and having brunch in Cape May could be heading to this familiar haunt and chowing down on this four-egg soufflé filled with a respectable amount of lump crab meat, asparagus and a highly compatible duo of provolone and Swiss cheeses.
Huevos Rancheros
Kitchen 87 in Mount Holly
One of the most popular brunch dishes if there ever was one, served up at one of South Jersey's most popular brunch spots—what's not to love? Two crisped corn tortillas give way to a savory blend of beans and meat— not to mention two fried eggs, a generous portion of sliced avocado and noticeable crumbles of cojita cheese.
The King
Denim American Bistro in Cherry Hill
If Elvis Presley were still alive today there's no doubt he'd be "all shook up" over this nod to his favorite guilty pleasure. Challah French toast is plated with sliced bananas, bacon and gobs of creamy peanut butter for a meal fit for, well, a king.
Cinnamon Bun French Toast
Sweetwater Bar and Grill in Cinnaminson
How do you make an already indulgent item like a cinnamon bun even more extravagant? How about slicing it open, dipping it in French toast batter and then adding some cream cheese frosting. Just let that sink in for a moment.
Lasagna Omelet
Rexy's Restaurant and Bar in West Collingswood
The best brunch items walk the fine line between both worlds and that's why we're so fond of this omelet filled with soft and creamy ricotta cheese, ground beef and gooey mozzarella and covered in a flavorful tomato sauce.
Carrot Cake Waffle
Harvest Seasonal Grill in Moorestown
They had our full attention at carrot cake waffles but then they added a cream cheese mousse that's been brightened up with berries and hibiscus and the real show-stopper—a maple syrup infused with ginger and raisins.

DOWN THE SHORE
Our favorite brunch dishes when we're brunching by the beach.
Fried Chicken Benedict
The Princeton in Avalon
(Sunday only, live music)

Tender, juicy chicken thighs and a couple poached eggs on top of buttermilk biscuits.
The Red Store in Cape May
These are not your typical flapjacks as they are filled with crab, corn, roasted poblano and feta cheese before being topped with sliced bacon, arugula and crème fraiche.

The Basin Flatbread
Sax at The Reeds in Stone Harbor

This breakfast flatbread includes it all: scrambled egg whites, peppers, onions, mushrooms and spinach.
The Arlington in Ship Bottom

(Saturday/Sunday)
The combination of eggs with gruyere cheese alongside mushrooms that have been hit with a touch of cream and seasoned with thyme is a real winner.

Breakfast Skillet
Blue Pig Tavern in Cape May
Served in a cast iron, this skillet is comprised of hash browns, two fried eggs, chorizo sausage, peppers, onions and scallions and polished off with shredded white cheddar cheese.
OC Surf Café in Ocean City
Creamed chip beef covers a grilled soft pretzel roll for a whimsical regional twist on a classic.
At Mudhen Brewing Co. in Wildwood
(Saturday/Sunday)
This smoked chicken burger is sandwiched between a brioche bun and topped with roasted tomatoes, a bacon and rosemary jam, a fried egg and Swiss cheese.
Mustache Bills in Barnegat Light

The addition of crumbled blue cheese, bacon and spinach makes it easy to see why this favorite could be deemed award worthy.
Pat's Famous JYD Sandwich
Sunset Pier in Sea Isle City
A devilish trio of pork roll, scrapple and bacon is blended with egg and cheese and served on a Kaiser roll.
Cannoli Stuffed Blueberry Pancakes
Mako's American Grille in Sea Isle City
These fluffy pancakes are filled with rich cannoli cream and fresh blueberries to provide a sweet way to start your day.

To read the digital edition of South Jersey Magazine, click

here

.



Published (and copyrighted) in South Jersey Magazine, Volume 16, Issue 2 (May 2019).

For more info on South Jersey Magazine, click

here

.
To subscribe to South Jersey Magazine, click

here

.
To advertise in South Jersey Magazine, click

here

.