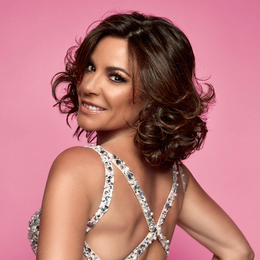 The Countess Cometh
Real Housewives of New York star Luann de Lesseps trades the TV drama for a night of song and dance at the Borgata.
Luann de Lesseps has made plenty of headlines in recent years, and not always for positive reasons. One of the stars of Bravo's smash hit reality series The Real Housewives of New York, de Lesseps certainly knows how to cause a stir whether it's due to the sometimes tumultuous relationships with fellow cast members or her very public struggles with sobriety.

But as the 11th season of the show returns to air this month, the Countess, as she's known colloquially, is taking her talents on the road with a stop at the Borgata. On March 23, de Lesseps will bring her buzzed-about cabaret style show to the Atlantic City casino and if it will be anything like her performance last year, fans can expect a night of song, dance and what you can bet will be plenty of humorous stories and hot gossip.

While recharging in Miami ahead of the Borgata performance, we had the chance to speak with de Lesseps about the show and having her life play out on television.

Bringing her cabaret show back to the Borgata…
I love variety shows. I was always a big fan of Carol Burnett and I love to sing, entertain and tell jokes. And I love the Borgata and I'm excited to go back and bring a whole new show. … I filmed my music video for "Chic C'es La vie" there and it will always be a special place to me.
People would be surprised to know…
I am a nurse from Connecticut who is actually super approachable and down to earth. I also love nature and I am a tomboy at heart.
On being ranked the No. 1 housewife from the Bravo series…
I feel honored and humbled to be ranked No. 1 by TV Guide, which is such an institution in the entertainment world.
Her advice for those struggling with addiction…
Surround yourself with close friends and positive people along with mentors while taking it one day at a time.
Having her life play out in the public eye for all to see…
Sometimes it is difficult. … But I have learned to roll with the punches and I have gotten much stronger along the way.
How her fans show their support…
My fans never cease to amaze me and create such cool things like T-shirts, cards, mugs, etc. They often surprise me with things they have made and wear them to my shows.
The importance of giving back…
Most recently I have started working with God's Love We Deliver, providing food to those too ill to leave their homes. There is really no better feeling in the world than helping people in need.

To read the digital edition of South Jersey Magazine, click

here

.



Published (and copyrighted) in South Jersey Magazine, Volume 15, Issue 12 (March 2019).

For more info on South Jersey Magazine, click

here

.
To subscribe to South Jersey Magazine, click

here

.
To advertise in South Jersey Magazine, click

here

.