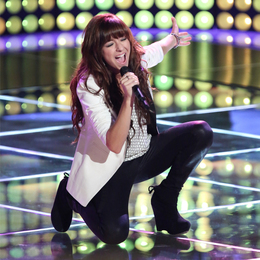 Gone but Not Forgotten
The Christina Grimmie Foundation builds on the legacy left by a South Jersey singing sensation who was taken too soon.
The letters, hand-drawn pictures, gifts and simple words of sympathy poured in from all over the world.

Singer/songwriter Christina Grimmie, a South Jersey native, may not have had an extended stay in the spotlight, but she certainly developed a devoted following thanks to her popular YouTube videos and her rise to fame on season six of The Voice.

That became clear when Grimmie was shot and killed after an Orlando concert in June 2016 at the age of 22. The responses from her fans played a significant role in the healing process for her family.

"We were pretty blessed in this terrible tragedy to have the support we did," says Marcus Grimmie, Christina's older brother and road manager who was by her side when she died. "My mom and dad were so moved by it that they wanted to help other people. They wanted to inspire the same hope we got in other people."

That led to the creation of the Christina Grimmie Foundation in 2017, as Marcus and his parents—Tina and Albert (known as Bud)—sought to pay it forward by helping similar families in need. The foundation's mission is to provide financial aid and emotional support to those affected by gun violence or a breast cancer diagnosis.

Although now based in California, the family will be returning to South Jersey for the foundation's second annual "East Coast Event" on March 9 from 1-3 p.m. at The Mansion in Voorhees. A similar event is held in Hollywood in September, coinciding with the national day of remembrance for victims of homicide.

Christina and Marcus Grimmie spent their childhood in West Berlin, Atco and Marlton and both attended Cherokee High School. Many of their family members are still in the area, including grandparents, aunts, uncles and cousins.

"We always try to come to New Jerseyaround Christina's birthday,which is March 12," Marcus says. "The first year wasreally hard but it was just nice being around familyand friends. So we decided in 2018 we could have a fundraiser there because so many peoplefrom our hometown can't make the California event. It mainly started out as a little get-together and we just got overwhelmingsupport and a huge turnout."

This year's event will feature performances from two alums of The Voice: Dawson Coyle from season 12 and Audra McLaughlin from Christina's season, who will be accompanied by Marcus Grimmie.

Jennifer Holub, a survivor from the Route 91 shooting in Las Vegas, and Thomas Holgate, a survivor of the school shooting in Parkland, Florida, will also be guests.

"The Jersey area really, really supports us," says Sue Procko, a board member for the foundation. "Last year we were overwhelmed by how many people came. … We will have a silent auction that will be happening there that has some good stuff. The local community always comes forward and gives us donations for it; last year we had gift cards for restaurants in the area, a pool service, a bike shop and Philly sports items."

A limited number of tickets for the event remain and can be purchased by visiting bit.ly/EastCoast2. A handful will also be available at the door.

This year's trip home will be especially emotional for Bud and Marcus Grimmie because family matriarch Tina lost her courageous battle with breast cancer in September at 59. She is buried next to Christina in Berlin Cemetery.

Tina's 23-year ordeal with the disease is why the foundation helps breast cancer patients as well as victims of gun violence.

"It definitely hits very, very close to home," Marcus says. "When we started, we knew wewanted to give back; we knew Christina had a legacy and we wanted to honor her name as well as ours. Breast cancer was the No. 1 thing we wanted to focus on, just because Christina had a huge heart for helping and did a lot of benefit concerts, especially with City of Hope in the L.A. area. She loved her mom and she saw the battle she had to go through, so her passion for helping people with breast cancer made it logical. It also made sense to help families affected by gun violence and that's why it's a dual purpose foundation."

The foundation helps people across the country in both groups. The November mass shooting at the Borderline Bar and Grill in Thousand Oaks, California, particularly affected the staff, since that is where the foundation is headquartered. Procko says they were able to aid 10 of the 12 families that lost a family member.

Donations are always made directly to families to help them deal with bills and other essentials as they are coping with tragedy.

"We want them to have some breathing room so they can focus on getting better, taking care of their family or starting to heal," Procko says.

Marcus Grimmie adds that it is not the foundation's role to get involved with the politics of gun violence. While shootings always seem to lead to debate about gun control, increased media attention and certain buzzwords, he believes the families of the victims get overlooked.

That's why he continues to meet with families who are going through the same thing he and his parents endured.

"It's always very difficult but it's a surreal experience to speak to someone right in the aftermath," he says. "This one father in particular had three kids and they lost his wife and their mother in Las Vegas. Getting to know them has been a blessing for me.

"It's reminiscent of our family when Christina was taken. I felt like there was nowhere else to turn [at the time]. Whenever I speak to someone I always tell them how important it is to stay together as a family."



To read the digital edition of South Jersey Magazine, click here.

Published (and copyrighted) in South Jersey Magazine, Volume 15, Issue 12 (March 2019).

For more info on South Jersey Magazine, click here.
To subscribe to South Jersey Magazine, click here.
To advertise in South Jersey Magazine, click here.