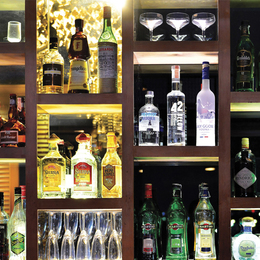 New Jersey's Hangover
Everyone agrees archaic liquor laws need to be updated, but proposed changes are creating controversy within the state's hospitality industry.
In recent years, South Jersey's economy has been bolstered greatly by dining establishments. Take the Moorestown Mall, for instance. Located in a "dry" town where alcohol sales are otherwise not permitted, PREIT, the owner of the mall, was looking for a way to attract more tenants to a space with a 30 percent vacancy rate (in 2011), and mirror the success of its Cherry Hill Mall property, anchored by several popular restaurants. But with no access to a liquor license to allow new restaurant tenants to serve alcohol to guests, there would be little incentive to draw them to Moorestown.

Convincing a township that has been dry since 1915 wasn't easy, but voters overturned the ban, allowing alcohol consumption solely in the Specialty Restricted Commercial (SRC) zone consisting of the Moorestown Mall and East Gate Square. That made six liquor licenses available for the township, determined by population. Licenses reportedly cost about $1 million each.

The price tag and availability of liquor licenses have many in New Jersey scratching their heads, largely due to the antiquated language in the laws, most of which were written immediately after Prohibition ended. It's one of the reasons New Jersey has so many "BYOB" establishments—fledgling restaurateurs simply can't afford a license to serve alcohol, or none are available in their desired location. Many feel it's time for the law to reflect current dining habits, much of which are influenced by the option to order a cocktail or glass of wine with a meal, and small towns especially are aching to attract restaurants (and in turn, people), while others who have paid their dues and risked everything to afford a coveted liquor license are happy with the status quo. The question is: Can they find a compromise?

Forging a path for change
Liquor laws have been modified only slightly since many of them were put in place, and according to Assemblyman John Burzichelli (D-Gloucester), they are holding back the economy.

"What we have today, we'd never choose that," he says. "The way people consume alcohol has changed. People don't want to open shot and beer joints. Food plays a big role and the restaurant business is hard enough under the best of circumstances. Losing the revenue that comes with being able to offer a drink with an entrée could be the difference of making a profit and being successful."

In this scenario, the license most restaurants want is a Class C license, but the current law only allows municipalities to distribute one license for every 3,000 residents. Rules were actually more lenient initially, allowing one license for every 1,000 residents, but lawmakers adapted it in the '60s, and grandfathered in those with existing licenses. Additionally, the license can only be used in the municipality where it is offered. It's estimated that New Jersey has about 9,000 Class C licenses.

This has led to the price disparity in licenses. Larger towns like Cherry Hill, Marlton, Medford and Deptford have more licenses to offer and are in high demand due to the consistent traffic of people visiting or passing through. Licenses in these towns have been known to sell for upwards of $500,000. In Cherry Hill, the former Coastline Bar liquor license sold for a cool $1 million.

Eric Arnold runs The Liquor License Company where he is a broker between the seller and buyer. There is no definitive listing online for available liquor licenses, Arnold says. Although he does have some listed on his website, the details are scarce. "It's not a traditional marketplace. It's about keeping track with copious notes and being on the street, knowing the lawyers, state clerks," he says. "Most are sold privately so it's hard to know the real cost of a license. If it was sold within a current bar or restaurant, the bar may have sold for $1 million and of that, maybe the license was $200,000."

The bigger the town, the bigger the demand, says Arnold. Someone who is just starting in the business is effectively priced out of towns like Cherry Hill or Marlton. "Can the small guy ever get into Cherry Hill? Probably not, but if you're a young chef, maybe you start somewhere smaller, on the outskirts of a big town. There are towns like Pennsauken, right next to Cherry Hill, with available, inexpensive licenses."

When chef Dominic Piperno, who has worked in the kitchens of Collingswood's Zeppoli and Philadelphia's Vernick Food & Drink, and his wife Lindsay were discussing opening their own restaurant, there was no question they wanted to be in New Jersey. The couple initially thought about trying to open with a liquor license, but at the time there were none to be had, and the ones that were cost almost a million dollars. Ultimately, they opened their BYOB, Hearthside, in Collingswood in 2017.

Piperno professes his love for Collingswood, which they also call home, but admits the BYOB aspect does present downsides from the business perspective. "The biggest thing is that we can only make money on food. With the operational costs and rising food costs, it's nearly impossible for me to make money on the food alone," he says. As a result, dishes at Hearthside might initially cause a bit of sticker shock, but the prices reflect Piperno's ability to pay his employees a living wage and source the high-end ingredients he relies on.

"We don't buy anything frozen, we believe in the farm-raised concept, sourcing the greatest seafood, using Kennett Square mushrooms and steak dry-aged by Allen Brothers in Chicago," he says. "Labor amounts to about 40 percent of my costs, which includes overtime for my line cooks and I pay the staff above minimum wage, then there's electric, gas and the wood we go through. The food prices reflect what I need to charge in order to pay people properly and turn the lights on."

How would selling alcohol help? "If I had a license to sell alcohol, one glass of wine pays for the bottle. One martini pays for the bottle of vodka. My profit margins become higher, therefore driving down food cost. When you can produce money in other places, you don't need to charge as much," he says.

While that would help a small restaurant like Hearthside, it's just not realistic for an operation like his to obtain a Class C license. This is where Burzichelli hopes to enact change. He has proposed a bill that would make two new licenses available at a greatly reduced price. Assembly Bill 3494 aims to offer two permits: R1 is a restricted restaurant permit allowing the license holder to sell beer, wine and spirits; and R2 is a restricted permit allowing beer and wine to be sold by the bottle or can. Both limit sales to tableside only.

Restaurants between 800 and 2,000 square feet would pay an annual fee of $7,500 for R1 or $3,000 for R2. Restaurants from 2,001 and 4,500 square feet would pay $10,000 for R1 or $5,000 for R2. Also included in the bill is language requiring the restaurant to be located within a downtown business improvement district, redevelopment area or Urban Enterprise Zone and other similar areas, and restaurants are prevented from selling or transferring the licenses to a third party—something that is not currently restricted with traditional Class C licenses. And unlike Class C, municipalities would not be limited to the number of restricted permits issued.

Burzichelli hopes this levels the playing field for towns struggling to attract development. "Municipalities that have no more licenses to issue want this relief," he says. "A place like Woodbury's downtown is not seeing a rush for old storefronts for shoe stores. The future of downtowns is tied to food. That's what will attract people."

It will also level the playing field among those within the hospitality industry, says Piperno. "I personally would get all of the information before making a decision to get one of these licenses if they do become available, but I think townships should allow restaurants to apply if they would benefit individually from it," he says. "I think townships should naturally opt-in if it happens. For us little guys that can't serve alcohol, for us to compete and keep our skilled employees, this is one way for them to show they care about the little guys."

That said, when Piperno thinks of the infrastructure associated with serving alcohol, even to a limited degree, he's not sure it's something his space could handle. "I don't know if I have an area for a small service bar where someone can make the drinks. I would need to think about refrigeration for white wine, storage for red wine," he says. "I probably wouldn't even offer liquor, just a small wine list and maybe Tonewood beer. I wouldn't even stop offering BYOB to my guests."

He could see it working better for others on Haddon Avenue, like Bistro di Marino, which has more space and does private parties. "I'm not opposed to new ideas and this is a good start, we'll see if it happens," Piperno says. "I don't think it will, at least not for a couple of years."

The opposition
Although he says his bill has received some good feedback around the state, Burzichelli is not deaf to its detractors.

"The existing industry wants no change. They think it's perfect the way it is," he says. "But the people who want in are desperate for change. … Where should public policy be? Spurring jobs and encouraging entrepreneurs or be in protectionist mode where the other guy has one and you can't? We don't do this in any other business ... where not having a license or permit compromises your potential success."

Several large and powerful associations in New Jersey's hospitality industry have spoken out against the bill, at least in its current form. Among them are the New Jersey Restaurant & Hospitality Association, the NJ Licensed Beverage Association (NJLBA) and the Garden State Wine Growers Association.

Jeffrey Warsh, Esq., legislative agent to the NJLBA, takes issue with the bill's potential to flood the market with liquor licenses. "[Burzichelli's] bill would add an unknown number of new licenses and would be a giant destabilizing factor for the hospitality industry," he says. According to Warsh, the 2008 recession hit the industry hard, and over 1,000 Class C licenses remain inactive. "We don't need more licenses because a small number of towns don't have enough licenses. We need to find a way to get those inactive licenses to the areas that need them without impacting the value of existing licenses."

The devaluation of Class C licenses is one of the biggest fears among some in the industry, many of whom mortgaged the license in order to get it, says Warsh. "If these 'restricted' permits were to be issued at $10,000, the real value of Class C licenses will plummet, putting this largely family-owned business sector into a potential fiscal crisis," he says.

Burzichelli has attempted to make concessions to these Class C owners by offering a tax credit, paid over five years, to those who can show their value was impacted by the new permits. "We're locked into an old system where people have made considerable investments in licenses and we want to be mindful of how it affects those who have invested. … Existing Class C licenses will always have a higher value because they come with more privileges," he says.

Piperno thinks this point has often been lost in coverage of these proposed restricted permits. "I think it's being greedy to think this wouldn't be fair," he says. "These restricted licenses are not even in the same ballpark of what a full license allows. Under these permits, we can't have a sit-down bar; we're not generating an extra 30 seats for dining and drinking. This is a little guy spending some money to have a tiny service bar and serve those who are already sitting down to eat at a table. It's not the same."

New Jersey's wine industry has seen the toll archaic liquor laws can take, and the benefits of those laws becoming more lax. "Prior to Prohibition, there were [vineyards] all over the state, but Prohibition killed the industry and after it, there were only seven wineries in the state until 1981 because the law stated there could not be another winery until the population increased by one million," says Tom Cosentino, executive director of the Garden State Wine Growers Association.

Once legislation allowed farms to convert up to three acres to vineyards in the '80s, the industry took off and now amounts to 50 wineries. "Change benefitted us," says Cosentino, but there is reservation among the association about how these new permits might affect the current law that allows BYOB restaurants to partner with New Jersey wineries and offer their wines exclusively for sale.

"This has been a great program for our members so there is hesitation on our part about how the program would be affected," he says. One potential remedy would be for the restricted licenses to limit the wine (and even beer) to those made in New Jersey. "That would be something we would strongly look at, but there is no guarantee it would happen. … We're more apt to see what develops and wait and see how it might affect us in the long term. We're a small player in all of this but I think there will be eventual change."

The bill is currently being negotiated and Burzichelli is optimistic common ground can be found. "The issue has everyone's attention," he says. "It's a matter of getting focus and reaching a consensus, but the bottom line is, what we presently have I don't think is serving us well. … We can't stand still. We have to make a move here at some point."

To read the digital edition of South Jersey Magazine, click here.

Published (and copyrighted) in South Jersey Magazine, Volume 15, Issue 12 (March 2019).

For more info on South Jersey Magazine, click here.
To subscribe to South Jersey Magazine, click here.
To advertise in South Jersey Magazine, click here.