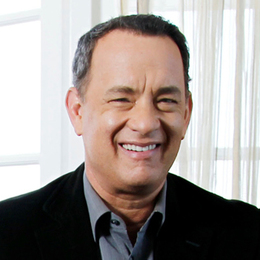 Mr. Nice Guy
Tom Hanks has built his career on being the likable everyman and he wouldn't have it any other way.
To say that Tom Hanks has wide-ranging public appeal is a bit of an understatement. In today's day and age where a portion of the entertainment world's elite are either embroiled in scandal or viewed as boorish and overly ego-driven, Hanks very much retains his aw-shucks, average Joe persona. He's one of the biggest actors in Hollywood history, yet he comes across like your friendly next-door neighbor, the kind who would mow your lawn while you're away on vacation. He's often been referred to as a modern-day Jimmy Stewart, a comparison he doesn't exactly shy away from.

"It's very flattering because Jimmy Stewart was the kind of icon and everyman figure," says Hanks. "I'm proud of the work I've done and I'm very satisfied with the depth and range of stuff that I've been able to play."

During the course of the 62-year-old's storied career, Hanks has played several iconic roles and he has been lauded with countless awards, including being the only person besides Spencer Tracy to claim the Academy Award for Best Actor in consecutive years (in 1993 for Philadelphia and in 1994 for Forrest Gump). He's provided the goofball comic relief, melted hearts in rom-coms, evoked powerful emotion in tear-jerking dramas and became the voice for one of Disney's biggest animated franchises. Heck, he even became the first person to portray Walt Disney in a mainstream film.

Hanks' string of impressive performances is only complemented by his work as a producer, where he's been equally recognized for often bringing gripping stories to both the silver and small screens.

As if that wasn't enough, Hanks is also a past recipient of the Presidential Medal of Freedom; not bad for a guy who made his breakthrough starring on the short-lived sitcom Bosom Buddies.

"I'm very lucky because I feel that every film is a new adventure and a new experience. It's great to be able to keep doing something that you love and have that kind of creative satisfaction," he says. "It never gets boring."

Hanks is certainly not bored, as he regularly has multiple projects in the works with some notable films set to hit theaters in the coming months. In June, he'll once again serve as the voice of Woody in Toy Story 4 and come October he'll lace up his sneakers and put on a cardigan to portray Mister Rogers in A Beautiful Day in the Neighborhood. And the highly buzzed World War II drama Greyhound, in which Hanks stars and produces, is slated for a big release in May 2020.

Taking time out of his busy schedule, Hanks told us what it's like being Hollywood's good guy and the dynamic of his relationship with wife Rita Wilson. During the wide-ranging conversation, he also spoke about his rocky upbringing, the person who had the biggest impact on his life and revealed why breakfast is unquestionably the most important meal of the day.

Q&A
In recent times you've gone through patterns of playing terrific, heroic figures. What draws you to these types of characters?
I like being able to focus on people whose actions help make us less cynical about life. When you look at someone like Chesley Sullenberger in the film Sully, here's a humble man who did his job very calmly while under enormous pressure and saved the lives of 155 people aboard his plane.

I'm interested in the stories of guys like him who do something extraordinary when faced with a difficult situation or circumstances. I'm fascinated with those life-changing moments and I enjoy putting myself in their shoes.

Is that why you'd rather play a man like Sully as opposed to bad guys?
I've played some not-so-nice people but I would rather play characters who face up to challenges and say something more positive about the human condition. I find it interesting to learn how people find something within themselves and rise to the occasion. That's what Sully did. He's the shining example of a man who performed with the highest level of professionalism and showed such grace under pressure.

But do you ever get tired of the "nice guy" label?
You can be called worse things. But I can live with the idea of playing people who don't terrorize their children or shout at waiters in a restaurant if the food is bad or the wine sucks. I'm drawn more to playing good people, I suppose, and I'm not sure people would want to see me as a drooling villain. I also don't think that all my characters are so happy and pleasant.

Is it limiting at all to be continually identified with good guy or heroic roles?
Every character is different. I'm aware that the public will probably always have this image of me as the nice guy. I don't think I can ever erase that impression—but then again it's not the worst thing that people can think about you even though I assure you that I'm not always lovable and charming.

For me, the true measure of success is artistic longevity. I don't like to look back on my past work because there's nothing I can do to change that and the only thing that really matters is what kinds of work you're doing now and in the future. I simply try to stick to the path that's taken me this far and I hope that keeps on working for me.

Do you have any specific things you look for in each film or role you play?
I'm very instinctive. I just start reading the script and if after the first 15 pages I think: "This role has to be mine and I don't think anyone else could do it better," then I'll do it. Maybe it's just a matter of self-centeredness and competitiveness but I think most actors are like that.

It's also easy to accept a role sometimes because you're being offered a lot of money, you have the opportunity to work with a director you hold in high esteem or maybe you get to work with a beautiful and talented actress. Saying no is much more difficult.

You've found happiness in your marriage and you've always given your wife credit for enabling you to achieve much more in your career.
By the time I met Rita, I knew a lot more about myself and how to handle a relationship as opposed to my first marriage. So once we settled down, I spent a lot more time thinking about how I was going to make things right and how we could have a happy time together. But Rita also brought so much to me and she's always been a tremendously positive force in my life. The rest of our story just becomes too mushy and sweet to tell so I'll stop with that.

Has it been hard to keep your status as a movie star separate from your home life?
We're not the kind of family where we have posters of our films on the walls of the house. But having said that, my wife knew she was marrying an actor and not a dentist. And my children learned from a young age that their dad had a funny job.

They always knew that I was working on a film because my haircut would be different or I had to grow a mustache. But this is the kind of a job that gives us the opportunity to spend free holidays in Budapest or Morocco. But I think the best way that I've been able to have a good and balanced home life is to have eaten breakfast together.

Was there someone who inspired you when you were growing up?
Dr. James Corvellis was my tutor in college, a history professor, and I was a big reader of history for entertainment. I watched different documentary films like I would entertainment films—I was just reared that way. And he laid history to me in this fascinating structure that I was mesmerized by, in concept of a real passing of time.

He laid out this method of understanding and analyzing history in a way that I could take with me for the rest of my life for my own entertainment, not necessarily for study. Professor Corvellis was the man who had the most impact in my life. Chabot Junior College, in Southern California, in the years 1974 to 1976.

Has the process of making movies changed for you over the years?
I've come to realize this maybe in the last decade, probably longer, that no matter where you are in the world, the process of making a movie breeds a uniform format and adherence. You're making a movie, and it doesn't matter where the crew are from, whatever culture it is, everyone has that natural gut knowledge about how movies are made. It's still the same environment, even if nobody speaks the same language.

Do you feel older and wiser these days?
I literally forget what age I am. I still feel the same as I did at 40, at 35. After 25, it's just a reason to get together with friends, have a few drinks, nothing [is] going to change.

Is life very different now that your children are grown-up and you're an empty nester?
I was looking forward to having time off but now the grandkids are piling up. But the best time you can spend as a grandad is with a $3 wading pool and a garden hose looking after a 3-year-old.

You started out as a stand-up comedian who eventually became Hollywood's leading actor. Do you ever wonder how that happened?
I still don't know [laughs]. Look, I've only ever been an actor. I was in college; I had a kid. And I put everything in the back of a car and drove across the country to take a job. That's a pretty big leap of faith. Because you're thinking, OK, I have this project and this is five months of work. And I have faith that something else will come along. So you're living by your wits. But you're also living with the promise that you will meet people that will focus your attention—and that's exactly what happened with me.

Was it a strategic decision on your part to make the shift from comedic to dramatic actor?
Yeah, I was, like, 36 or 37 and said, I gotta take this whole kind of, like, movie off the table because, first, I've been doing them for 10 years, and second, I don't want to do them anymore. Because I'm 37 and I've got three kids now and I want to play a man who's been through more things than [Hanks puts his hands to his face, and speaks in a woe-is-me voice], 'Oh gosh, I'm in love and she doesn't love me.'

You bring so much sensitivity to your work as an actor. What do you think gave you that kind of vulnerability and appreciation of life?
As a kid, you don't have any choice except to adapt to the circumstances. My parents divorced when I was 5, and I was the only one of my siblings who didn't go live with my mom full-time. So my life was with my dad and occasionally with relatives when he was having a tough time or looking for work or finding a new house for us to live in. Altogether, I had three mothers, four fathers, five schools and 10 houses. So I learned to adapt to constantly moving, constantly going to new schools and having to make friends quickly. Which is what made me learn to entertain people and use humor as a way of getting along and fitting in easily.

How did you manage to avoid being screwed up by all that moving about?
Well, assuming your last assumption is correct ... [laughs] ... I think I was lucky in that I found a way to identify with all the good things I had going for me as a child. ... I think it comes down to a particular kind of yearning that you have. Mine was always being connected to something that was contrary to what the real family circumstance was. I had a great teacher for second, third and fourth grade. Mrs. Castle. She just made me feel like a god.

I had good friends when I was going through the tough years of junior high and high school. They weren't potheads. They were mostly just good guys, and all we'd do is sit around and laugh. I went to churches and became part of theater groups, stuff like that.

Did you feel scarred in any way by your childhood?
No. I got used to the idea of moving around. It wasn't easy at times, but I learned to become very adaptable. It gave me a sense of independence. You gain the confidence that comes with knowing that you can handle situations like having to get up and moving out of the house at 2 a.m. because my dad wasn't happy with the woman he was married to. You get used to the idea of having to find new toys because they got left behind in the house that you left with five minutes' notice.

You've said in the past that you can be wary about friendship.
Moving around a lot made it difficult to have faith in friendships. I was constantly forced to make new friends in every new school and neighborhood so you get used to not having many friends. You learn to pretend to be friends but keep some distance because you're worried that it's not going to last. That's why it's not part of my makeup to completely open up.

What was your relationship with your father like?
I didn't get to see my dad that much because he was always working late as a chef in restaurants and he was never home. My brother and sister and I would often be goofing around in the house or in the living room and our dad would just be sitting in his chair watching TV or reading and give us an occasional smile. But he was OK, he just had a tough life and didn't know how to really manage a family properly because he was so busy trying to earn a living.

Did you ever experience anything approaching a midlife crisis?
No. I've managed to avoid that big void. I'm pretty level-headed. I don't have moments of sobbing and wondering what happened. I probably went through so much as a young father and struggling through my first marriage and trying to make my way in show business that I went through so many smaller crises that everything that's happened to me since has been so good that I don't have any reason to complain about anything.

Probably the most momentous event other than meeting Rita, which was simply wonderful, was when our then 15-year-old decided to attend boarding school. That meant that suddenly Rita and I were alone in the house—we were empty nesters. That was not the cause of a midlife crisis, though, that was a minor cause for celebration because it meant we were able to do so many more things together—don't read anything sordid into that, OK? [laughs]

How did that affect you and your wife?
It was an interesting change in our lives. It was the reverse of the typical midlife crisis where someone wakes up one morning and feels that life has passed them by and has this great existential crisis even though everything is otherwise great in their life. That's never happened to me and it never will. I'm pretty happy when I wake up in the morning.

Age has also made me calmer—I don't panic anymore when things don't work out exactly the way I would like. Now I have a certain level of serenity that I never experienced until the latter part of my life. It's not an ecstatic feeling, but I have a lot to look forward to every day.

To read the digital edition of South Jersey Magazine, click here.

Published (and copyrighted) in South Jersey Magazine, Volume 15, Issue 12 (March 2019).

For more info on South Jersey Magazine, click here.
To subscribe to South Jersey Magazine, click here.
To advertise in South Jersey Magazine, click here.