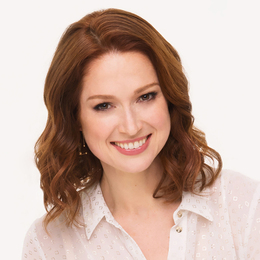 Happy Kemper
From her days at Princeton to becoming a star comedic actress, not to mention a new author, Ellie Kemper is enjoying life to its fullest.
Ellie Kemper traces her vivid imagination back to her childhood days when she would climb into the tree house at her suburban St. Louis home and play with Natalie, an overweight squirrel that often visited her to feast on a steady diet of crackers, cookies and withered wild berries.

While one may think befriending, even naming, a squirrel may seem like something one would keep to themselves, Kemper isn't shy. In fact, it's just another example of the seemingly carefree personality that radiates whether she's on screen or sitting across from you.

Kemper's early predisposition to creativity helped catapult her into the spotlight with a breakthrough role in the Emmy-award winning sitcom, The Office, where she played the dimwitted Erin Hannon for the show's final five seasons. From there she would co-star in the raunchy comedic film Bridesmaids before ultimately landing on the quirky sitcom The Unbreakable Kimmy Schmidt, which follows the adventures of Kemper's eponymous character as she navigates the streets of New York City following her rescue from the cult where she has spent the past 15 years. The Tina Fey-produced show, now in the midst of its fourth and final season, was originally slated for NBC before it was sold to Netflix where it has enjoyed great success and further cemented Kemper's place in the limelight.

If there is one thread throughout her personal life and career it seems to be her gusto for going for what she wants; whether it is tackling new motherhood, honing her passion for acting or indulging in guilty pleasures like a big scoop of gooey butter cake ice cream.

And recently the 38-year-old, who attended Princeton University where she played field hockey, became an author, scribing her first book, the aptly named My Squirrel Days. The book is a collection of essays chronicling the bumps, bruises and discoveries along the way to her many accolades.

For Kemper, the good fortune she's experienced leaves many fans wondering if she's as happy-go-lucky as her TV alter ego. "I know that my face hurts a little at the end of the day from smiling so much when I play Kimmy. But I think that one of my favorite things about Kimmy is that she is so rugged and fierce, while also being really girlish," she says.

"She wears pink pants, necklaces that say 'Kimmy' and she's kind of a nerd. At the same time, she has been through something I could never imagine having to go through. So, I hope I share some of those stalwart qualities."

These days, the Missouri native makes her home in Manhattan with Michael Koman, her husband of six years and their adorable 2-year-old son, James.

"One of my favorite things is going to the park with him. … I love just watching him—even at the tender age of 2—become more independent."

It appears that comedy runs in the family because Kemper says that young James "is making these hilarious facial expressions and he will say things to me and it makes me laugh like an adult makes me laugh."

When asked what kind of mother she thinks she is, Kemper expresses a bit of amusement. "In my head, I think I'm laid back and cool and that I go with the flow and roll with the punches," she muses. "But in reality, I think I am hyper-controlling. I think I worry about things that maybe don't really require me to worry about."

For now, Kemper is enjoying all the memories she is making with her toddler while also facing the daunting notion that he's getting older every day. "This seems just so scary to me because he is going to be his own person. I know that's the aim; we want them to be self-sufficient, but in other ways, I just want to keep holding him," she says.

Kemper attended Princeton from 1998 to 2002 and when asked about some of her more memorable times, she is quick to recount a trip the field hockey team took her freshman year to Philadelphia.

"I remember running up the steps of the Philadelphia Museum of Art a la Rocky. I love Philadelphia and have a very good friend who moved there with her family and she can't sing its praises highly enough. It's a beautiful city and I would love to come back. I should just get on a train and go," she says matter-of-factly.

To this day, Princeton remains near and dear to her heart and she keeps in touch with several of her classmates, a few of whom she speaks with almost daily.

"I got to go back and give a speech at an all-women's conference called She Roars [in October 2018] and it felt so inspiring and empowering to be surrounded by more than 3,000 women on that evening," Kemper recalls. "I was able to talk about attending Princeton and what my female friendships have meant to me. It was a special night that felt very motivating as well as comforting."

Her time on the athletic field and forming lifelong relationships aside, perhaps her fondest memories of her time on campus are the shows she did with the improv team. "The improv team was called Spitfire and I still have the dearest friends from that group. Performing in that group was one of the highlights of my college career," Kemper says.

And when she wasn't busy with academics, the proclaimed ice cream connoisseur could be found satisfying her cravings at nearby Thomas Sweet, "one of the best ice cream shops ever."

While reflecting on the good times of her past, Kemper admits that she would've never believed her life would soon head in the direction of becoming a happily married mother, let alone a successful actress and new author.

"The world is not my oyster, but I definitely would have thought that all of that wasn't possible," she replies. "Just because it requires such luck and timing to have all of those things, especially about meeting someone who you want to spend your life with. I feel so lucky that I met Michael, because he has become such a fulfilling part of my life, and now James completes that. I feel very grateful for them. I guess that it surprises me how everything has turned out so well."

Working on Kimmy Schmidt, Kemper has treasured the opportunity to work with a mentor like Fey, not to mention the relationships she has formed with co-stars like Carol Kane, Jane Krakowski and Titus Burgess.

"Tina's work ethic and the way she treats other people are inspiring to me. She's just a class act all around. I have also adored Jane for years; she is a true professional. Everyone on the show is really like family to me. I feel that being able to work with all of them has been invaluable, a true blessing."

Fey's testimonial on the book jacket of My Squirrel Days would imply that the admiration and respect are mutual: "Ellie Kemper is the kind of stable, intelligent, funny, healthy woman that usually only exists in yogurt commercials. But she is real and she is all ours!"

As the final season of Kimmy Schmidt winds down, Kemper is readying for whatever may come next, including reprising her voiceover role in the sequel to The Secret Life of Pets, slated for a June release.

"I will be making significant career decisions and will try to do my best, as would any working parent, to balance a job and a family, which certainly is tricky," she says. "So, I am looking for work going forward that cheers people up, whether it's comedy or some sort of talk show. I just want to bring some light to someone's day."

She also speaks with unwavering certainty when asked about her desired legacy.

"I want to be remembered as somebody who worked very hard, and who was kind to people. Those are the two things that are important to me. … I am inspired by acts of selflessness," she responds.

"When I see somebody who is just completely thinking about someone else, that is so inspiring to me, because I don't do that all of the time," Kemper says. "So, to see someone helping a sick person or taking care of a family member is very inspiring. We live in a very self-focused world, so it's nice to see people who are thinking and caring about others."

As conversation revolves back to her book, the cover of which shows Kemper with a bushy-tailed squirrel, it feels necessary to ask if she still has an affinity for the animal she spent so much time with back in the tree house.

"The squirrels in [New York City] are so used to people that they're afraid of nothing and they are very aggressive, so if anything, I have grown a bit more cautious of squirrels."

But clearly more open to everything else.

To read the digital edition of South Jersey Magazine, click here.

Published (and copyrighted) in South Jersey Magazine, Volume 15, Issue 10 (January 2019).

For more info on South Jersey Magazine, click here.
To subscribe to South Jersey Magazine, click here.
To advertise in South Jersey Magazine, click here.