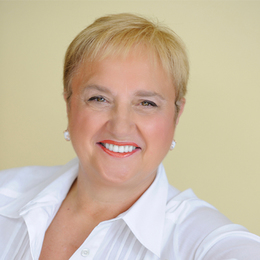 Cooking with Love
For Lidia Bastianich, there's more to creating a meal than just adding the ingredients.
Fewer names are as synonymous with regional Italian cuisine as Lidia Bastianich. A successful restaurateur with her own line of pasta and sauces on supermarket shelves across the country, she is also the best-selling author of several cookbooks and perhaps most well-known for teaching millions of people how to cook on the numerous PBS series she's hosted over nearly two decades.

And in her effort to bring families together with her passion for food, the 71-year-old works closely with her own, partnering with her daughter Tanya and son Joe—who also stars on Fox's Master Chef—on a number of ventures that include her own entertainment production company, a winery and several restaurants in New York City, Chicago and Los Angeles, among other locales.

This month, Bastianich will be making a local stop at the Zallie's ShopRite in West Deptford on Saturday, Dec. 8 from 1 to 3 p.m. where she'll be signing copies of her memoir My American Dream: A Life of Love, Family and Food as well as other cookbooks including Lidia's Celebrate Like an Italian.

We spoke to Bastianich ahead of her South Jersey visit to find out more about what inspired her approach to food as well as to gain her thoughts on mentoring the next generation of chefs. She also revealed what she considers to be comfort food and talked about that one time she taught Julia Child something in the kitchen.

So you will be doing a book signing in our area. What do you like most about having the opportunity to meet and connect with your fans?
The idea is to connect with my actual viewers and customers. I owe that to those who cannot come and see me in the restaurants [that I own]. They get excited and so do I; and they give me good feedback. [I learn] how do I connect with them? Do I make a difference? What do they appreciate about it?

One of the unique things about your cookbooks is that they feature a wide array of recipes that can appeal to any home cook, no matter their skill level. Do you pride yourself on showing people that cooking good, quality food does not have to be overwhelming?
Absolutely. It's not about showing how much I can do; I can do that in a restaurant. I feel really obliged to impart some enthusiasm and comfort to the people I'm connecting with. I want to be part of their kitchen, their table, their life. I can only do that if they cook my food, [are exposed to] my aromas, my flavors. Then they really feel connected.

I was blessed with my understanding [of the food I cook]. It is a connector that goes back to my culture and history. To share my experiences with the people … my stomping on the grapes when we made wine [for instance], that brings the reader to me. It's not just two cups of this, two cups of that. I lived these experiences and want to share with them. For me all of that is important in what food means to me. Putting the meal on the table is the ultimate culmination, but there's a lot that goes into that recipe.

Do you remember a specific dish or time in the kitchen where it really clicked for you?
I remember very well. If I were go to back, my first formative years where I grew up in Pula, Istria, which became communist Yugoslavia, my parents put my brother and myself with my grandparents in a small town [in Italy] where we wouldn't be so affected by the new regime. I was my grandmother's assistant. We had chickens, ducks, rabbits, pigs, a garden. I was foraging for wild asparagus, for wild chicory in the springtime. All of that was part of my upbringing, it was life.

I absorbed all of those beautiful, unique flavors. Grandmom would send me to go get a branch of rosemary, or a branch of bay leaves. And I collected all those aromas into my food library that is the reference point when I cook today.

When I was 10, I was plucked out of that life and I longed for Grandmom and for those aromas and I began cooking and looking for those smells. I think that's why I built this strong connection to that part of my life.

After all these years in the culinary industry, do you still get inspired by food and cooking?
I love it. It still gets me excited. Food evolves and when I go back to Italy it excites me to find something new.

Julia Child was instrumental in helping you break through into television, but is it also true that you taught her how to make a proper risotto?
It is. In 1981 we opened Felidia [in New York City] and I began cooking regional cuisine that was different from the other Italian restaurants that were out there. She did come in with James Beard. Of course, I went over and talked to her and she was mesmerized by the mushroom risotto and wanted to learn. She came to my house, we had dinner and I taught her how to make the risotto. She invited me to do her show and that's how I got into television.

You have a very familial approach to your food, and you work closely with your children. How much do you enjoy being able to collaborate with them on so many different projects?
The restaurant business is a way of life. When the kids were small, they'd be with my mother and father and they would all come to the restaurant. They were involved with us because that was life. And when we would go back to Italy, vacations were always research time … going to all the winemakers, the restaurants, they would always come along.

As they grew up, they would be in the kitchen with me always and I would teach them. They moved on with their own lives, but what happened would be they would come back [from college] with carloads of kids and Sunday I would make dinner for everybody. Food for us was always a positive.

And I understood the business aspect and the elegance of serving food in a restaurant. I approach food direct and simple as most people should. I think I communicate that and people connect and transport that into their home. In doing so, the first shows I filmed were in my house because I was afraid to be in the studio. If you show me in the house, I can do it. It's my stove, the kids were in the house, Grandmom lives with me and she would come on the show. I feel most comfortable being who I am.

In today's society, families really don't eat dinner together on a consistent basis. As someone who prides herself on bringing people together over food, how do you feel about that?
I think now when everyone is isolated with the iPhone in front of their nose, as food has grown in importance, it has become an antidote. People love to cook and when you cook you nurture someone, you give them love. I think people understand that. Food is a magnet; people gather around food, and it's done in different ways. Even if you send the kids to school with a fried eggplant sandwich you made at home, it's love you are sending. Eating is getting to our basic animal instinct of feeding ourselves. When we are doing that at the table, we open up, especially with children, they are talking at the table, they are happy and they joke. There are discussions at the table—it's a very special place to talk to each other. It should be cherished and used for what it is; to enjoy each other's company.

Certainly television programs like yours have helped popularize cooking. Are you excited for the next generation of chefs and what direction do you see the food world going in the next several years?
I like the excitement I see about food. Searching for something new, chefs are really interested in food. They are interested in different aspects of food and cooking, but also in the farmer that grows the food. I think it's wonderful to see these young chefs dive deep into cooking. They are interested in the people and support people who are our sources of food.

I'm sure you are constantly approached by cooks who were inspired by you. How rewarding is that part of your profession?
Mentoring is the ultimate reward in any successful career. For me to become who I am, I had a lot of mentors who made a difference in my life and taught me. A lot of hours I worked, you have to do that. As a young apprentice you have to dedicate yourself and there has to be the teacher who wants to work with you. I will get young chefs who ask me for advice and I think that's where I can make a difference. Part of me goes with them and stays with them and travels all over the world.

Finally, you've had a long day and you just want to relax with a bite to eat. What are you having?
Usually, I love my pasta—spaghetti, garlic and oil with a little peperoncino and a glass of red wine or maybe a slice of prosciutto with some grana padano and crusty bread and I'm fine.


To read the digital edition of South Jersey Magazine, click here.

Published (and copyrighted) in South Jersey Magazine, Volume 15, Issue 9 (December 2018).

For more info on South Jersey Magazine, click here.
To subscribe to South Jersey Magazine, click here.
To advertise in South Jersey Magazine, click here.