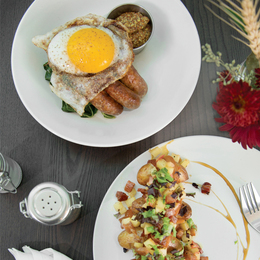 Palate: Cooking with Purpose
Farmacy NJ showcases sustainability and sophistication with a menu full of dynamic dishes that appeal on many levels.
Palmyra and Riverton pride themselves on their size and with just about 10,000 people stretched across two miles, the residents of these two boroughs enjoy a world of their own, connected by the main drag, Broad Street, and the massiveDelaware River that sandwiches them into a private little community.

So when something new pops up in town, people talk.

Lately, the chatter has been all about the newest location of Farmacy, a restaurant that first earned a reputation as a must-visit brunch spot in Philadelphia's Spruce Hill neighborhood. Co-owners and chefs Ross Scofield and Danielle Coulter opened their Palmyra location in August, continuing their mission of providing locally sourced and sustainable food on a family-friendly budget.

The dining room is as small as the town it calls home, with only about 15 seats and a bar with a few old-school soda fountain stools fixed and facing the kitchen. Scofield mans the food in South Jersey mostly on his own, darting around the kitchen that wraps around the front of the restaurant to lend a personal touch to every from-scratch item he cooks up. Brenda Harakas, the front-of-house manager and Scofield's very proud mother, stands watch over the diners, occasionally peaking behind into the kitchen to taste-test her son's newest creations.

Needless to say, a meal at Farmacy is personal and intimate. There is pride and love poured into every square inch of the eclectic space and the local diners have responded to that. Grabbing a seat for their brunch can be difficult, but many commit to the wait for the opportunity to dine on the rotating menu of egg skillets, sandwiches, salads and Southern-style dishes.

Farmacy's dinner service takes that Southern twang and adds a splash of sophistication, though it should be noted that the prices still lean on the more affordable side, with no entrée costing more than $20. The focus is on farm-to-table dining with everything from the meat and produce to the drinks and condiments being sourced from as locally as possible.

An appetizer of fingerling fritters features roasted fingerling potatoes piled with thick-cut smoked bacon, diced Gala apples and Dijon mustard with an apple cider reduction for dipping. You can't quite go wrong with this flavor combination, as the rich potatoes were brought to life by the smoky bacon, sweet apple and bright flavors of the accompanying sauces.

The sausage appetizer was a less familiar combination, featuring artisanal sausages served whole over a bed of braised greens, topped with a fried egg and a side of whole grain mustard. It was a big plate of food that was difficult to share, and might have been better suited as an entrée, as the egg broke up and its flavor disappeared when spread out. But the sausages were packed with fresh herbs and went great with the delicate greens.

The heavyweight of the night blended a casual and gourmet culinary approach into one unbelievable entrée of fried chicken. A whole half chicken was buttermilk battered and fried until golden and crispy, while the meat inside was juicy and tender, showcasing great technique. It was served heaped into a bowl of house-made macaroni and cheese with smoked collard greens, then finished with a heavy drizzle of cole slaw dressing as a sauce. The mac and cheese is some of the creamiest you'll find in our area and helped provide the perfect bite every time you slid some onto a fork along with the smoky greens, chicken and the bright dressing. It was a massive meal, but one I could have picked at all night with pleasure.

The surf and turf was equally as inventive, though with such divine ingredients a lean toward conservative might have been the best option. The turf was a filet of beef shoulder, cooked in an immersion circulator so that it was beautifully tender and served alongside a sauté of lobster meat, diced and tossed with chopped asparagus, pearl onions and spices. The beef was flawlessly cooked and finished with the perfect, buttery red wine demi glace. But the lobster was piled with veggies and spices, and was a bit overwhelmed by the mix of other flavors.

While the restaurant does not currently offer dessert, there are plans to do so in the near future. In fact, during one recent visit, the kitchen had whipped up an artisan apple crisp on the fly as a nightly special. Apples were sliced into matchsticks and cooked in a rich cinnamon sugar sauce and then spooned into a bowl and served with freshly baked, broken up pieces of sugar-coated pie crust and just-whipped cream. If this was any indication of what lies ahead we couldn't be more excited.

The creative energy at Farmacy electrified the entire menu, turning standard plates into a full experience that made for an inspiring visit. It will be exciting to watch the restaurant continue to evolve with the seasons and develop new ways to intrigue us with their exciting plates coming out of the kitchen.

The Farmacy NJ
307 W. Broad Street, Palmyra
(856) 543-4411, TheFarmacyRX.com


To read the digital edition of South Jersey Magazine, click here.

Published (and copyrighted) in South Jersey Magazine, Volume 15, Issue 9 (December 2018).

For more info on South Jersey Magazine, click here.
To subscribe to South Jersey Magazine, click here.
To advertise in South Jersey Magazine, click here.