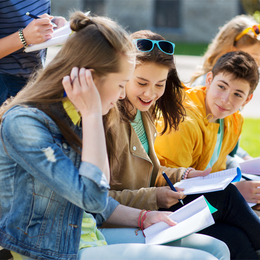 Academic Achievers
Meet some students from around South Jersey who are receiving high marks.


We opened the doors into South Jersey's schools to get a peek at what students are achieving, and the potential is overwhelming as these studious pupils prepare for their future. After reaching out to the many schools in our area, both public and private, here are the elementary, middle and high school students who are setting the bar high for scholastic excellence.
Ian Aquino, Cherokee High School
Aquino, a senior at Cherokee, is at the top his class with a 6.0 GPA (weighted). He is active in several of the school's musical groups including wind ensemble, percussion ensemble, marching band and pep band. Excelling in Spanish studies, he is in the Spanish Club, a National Hispanic Scholar, a Hispanic Scholarship Fund Scholar and member of both the Spanish Honor Society and the National Honor Society. Aquino is also a National Merit Scholarship semifinalist. Outside of school he volunteers for UrbanPromise and in a local emergency room. He hopes to one day be a doctor to save and improve the lives of others.
Katelyn Colamesta, Paul VI High School
Ranked first in her class of 277, Colamesta is an AP Scholar with Honor—granted to students who receive an average of 3.25 on all AP exams and scores of 3 or higher on four or more exams. In her junior year, Colamesta earned awards in Latin, AP statistics, AP biology, U.S. history and sacramental and moral theology. She is a two-year member of the National Honor Society and has been awarded the Gold Presidential Volunteer Service Awards for over 300 hours of service as a mentor and tutor with Quixote Quest. She plans to study bio-chemistry in college.
Jack Dobias, Hurffville Elementary School
Previously a student at Radix Elementary in Williamstown, Dobias left a legacy of academic achievements. This once-quiet second-grader displayed perseverance and attentiveness in his lessons in the Talented and Gifted program. In the Noetic National Math competition, Dobias finished first in the district and in the top 10 percent nationally. In the fall marking period of third grade, Dobias missed only one question on the math exam, and in the spring he received a perfect score—the first for any third-grader in the district. On the WordMaster's competition, a national vocabulary test, Dobias also had the highest score in the district and finished in the top 2 percent nationally. Dobias is now in fourth grade at Hurffville Elementary in Washington Township.
Emma Di Gesu, Shawnee High School
Di Gesu, a senior at Shawnee, is vice president of the class of 2019, as elected by her peers, as well as co-president of Amnesty International. Last year she was awarded the AP USII Academic Award and the AP English Language and Composition Academic Award. She has been named a Commended Student for the National Merit Scholarship Program in 2018-19 and was recognized with the NJ Department of Education State Seal of Biliteracy in Italian. Earlier this year, Di Gesu published a children's book, Dandy's Discovery, which was a product of her sophomore year creative writing class. Currently ranked ninth in her class, Di Gesu has received a full merit scholarship to Bocconi University in Milan where she will pursue a bachelor's of science degree.
Alexa Grabelle, Eastern Regional High School
Grabelle, a senior, has a weighted GPA of 103.771. She was named Eastern's September Scholar of the Month for having the highest cumulative weighted GPA of all seniors in the National Honor Society. Grabelle is a two-year member of the National Honor Society and president of the Rho Kappa History Honor Society. As a sophomore she received the Hugh O'Brian Youth Award while attending the organization's state leadership conference. She has been active on the Model UN, Key Club and Math League all four years of high school. Grabelle is the founder and president of Bags of Books, a nonprofit that promotes childhood literacy. The organization has donated over 140,000 books and earned Grabelle recognition on an international stage. She was the sole winner of a teen service contest hosted by National Geographic and is a repeat semifinalist for L'Oreal Paris' Women of Worth. Other accolades include a citation from the state of New Jersey for Outstanding Volunteer Contributions, the Prudential Spirit of Community Award and the Charlotte Bacon Act of Kindness Award.
Jacob Manders, Cherry Hill East
This senior student has a GPA of 7.0 and is in both the Science and Spanish Honor Societies. He is also the senior class vice president and a member of the baseball team and the group Athletes Against Bullying. Manders gives much of his time outside of school, chairing blood drives and volunteering for the Miracle League, the Fraternal Order of Police holiday party and at the Katz JCC and Congregation Beth El.
Rhea Sethi, Thomas E. Harrington Middle School
Eighth-grader Sethi has achieved A's in all subjects since third grade and was a recipient of the Presidential Gold Award for academic success. She is a member of the National Junior Honor Society and president of Harrington's chapter, and belongs to school clubs SeaPerch, Leadership Circle and STEP Artist. Sethi has completed over 100 hours of community service and helps raise money for scholarships for underprivileged students through her role as youth ambassador for Asian Indian Professionals. Outside of school she plays for Cherry Hill Soccer Club and the Moorestown Tennis Club.

Ryan Duffy, Charles G. Harker School
Duffy, who is in fourth grade, loves school and always has. While he enjoys all subjects and can often be found reading a book, math has always been a favorite. Duffy works well with his peers on group projects and is always looking for a new challenge. He is a member of the school's FIRST Lego League where he and other students design and create a Lego robot to solve a problem. Duffy has also written articles for the school newspaper.

Finn Haussmen, Neeta School
Haussmen, an eighth-grader in Medford Lakes, achieved high scores on both the PARCC and MAP tests, ranking in the 97th percentile for math on MAP. He is now in his second year of membership in the National Junior Honor Society and was on the principal's list for straight A's in sixth and seventh grades. Haussmen is in the Robotics Club and Rocket Club and has played piano since age 6.
Brigid Heath, Gloucester Catholic High School
Heath is ranked third in the class of 2019. Her courses are all honors and AP level and she was recognized by Rowan College at Gloucester County for her outstanding performance and academic excellence as a high school student enrolled in college courses. Heath has successfully completed 12 credits at RCGC while enrolled at Gloucester Catholic. An exceptional writer, she plans to major in political science and eventually go on to law school.
Laila Johnson, Parkway Elementary School
Only in third grade, Johnson is already exhibiting signs of a high-achieving student. She fully participates in lessons, always asking questions to gain a deeper understanding of the concepts of the material and not just completing the given assignment. She showcases a rare determination seen at this age and tackles tasks that may be difficult, working on them until the goal is not only achieved, but achieved with excellence.

Soren Kipphut, Walter Hill School
At age 11, Kipphut is considered to be a very young sixth grader. She is currently taking an advanced math class as well as a supplemental pre-algebra course, exceeding the standards for both. Kipphut has received exceptionally high scores on standardized tests, despite her age, but more than that, it's her willingness to help others succeed that makes her stand out.

Olivia McMullen, Cherry Hill West
McMullen, a sophomore, has been a straight A student since grade school, receiving several awards in middle school, including the Principal's Award. She now holds a 4.4 GPA. She has achieved recognition for her work with the charity Live Out Loud, which spreads awareness on suicide prevention and bullying, and she holds the title of Miss Worldwide Teen New Jersey. Through these efforts she was awarded a proclamation from Cherry Hill's mayor this past summer.
Alex Nguyen, Clearview Regional
Nguyen, a senior, has accolades dating back to elementary school
where he received the All-Around Academic Award at Pleasant Valley Elementary School, followed by the middle school's Academic Excellence Award. He is a National Honors Society member and a nominee for both the U.S. Presidential Scholars Program and the NJ Governor's School of the Sciences. Nguyen tutors in various subjects and is in the STAR Mentorship Program, guiding freshmen as they adapt to high school life. A member of the track team, Nguyen has also been a karate instructor since 2009 and received the People's Choice Award, voted on by parents and students.
Shannen Preble, Seneca High School
This senior at Seneca has a 6.0 GPA. She is a member of the National Honor Society and the National Spanish Honor Society. Preble has been recognized with awards for honors precalculus, honors English II, AP chemistry and calculus BC. Preble is on the principal's list and is a two-time medalist in the STEM Olympics. She is a recipient of the prestigious Rennselaer Polytechnic Institute Award Medal, which recognizes high school juniors for their achievements in math and science.
Andrew Rowan, Moorestown Friends School
Rowan's passion for journalism shows in his academic endeavors. A senior, he is the editor-in-chief of both the Wordsworth student newspaper and the Cupola yearbook. Rowan was chosen for Northwestern University's prestigious summer journalism Cherubs program. Other accolades include receiving first place in the Breaking News category for the 2018 Garden State Scholastic Press Association Awards and first place for both Broadcast Feature and Multimedia Feature News Package in 2017. He also placed third in the WHYY Youth Media Awards in the News Report category.

Paige Sawyer, Wedgwood Elementary
This fourth-grader is achieving great things by helping others. She personally spearheaded a project called 500 Chemo Bags for 500 Smiles. Sawyer has organized the donation, preparation and delivery of bags filled with pretzels, cookies, peanut butter crackers, tissues, hard candies, juice boxes and ChapStick—items to lift the spirits of cancer patients undergoing treatment—coordinated through The Unforgotten Haven, a local nonprofit. To date, she has assembled 2,471 bags for those battling cancer.
Evan Schaffer, William Allen Middle School
Schaffer has earned straight A's in each marking period for every grade level. He consistently scored in the top percentile on MAP and PARCC tests and was recommended for honors algebra in seventh grade and honors geometry in eighth grade. Elected to the Student Council Executive Board, Schaffer is a key member of RoboLearners, a Moorestown-based FIRST robotics team. During his time on the team it has won the Innovation Award, Robot Design Award, Programming Award and the qualifier
and state championship in 2017. In 2015 and 2017 the team competed in the World Championship. Schaffer has been a performing member of the Philadelphia Boys Choir & Chorale for six years and has performed across the country and internationally, including in Ecuador and Vietnam. He is also a second degree black belt.
Nicholas Segal, Washington Township High School
Ranking eighth in a class of 532, Segal demonstrates a strong work ethic, taking a full load of honors and AP level classes, including six as a senior. Segal is a member of the National Honor Society, Mu Alpha Theta and Spanish Honor Society. He has been on class council all four years at WTHS and was chosen to attend theRotary Youth Leaders Awards this past summer. He has participated in DECA and Future Business Leaders of America, attending the state competitions for both last year, and is on the Student Leadership Committee. Segal plans to pursue a major in business analytics.
Priya Shah, Lenape High School
Shah, a senior at Lenape, has a 6.0 (weighted) GPA. She is a member ofthe National Honor Society and is a past gold and silver medalist for the National Latin Exam. Shah was accepted to the New Jersey Governor's School in the Sciences as a junior and is a member of the FIRST Robotics Competition (FRC) robotics team, which qualified for the 2018 World Championship. As captain of the Lenape Math Team, she led the team to second place in the 2018Burlington County Math League competitions, following up their first-place finish in 2017. A DECA state finalist, Shah attended Thrive Academy at the organization's international competition. She is currently conducting breast cancer research at Penn Vetwith Dr. Rumela Chakrabarti.
Ethan Spellmeyer, Haddonfield Memorial High School
Spellmeyer, a senior, is a member of the National Honor Society, French National Honor Society, Co-Ed and Voicemale student-led a capella groups. Spellmeyer is a National Merit Scholar semifinalist and student representative for the Haddonfield Board of Education. His interest in biomedical science led to his participation in Jefferson University's Summer Science Program. As a junior he received the Rennselaer Polytechnic Institute Award, given to top performing STEM students. He has volunteered his time as a chemistry lab assistant, peer mentor and is the treasurer for Help Women and Children Now. Spellmeyer has participated in Drama Club since seventh grade and is a varsity runner who contributed to Haddonfield's sectional and state titles.
Do you know a well-rounded academic achiever?
We are looking for students— from elementary through high school—who excel in the classroom and beyond and are worthy of being recognized as one of South Jersey Magazine's students to watch. If you think you know someone who fits the bill, please email Lauren@SouthJersey.com and tell us more.
To read the digital edition of South Jersey Magazine, click here.

Published (and copyrighted) in South Jersey Magazine, Volume 15, Issue 9 (December 2018).

For more info on South Jersey Magazine, click here.
To subscribe to South Jersey Magazine, click here.
To advertise in South Jersey Magazine, click here.