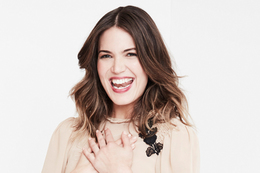 Moore in Store
Growing up, all Mandy Moore wanted to do was perform. But, even she couldn't have envisioned transitioning from a successful music career into acting and a starring role on one of television's biggest hit shows.

Mandy Moore has long connected with adoring audiences during her heartfelt performances and now that excitement has reached a fevered pitch.

While growing up in Orlando, she had visions of a lengthy career as a musician and film actress, but it wasn't until three years ago when the opportunity to reach a broader prime-time audience in the smash TV hit This Is Us came into her life.

After nearly 20 years of making her mark, she never could have predicted her current success as a television matriarch in the role of a lifetime, and the range of emotions that it would evoke from not only her, but also millions of fans.

"What I love about performing is the big thrill, the exhilarating rush of adrenaline," says Moore. "Whether it is on the stage, performing live, or being part of a movie or television show—it's just like do and I feel incredibly lucky just to have that opportunity."

Portraying Rebecca Pearson on This is Us, NBC's highly emotional award-winning drama about the intense trials and tribulations of family life—love, resentment, struggles, tragedy and joy—has given Moore a golden opportunity to stretch and grow, both as a woman and as an actress.


After great anticipation, the third season debuted in late September and offers a prime opportunity for Moore's character to delve deeper into the many surprises in store for her adoring husband Jack and their three children; a unique set of triplets.

"I love our show's depiction of family. It's really about a group of people who love and support each other unendingly," says Moore, "but they're not without flaws. A family doesn't necessarily have to come in the package that you first expected."

Sometimes the unpredictable path can be the best one to travel. It was during Moore's elementary school years when she caught the entertaining bug after seeing a student performance of Oklahoma. She decided at that moment she wanted to someday be the one on stage in front of the audience and began taking voice lessons. By the time she had reached sixth grade, she was starring in the lead role of her school's production of Guys and Dolls.

Soon after the young Moore's talents began to take flight she was performing the national anthem at sporting events all around her native Orlando area. But her big break came a few years later at the age of 14. While recording a demo at a music studio, a FedEx worker overheard her singing and offered to deliver her raw demo tape to a friend at Sony Music. Shortly after that fateful day she signed a deal with the company and things began to skyrocket.

At the tender age of 15, Moore's first record So Real was released and would eventually go platinum, propelled by the hit song "Candy," which reached No. 41 on Billboard's Hot 100. It wasn't long before she was on tour belting in front of audiences across the country, including memorable local stops in Camden and at the Borgata as well as Surf Stadium in Atlantic City. As her career was ascending, she was also tapped by Campbell Soup as a celebrity endorser, appearing in commercials alongside Michael Strahan— the company also released a special promotional CD featuring Moore's music. All told, she would go on to release five more albums, ultimately selling more than 10 million records worldwide.

After making an imprint on the music industry, she transferred to acting and made her film debut in the 2001 movie Dr. Doolittle 2, and later that year, she appeared as Lana in The Princess Diaries. The next year she would land her first starring role in 2002's A Walk to Remember, solidifying her new career path. More recently, she's lent her voice to Ralph Breaks the Internet, a sequel to the popular Disney animated film Wreck-It Ralph.

And a few months back she hinted at a return to making music on her Instagram page, teasing a new song she had been working on. And besides the acting and singing, she'll stay busy thanks to a two-year production deal she has inked with 20th Century Fox TV, the studio that produces This Is Us. As part of the deal, Moore will produce content for both broadcast and cable television.

As the teenager who had hoped for such a long-lasting career, Moore is over the moon about the place she has currently landed. "I think the show has stirred up a lot of emotion for me, and as a result of the recent progression, I feel like my world has been flipped upside down in the best way possible," she says.

"I was definitely trying to break into television for a couple of years. It took the right opportunity like this, so I'd go through the four years of failed pilots to end up right back here again," she says. "I really wouldn't change any of it."

Appreciating success in life—and riding the storm through setbacks—is at the heart and soul of what causes This Is Us to evoke such powerful emotions, making viewers alternately laugh and cry as they relate to Rebecca and her family. After all, Rebecca and Jack are well-meaning, caring parents, but they also make mistakes.

"I think Rebecca is flawed, and she's made some really difficult choices that not everyone has made in their lives," says Moore. "She is not a perfect mother, whatever the definition of that is; but I think she is really fantastic. I'm honored to play such a rich and colorful character, who is such a complex woman."

Not only does the charming and witty actress believe that she has personally grown through the tear-jerker drama, but she loves the life lessons that it reveals. "I think the show really reflects that a family doesn't have to necessarily look how you initially imagined it," Moore says.

Throughout her own early journey, Moore had her family at her side, and she can identify with that strong parental support, as well as the family bonds that are depicted in her TV drama. It is one of the reasons that This Is Us resonates with television viewers far and wide.

While currently not a mother, although it is something she thinks about for her future, Moore says she has "so much admiration and compassion" for her character of Rebecca. She has also bonded with all of her on-screen children.

"At this point, it's not at all challenging to play a mother to the kids. We truly feel like a family, because we work together so often. Because I don't have as much work with the adult kids, I love digging my heels in it and trying to figure it out."

What makes Rebecca so attractive to Moore is that she sees her character "as a woman who is unsure of her maternal potential, but she ends up really thriving in that role," she explains. "She ends up being like the ultimate matriarch."

The bonds that have been forged during the first two seasons of the show are clear by the way Moore lights up when she talks about her co-stars, especially her TV husband Jack, portrayed by Milo Ventimiglia, best known for Gilmore Girls and Heroes. "Milo is one of the most giving partners I've ever shared the screen with," Moore says.

And Ventimiglia is quick to return the compliment by saying, "I never ever get tired of Miss Mandy Moore. There is no Jack without Rebecca. Mandy and I go deeper and deeper with the connection this husband and wife have. It is a true pleasure being on the set with her."

Not only is Moore thrilled to be sharing this pinnacle of her life's work with an extremely talented and supportive cast who feel like a second family, but she is also exploring this role from the ages of 22 to 66, "giving her this unique lens of her life from so many different crossroads, the choices she's made and how it's reflected in the present day. This show definitely has me thinking about my own life, the choices that I've made and how family factors into where I see my life going."

It takes from three-and-a-half to four hours to transform Mandy into a grandmother, and about an hour to remove the aging makeup—a process at the end of the day in which she finds herself sitting with a pile of hot towels on her face.

"I've done it so many times at this point," she says, "but initially it felt like Goldilocks and the Three Bears; first it was too old, then it was too young and the last time it was just right."

When she initially studied herself in the mirror she wondered if she would resemble her mother or her grandmother. "I don't really think I look like either of them. But if this is an indication, I wouldn't be mad at that because their skincare regimen is out of this world, and they both look really good."

This Is Us creator Dan Fogelman, (Life Itself, Crazy, Stupid, Love and The Guilt Trip), says that he can always count on Moore to go the extra mile.

"Mandy is a trouper. Once in a while a scene won't turn out, or we realize in the course of shooting that we need something else," he says. "When I recently asked her to go back in the age makeup for one more shot, and I apologized for it, she replied, 'Why would you be sorry; this is the job.'"

Watching This Is Us with a box of tissues nearby is the norm because the dynamics between husband and wife, siblings and the world around them strikes a chord with those who can relate to the family's struggles.

"In general, I'm not someone who carries things around with me. But every time I talk about the show, my eyes well up," Moore explains. "I'm a super sensitive person, and I feel like the show has ratcheted that up. Everyone on the show is pretty emotional, but literally, I cry when I read the scripts. All of us are pretty drained at the end of the day."

Before the show came into her life, Moore was feeling stressed, confused and her career and home life were floundering. It was at a time when her six-year marriage to rocker Ryan Adams was ending in divorce.

She is now married to Taylor Goldsmith, the front man for the indie band Dawes, and is drawing on both the raw emotions and great joy for her work on the show. "I feel like there's enough catharsis through doing the scenes and working them out and talking about it," she says.

When she is not working, Moore wakes up to a fragrant cup of coffee, catches up on the news, checks her emails and likes to nest in her house.

A well-known animal lover, she enjoys feeding and bonding with her dogs and cats. Part of her routine is going to the gym to work out or do yoga but she is also known for going on hikes in the Southern California hills with her dogs.

"Once I became an adult, I realized that I needed to ground myself in the day before I start to tackle anything," says Moore. "My idea of wellness is constantly shifting, but I think it's about having a comprehensive view of taking care of myself, whether it's about my health, nutrition or fitness."

Her future appears very bright. She would love to do a musical, on Broadway or otherwise, because she loves both singing and acting. "I feel more like an actress now than a singer; this is my job," she says. "This is my first priority."

While other fans talk to their favorite actresses about lighter subjects, the viewers she meets are all about the drama surrounding Rebecca and the Pearson family.

"The show has made me examine things in my life. It makes me want to talk to my family more," Moore says. "It's funny how people continue to come up and have conversations with me about their own lives. It's crazy how personal people want to get about death and divorce and their estranged relationship with their child or their sister," she says.

So what other life lessons have her enduring career taught her? "I feel like I've learned over time to be a better listener," she reveals. "I find it hard to watch myself on the screen because I feel like if I see my work from 10 to 15 years ago, I will be supercritical."


Moore has also learned not to shy away from difficulties. "I know that life is about the challenges. With every episode, I ask myself, 'How am I going to do this?' But it's a dream to remind myself that I've got to climb this mountain and figure out how I'm going to get there, and then I give everything I have to make it happen."


To read the digital edition of South Jersey Magazine, click here.

Published (and copyrighted) in South Jersey Magazine, Volume 15, Issue 9 (December 2018).

For more info on South Jersey Magazine, click here.
To subscribe to South Jersey Magazine, click here.
To advertise in South Jersey Magazine, click here.