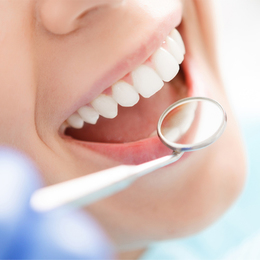 Dental: Leaders in the Field 2018
When it comes to various areas of dental care, South Jersey has the finest dentists around. Whether you are taking your child for their first dentist appointment, need a routine check-up for prevention, orthodontic care or cosmetic correction, these professionals are the best of the best in their field and provide the utmost in quality care.
GENERAL DENTISTRY
Dr. Ahkiah Allen
Voorhees, Mount Laurel | 856-770-1770
MyGrowingSmile.com

Dr. Val Andreassi | Dr. Harry J. Gilbert
Cherry Hill | 856-424-0170
CherryHill Smiles.com
Dr. Kevin Atlee | Dr. April Moyer
Moorestown | 856-234-8686
Dr. Joseph Cohen | Collingswood
Dr. Bradley Convissar | Dr. Gerald Convissar | Mount Laurel
Dr. Gerard Corsi Jr. | Woodbury
Dr. Marie J. Cullen | Dr. Emily C. Stein | Sicklerville
Dr. Louis D'Angelo | Marlton
Dr. Charmen Douglas | Gibbsboro
Dr. Gary Dworkin | Dr. Fred Rosen
Marlton | 856-983-7732
Dr. Blake Entralgo
Marlton | 856-985-1800
Dr. Mary Frare | Dr. Robert Frare | Voorhees
Dr. Lisa N. Gallucci
Marlton | 856-983-0546
Dr. Deborah Hoover | Dr. Ken Hoover | Medford
Dr. Cynthia Jetter | Dr. Donald Jetter | Voorhees
Dr. Jared Johnson
Woodbury | 856-848-8400
Dr. Jeffrey Koslow | Dr. Dan Timms | Depford
Dr. Michael Krusinski | Medford
Dr. John Kupcha
Mullica Hill | 856-223-1945
Dr. Joan Malcolm | Sicklerville

Dr. Cathleen Olesky | Sewell
Dr. Delina Parkhurst | Dr. Kokila Punia | Cherry Hill
Dr. Joseph Sandberg | Marlton
Dr. Gail Seigert
Berlin | 856-767-7077
Dr. Bruce L. Silver | Burlington Twp
Dr. James Soffer | Dr. Carol Szargowicz | Haddonfield
Dr. Kelly Stiles | Medford
Dr. Gregory Strait | Manahawkin
Dr. John Tiffany
Moorestown | 856-231-7560

TiffanyFamilyDental.com
Dr. Michael Vanaria
Cinnaminson | 856-786-2020
VanariaDental.com
Dr. Fred Van Istendal
Marlton | 856-983-0060

AcornDental.com
Dr. Sharon M. Verdinelli | West Deptford


ORTHODONTISTS
Dr. Sarkis Euksuzian
Medford | 609-654-0600
BracesbyDrE.com
Dr. Thomas Kadar
Sewell | 856-582-1400
GoKadar.com
Dr. Erin Kazmierski-Furno
Marlton, Medford | 856-596-1933
KazOrthodontics.com

Dr. Carlyn Phucas | Serving South Jersey
Dr. Marybeth Marrone | Dr. Richard Kaye
Moorestown, Mount Holly | 856-234-4044
MorroneAndKaye.com
Dr. Michele Paterno
Mount Laurel | 856-722-5664
PaternoOrthodonticsLLC.com
PEDIATRIC
Dr. Susan Armstrong | Dr. Kristin D'Adamo
Moorestown | 856-235-0415
ArmstrongPediatricDental.com
Dr. Marc Albano
Mullica Hill | 856-842-5400
KidsDentistGloucesterCounty.com


Dr. Wendell Holdbrook | Cherry Hill

Dr. Sonny Sekhon
Mount Laurel, Voorhees | 856-778-0800


MyGrowingSmile.com





PERIODONTICS


Dr. Zahra Afsharzand | Cherry Hill

Dr. Ali Arastu | Pitman

Dr. Ben Calem | Medford

Dr. Mario Canal | Moorestown
Dr. Gail Gerard Childers
Marlton, Turnersville | 856-983-5593
DrGailChilders.com
Dr. David Edenbaum
Voorhees | 877-676-3336
EdenDentalSpecialists.com
Published (and copyrighted) in South Jersey Magazine, Volume 15, Issue 8 (November 2018).
For more info on South Jersey Magazine, click
here
.
To subscribe to South Jersey Magazine, click
here
.
To advertise in South Jersey Magazine, click
here
.