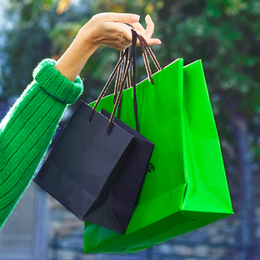 Personal Shopping
Retailers big and small seek to provide consumers with an experience they won't find online.
The most wonderful time of the year is upon us.

Our calendars fill up with holiday dinner plans, company parties, kids' activities and of course, shopping. It's an American pastime that traditionally begins on Black Friday and gives retailers that final boost of revenue before the year is through.

If the news was any indication, one would think brick-and-mortar stores are looking forward to this year's seasonal shopping more than ever. It seems a weekly occurrence for one well-known brand or another to declare bankruptcy or close stores. From Macy's and Toys R Us to Sears and Kmart, all have been forced to shutter their doors here in South Jersey and across the U.S. The attention-grabbing headlines all seem to point toward people's preference to shop online. In 2017, U.S. consumers spent $453.46 billion online, up 16 percent from 2016, according to the U.S. Commerce Department. Yet, that number only accounts for 13 percent of total retail sales.

To put it simply: Consumers are still shopping in stores, in person. One look at the parking lots of the Cherry Hill Mall or the Gloucester Premium Outlets on weekends and that seems pretty clear. And it's not just the national retailers either; local mom-and-pop businesses in South Jersey are thriving in spite of their e-commerce competition. According to them, retail isn't dying; it's evolving by delivering an experience you can't buy online.

Shopping as a destination
Malls have always followed the same basic design, anchored by large department stores with a small food court. They were never really somewhere people wanted to spend a day. That's not the case anymore, especially in South Jersey, where our shopping centers can be indoors or outdoors, and have movie theaters, casual and fine dining options and more to pass the time.

Marlton's Promenade at Sagemore has become one of South Jersey's top shopping destinations, giving customers access to both boutique and national name brands, along with various dining options to fit their schedule. It's all part of the experience, says Laura Balga, general manager/marketing director for The Promenade at Sagemore.

"Shoppers continue to frequent stores and shopping centers for the experience. Customers often prefer seeing and touching an item in person, having the ability to try it on to avoid the hassle of ordering and returns, and just enjoy browsing through new trends at a mix of retailers," she says. "Retailers are finding that online and physical stores work as shared partners in selling the brand and merchandise. Shopping centers are also great locations and venues for a variety of fun events for families in a local community." Throughout the year the shopping center hosts a summer concert series, spring food truck event, holiday visits with Santa and annual tree lighting.

Traditional enclosed malls may not be as predictable as they once were either.

"[Malls] look different now, which means we have to approach [them] differently," says Heather Crowell, SVP, strategy and communications for Pennsylvania Real Estate Investment Trust (PREIT), which owns both the Cherry Hill and Moorestown malls.

"We've done a lot of research on the customer shopping experience today and they want a diverse outpouring with entertainment and dining. You have to think outside of the mall box of apparel and accessories."

Earlier this year, PREIT announced the addition of a half-dozen newcomers joining the Cherry Hill Mall, some of which one might never expect. Canadian clothier Ardene will take up an 11,000-square-foot space near JCPenney, online seasonal home décor brand Balsam Hill will open its first year-round brick-and-mortar store (outside of its California outlet), and another West Coast chain, Fatburger, will have its only East Coast locale (so far) here in Cherry Hill. Soon, shoppers will also be able to experience Peloton, a fitness brand offering indoor cycling and exercise bikes, at its kiosk in the mall's center court. And in a first of its kind, small business incubator1776 will offer a co-working space specifically focused on retail.

At the Moorestown Mall, Yardhouse, offering a large selection of craft brews, is flourishing, and the mall will welcome Joe Italiano's Maplewood next month and Hash House a Go Go, featuring farm fresh food and crafted cocktails, for its first New Jersey location.

Along with this mix of dining, just last month both Home Sense and Five Below opened where Macy's once stood and Sierra Trading Post will soon be joining them. "In just a brief period of time since these stores have been opened, we've replaced 70 percent of the traffic coming from Macy's and we're only taking 40 percent of the space," Crowell says.

The Gloucester Premium Outlets are another recent addition to South Jersey's retail landscape, owned by Simon, whose portfolio also includes traditional enclosed malls like King of Prussia. In a statement, the company says "Gloucester Premium Outlets are perfectly situated to serve residents and visitors to Center City Philadelphia as well as the southern New Jersey communities. We offer our shoppers a memorable experience and sought-after brands including Michael Kors Outlet, J. Crew Factory and Vera Bradley." And although the company is unable to share information on development plans or lease negotiations, Simon adds "we do make it a priority to best serve our shoppers through the center's amenities and mix of retailers." Recently, Dave & Buster's announced it's joining the Outlets site, adding an element of entertainment for shoppers.

And as for feeling the pressure of e-commerce, Crowell says retailers need to have a balance between online sales and in-store sales. "If it were accurate that retailers could survive solely online, then companies like Amazon and Warby Parker wouldn't be opening stores. It doesn't have to be one or the other," she says.

Neighborhood retail
It's not just malls that are leveraging the shopping experience to their advantage. Companies as big as Target or as small as a mom-and-pop store on a local Main Street are capitalizing on consumers' desires to shop local.

Back in 2012, Target began testing what it called "urban-geared formats," bringing the Target store into a city or neighborhood where the typical 130,000-square-foot store wouldn't fit. "The idea was to find real estate to serve new guests or get closer to guests in cities or densely populated suburban areas where there was a need in the community to conveniently get products closer to home," says Jacqueline DeBuse, communications for Target.

According to DeBuse, Target ramped up the pace for opening these stores, adding 30 across the country in 2017 and she says 30 more will have launched by the end of 2018, including the one in Haddon Township in Westmont Plaza which opened this past summer. These smaller format stores average 40,000 square feet, offering everything you might find at a full-size Target—home furnishings, paper products, clothing, electronics—just in a more limited supply.

"It's always fun to see how surprised people are with the selection in these stores," says DeBuse. "We have offerings from every major category, including apparel, accessories, beauty, even a Starbucks. We curate the assortment that goes into each store and make it local to that neighborhood."

Eating, drinking and buying local are buzz terms heard often, and nowhere are they more encouraged than in South Jersey's downtown districts and Main Streets. "I think people in their 20s and 30s enjoy walking through a town and shopping more than just running into a mall for an item," says Remi Fortunato, retail recruiter for the Partnership for Haddonfield. "People realize when they shop local, the money goes back to the community and I think mom-and-pop businesses are on the rise."

In Swedesboro, Karen Morrison, co-owner of Sweetsboro Pastry Shoppe, says the downtown district has been revitalized. "We've been here almost 12 years and during that time they have completed several beautification projects, improving the streets and putting brick pavers on the sidewalks," she says. "Along with the seasonal decorations and flowers, it's more inviting for businesses to open here and for people to come shop."

Something that has helped downtown districts is the regular rotation of events. Fortunato highlights events including First Fridays, food truck nights, Harry Potter Trivia at the Chip Shop, author appearances at Inkwood Books and candlelight holiday shopping as just some of the added reasons for people to visit Haddonfield. "These are more of an experience than just shopping," she says.

Morrison says events draw people in from other towns and give them the opportunity to see what Swedesboro has to offer. "People appreciate the neighborhood feel. You won't find corporate ownership. A lot of these businesses are family run and employing local people," she says.

Julie Beddingfield is the owner of Inkwood Books, located on Haddonfield's Kings Highway. Some might think it's crazy to open an independent bookstore in the era of Amazon, but Beddingfield did her research. As a Haddonfield resident, it only made sense for her to open in town where she had good connections to build on.

"I'm the only full-service independent bookstore in the area," she says. "I looked for one and couldn't find one. I found that people missed having bookstores and when I first opened I did get a lot of questions about Amazon competition. But I don't get those questions anymore. People walk in and they get it. They culturally understand it."

Connecting with the community is a huge part of Beddingfield's mission. She hosts book clubs for adults and teens, quarterly poetry series, weekly author appearances and even opens up her store for community groups that need the space. "Some of these events have nothing to do with generating revenue," she says. "We're becoming part of their community and it's fun getting to know them."

In Medford, Alex Breaux is the co-owner of Wonder World Toys, a store she purchased with her sister-in-law two years ago. She candidly says she had no qualms about entering this business, and maintains that confidence in spite of the fate of Toys R Us. "Toys R Us was never a huge competitor with us," she says. "They sold different things. We don't carry Mattel, Hot Wheels or trendy toys from TV shows. We have a different niche they don't cover. And the closest one was in Cherry Hill. People aren't driving from Medford or Shamong for Toys R Us."

At one time, Breaux considered offering online shopping, but the true value of her store would have been lost. "We offer so much more in person on a customer service level, from gift wrapping and allowing you to play with toys; we have a total edge on Amazon," she says. "We're never going to get the busy mom who doesn't have time to shop. She'll go online, but I'm going to get the people who want the experience."

People crave that personal connection, adds Beddingfield. "Small businesses can't just unlock their door and wait for people, you have to be more assertive and aggressive in what you can offer," she says. "Every time I have an event I make a point to say, 'This is what we can do that Amazon can't.' There is nothing like a kid walking in and me being able to say, 'Your favorite author has a new book,' or sit and read to them. That connection makes everyone feel good."


To read the digital edition of South Jersey Magazine, click here.

Published (and copyrighted) in South Jersey Magazine, Volume 15, Issue 8 (November 2018).

For more info on South Jersey Magazine, click here.
To subscribe to South Jersey Magazine, click here.
To advertise in South Jersey Magazine, click here.