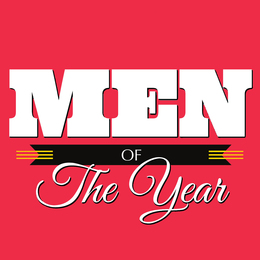 Men of the Year 2018
Putting others first comes easy to these 12 difference makers who dedicate themselves to a greater good.
Lloyd Freeman, Man of the Year
Freeman is the first person of color to rise through the ranks from summer associate to attain partner status at Archer, South Jersey's largest law firm. As a result, he devotes his time to advance diversity in the legal profession. He is the immediate past president of the Garden State Bar Association, and under his leadership the group raised nearly $100,000 at its annual gala and was able to award scholarships to eight law students. Additionally, Freeman remains focused on bettering the community. He is an executive board member and past board chairman of Big Brothers Big Sisters Independence Region, working with the organization to provide mentorship to nearly 4,000 children in the area. In recognition of his service, Freeman was named Young Professional of the Year by the Nonprofit Development Center of Southern New Jersey. He also founded his own nonprofit, the Burlington Camden Achievement Foundation, created to prepare high school males of color for college and life beyond. Through the foundation's beautillion program, participants take part in etiquette training, public speaking workshops, community service and more. To date, Freeman has helped 99 young men gain college acceptance and has generated more than $125,000 in scholarship money. Furthermore, he has been the recipient of many accolades including the Craig M. Perry Award for Community Service given by the Philadelphia Bar Association, the Community Leadership Award given by LEAP Academy and the Camden County East NAACP honored him with its Visionary Leader Award. Freeman also recently served as a member of Gov. Phil Murphy's transition team.

Bob Platzer
The owner and operator of the P.J.W. Restaurant Group, Platzer has used his success as inspiration to make a lasting, positive impact in South Jersey. He is a staunch supporter of the Ronald McDonald House, helping organize an annual fundraising event that has generated more than $317,000 over the past three years. He also works with Camden's Catholic Partnership Schools, the Juvenile Diabetes Research Foundation as well as the Alicia Rose Victorious Foundation. Platzer has also been at the forefront of P.J.W.'s "Dine and Donate" program, which offers partnering groups or causes an opportunity to organize events at his restaurants and earn 15 percent of total sales. Most recently, Platzer donated time and resources while helping recruit area construction and landscape companies to renovate a deteriorated playground at St. Cecilia's Little Angels Preschool in Pennsauken. To provide a new safe area for children to play was a cause near and dear to Platzer, as his mother was a lifelong volunteer at the school.

Brian W. Jones
As the president/CEO and director of The First National Bank of Elmer, Jones' day job keeps him plenty busy yet he still finds time to give back to the South Jersey community whenever possible. Recently that has included serving as the honorary chairman for March for Babies, the March of Dimes' biggest benefit. In 2017, Jones was the cause's No. 1 individual fundraiser and he also helped ensure that The First National Bank of Elmer was the top corporate fundraiser as well. Elsewhere, Jones' community engagement has been recognized countless times with awards bestowed upon him. He has been named the South Jersey Humanitarian of the Year by the Volunteer Center of South Jersey and is also a former Gloucester County Citizen of the Year. He's also received the President's Volunteer Service Award—Lifetime Achievement and the Silver Beaver Award from the Garden State Council, Boy Scouts of America.

John F. Scarpa
An entrepreneur in the cable television and cellular telephone communication industries, Scarpa has used his good fortune to make a direct impact on many lives. Through his namesake foundation, he advocates for disadvantaged families by supporting several causes in areas that include education and health care. He is the principal benefactor for the Frank and Edith Scarpa Regional Cancer Center at Inspira Medical Center in Vineland as well as the Edith Favretto Scarpa Arts and Sciences Building located on the campus of St. Augustine Prep. He has established the John F. Scarpa Chair in Catholic Legal Studies along with the John F. Scarpa Center for Law and Entrepreneurship at Villanova University School of Law. In 2016, the John F. Scarpa Technical Institute of Cumberland County was also dedicated in his name. The Community Foundation of South Jersey recognized Scarpa in October with a Legacy of Giving honor and he's also been feted by the Garden State Council Boy Scouts of America, the United Way and is a recipient of the Ellis Island Medal of Honor.

Tom Martin
An avid reader, Martin wanted to combine one of his favorite leisure activities with the desire to make a difference in the community. That is when he devised the idea to create a pop-up library, collecting donated books and distributing them in the city of Camden. The premise is simple: He loads up his Toyota and finds a location with a lot of foot traffic where he'll then set up a couple of tables and five bins of books and give them away without any obligation for them to be returned. Martin says he will soon have a new van to carry even more books to each site and has set a goal to find a brick-and-mortar location in Camden in the near future.

Bob Dalessandro
Dalessandro carries a Winston Churchill quote with him that says: "You make a living by what you earn. You make a life by what you give." It is a reminder that he prides himself on helping make a connection with those he comes across in life. As a result, Dalessandro stays engaged with the local community. He is the membership director for the Gloucester County Network Connections, a networking organization for professionals in the senior care industry. The group has donated more than $10,000 to a variety of non-profits, including The People for People Foundation, The South Jersey Veterans Resource Center and Paws for Healing. Some of his other volunteer work includes helping to raise money for veterans groups like Wounded Warriors and the South Jersey Veterans Resource Center and he is the past president and current board member of Rowan Toastmasters, a leadership empowerment club open to both students and the local community.

Bill Golderer
Golderer is not only a senior pastor and founder of Philadelphia's Broad Street Ministry, but earlier this year he was named the CEO of the United Way of Greater Philadelphia and Southern New Jersey. In his current role, he heads the organization's mission to end intergenerational poverty in the region. Golderer was also a founding partner in the Rooster Soup Company, a crowd-funded restaurant that donates 100 percent of its profits to help alleviate homelessness and hunger. The ordained Presbyterian minister teaches course-work at several institutions, including Princeton Theological Seminary, and serves on the governing and advisory boards of arts, social service and social innovation groups throughout the area.

Joel R. Rosenberg
An accomplished attorney, Rosenberg prefers to remain humble when talking about his involvement with area causes, but there's no denying that his willingness to lend himself to helping others is making a real difference. Currently, Rosenberg is the board president for Quilts for Kids, an organization that donates roughly 30,000 quilts every year to children at The Children's Hospital of Philadelphia and St. Christopher's Hospital for Children as well as many others across the country. Rosenberg also serves on the board for The Barkann Family Healing Hearts Foundation, which provides money and basic needs to families in their darkest hours. And he has also been able to combine his love for motorcycle riding with his passion for giving back by supporting the Muscular Dystrophy Association's Ride for Life as well as serving on the committee for the group's Black and Blue Ball.

Charlie Doud
When Doud isn't busy with his job working for the Washington Township School District (he is also the president of the township's education foundation), he volunteers his time in many ways to benefit area children. Since 1989, he has served as the regional director for the Delaware Valley Children's Christmas Charity. Also a longtime youth football and basketball coach, Doud is the chair of the Washington Township Youth Football program's charitable efforts. He is a trustee for Primo Cares, a charitable organization founded by executives at Primo Hoagies that helps children in need. And furthermore, Doud organizes an ad hoc group of folks who travel into Philadelphia during the holidays to feed the homeless.

Lou Lanza
As a son, a brother, a best friend and a patient himself, Lanza has experienced all sides of a cancer diagnosis. It would be understandable for someone whose life has been so drastically impacted by the disease to get as far away from it as possible. In fact, the opposite is true. The Washington Township resident has dedicated his life to the fight against cancer. He volunteers tirelessly for multiple organizations and is always looking for more ways to give back. His journey started as a teenager, when his mother succumbed to Hodgkin's lymphoma at 53. Lanza—who also lost a close friend to lung cancer and a sister to glioblastoma—had his own bout with non-Hodgkin's lymphoma in 2005, eventually going into remission after a lengthy treatment process. Inspired by the care he received and the love of his wife and five children, Lanza has thrown himself into his advocacy ever since. His efforts include supporting newly diagnosed patients in the Jefferson Hospital Buddy Program; serving as a consultant with the National Committee for Quality Assurance; volunteering for the American Association for Cancer Research; and speaking at conferences across the country.

Troy Memis
In 2012, Memis and his wife Michele helped create TOP Sports to give children with special needs the chance to play soccer, basketball, baseball and cheerleading. J.T., one of Memis' four children, has Down syndrome and was the inspiration for the program which not only serves as an athletic outlet, but also a place where the children can build courage and self-esteem. What started out as a local soccer program has morphed into a full-fledged 501(c)(3) nonprofit completely run by Memis and his dedicated group of volunteers. To help bring further awareness to children with disabilities, Memis travels around the area to speak about bullying and the "ripple effect"—the ability to inspire others by doing good deeds.

Leonard Glickman
A former government employee who has been recognized with numerous human rights awards, Glickman recently spent more than 10 years as CEO at FJC— A Foundation of Philanthropic Funds, where assets under management doubled during his tenure. The group manages donor-advised funds and programs that help launch new nonprofits. Before that, Glickman was the president and CEO of HIAS, Inc., an international refugee and immigrant services agency. These days, he serves as the executive director of the Jewish Community Foundation and focuses his attention on building strategies for sustained philanthropic efforts that support several local institutions.
To read the digital edition of South Jersey Magazine, click
here
.
Published (and copyrighted) in South Jersey Magazine, Volume 15, Issue 8 (November 2018).
For more info on South Jersey Magazine, click
here
.
To subscribe to South Jersey Magazine, click
here
.
To advertise in South Jersey Magazine, click
here
.