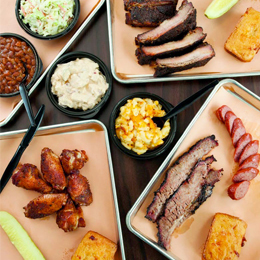 Palate: Here's the Rub
Driving around South Jersey these days I can't help but ask myself: How far South are we?
That's because the last few years have welcomed an eruption of barbecue joints popping up across our area, serving up smoked meats from noted chefs and inspired pitmasters.

Rounding the corner of its first year is Smoke BBQ, a local contender that earned South Jersey Magazine's Best of the Best pick for barbecue this summer. Opened last October by Stephen Starr alum and chef Aaron Clark, Smoke fills the space of the former Crux Café, swapping out the fine dining vibes for fast-casual meats and sides.

The interior has a clean finish, with high-backed red leather booths lining the space's white walls. The room gets a playful, personal touch thanks to artsy posters featuring musical acts ranging from Phish to Wilco and there's also a spacious outdoor seating area with a relaxing view of Merchant Street.

Clark's menu homes in on quality products, featuring antibiotic- and hormone-free meats, USDA prime beef and pork from Duroc pigs, a heritage breed that's praised as a high-end cut. He strictly uses dry rubs on all his meats, but does offer four of his own house-made barbecue sauces to enjoy as a complement.

Each sauce seems to only further enhance the items on the menu and a shining example would be the pork ribs. The ribs' dry rub was very complex and was accentuated by a smoky flavor so well- done that you could see the smoke ring—a badge of honor for any pitmaster—piercing through the exterior and into the meat. When paired with just a bit of the original flavor barbecue sauce, there was great balance in every perfect bite.

Sausage isn't always considered a star in smoked meats, but it is an important part of any barbecue menu, and one of the places where the chef can really shine. Smoke's pork sausage arrived sliced and perfect for dipping—best when dunked in the mustard-based barbecue sauce—and stuffed with fresh ingredients that set it apart.

The biggest highlight of the meal was the smoked wings, a dish that I still find myself dreaming of at my hungrier moments. The dry rub was less prevalent on the chicken, but the taste didn't suffer as the wings were smoked to perfection, but still juicy and tender with just the right kick from the accompanying vinegar sauce. To be honest, I could have eaten these all day without any sauce and been perfectly happy; they were that flavorful on their own.

The sliced brisket was cut from a leaner piece of beef, so it was a bit dryer than other varieties I've had around our area. But the bark on the exterior was phenomenal thanks to the custom dry rub, and truly came to life with the addition of an espresso barbecue sauce that created a truly unique pairing. When coupled together there was a mild roasted flavor in each bite that was a nice change of pace from the other dishes.

Sides do not stray from quintessential barbecue essentials and included the fan favorite mac and cheese. The elbow noodles were packed with plenty of cheese but missing that creaminess that I've come to love with this particular dish and could have used a bit more attention to detail. Baked beans, however, were smoky and rich, bathed in a hearty sauce that had us coming back for more. And don't even think about walking out the doors without a serving of potato salad, served in a traditional style but with chopped eggs and—the big surprise— pieces of pickle mixed in. The pickles added a great,briny bite to what was a truly well-done classic.

Barbecue might be trending right now across the country, but Smoke proves that this new food wave has unlimited potential. By turning traditional barbecue on its head with the help of unique sauces, rubs and preparations, Clark and his menu are giving local diners a world of options to pick from, all of them deliciously indulgent and packed with smoky flavor.

Smoke BBQ
34 W. Merchant Street | Audubon
(856) 672-0007 | SmokeBBQNJ.com

To read the digital edition of South Jersey Magazine, click here.

Published (and copyrighted) in South Jersey Magazine, Volume 15, Issue 6 (September 2018).

For more info on South Jersey Magazine, click here.
To subscribe to South Jersey Magazine, click here.
To advertise in South Jersey Magazine, click here.