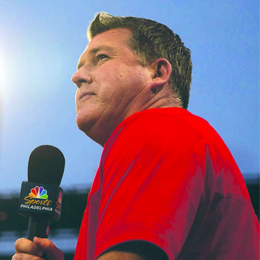 Big-League Talent
A diehard Phillies fan growing up in Mount Laurel, Gregg Murphy is now an integral piece of the organization's broadcast team.
In one brief conversation with Gregg Murphy, the word "lucky" comes up about a dozen times.

The field reporter for Phillies telecasts on NBC Sports Philadelphia can take pride in being one of the most prepared and hardest-working broadcasters in local media, but he never takes for granted just how fortunate he is.
Fortunate to get paid for watching baseball every night; to visit ballparks all over the country; and to work for the team he grew up cheering for.
For a kid from South Jersey, it kind of sounds like the dream job.
"It's not kind of a dream job, it definitely is," Murphy says. "I remember being 8, 9, 10 years old and being a Phillies fan growing up in Mount Laurel and listening to Harry [Kalas], Whitey [Ashburn], Andy [Musser] and [Chris Wheeler]. Never in a million years did I think I'd have an opportunity to sit in their seats and watch baseball every day, and root for this team but also cover this team and be a part of what's happening here. It's absolutely a dream job. I feel very lucky to have it."
A graduate of Holy Cross High School in Delran—where he played baseball—and St. Joseph's University, Murphy has been working in television for 25 years and has won multiple Emmys. He joined Comcast SportsNet, now NBC Sports Philadelphia, in 2008, and became part of the Phillies broadcast team in 2012.
He usually only appears on camera three or four times during each Phillies game, but he always seems to have an impact on the telecast, whether he's chatting with a famous actor in the stands, delivering a key statistic or interviewing the star of the game on the field.
We recently sat down with the Swedesboro resident to find out how he broke into the business, his favorite interviews and why Holy Cross means so much to him.
Even though you didn't grow up specifically thinking about working for the Phillies, were you hoping for a career in sports?
I started thinking about a career in sports when I was in college. Initially, when I was in high school I had the idea of being a lawyer in my head, which is what I went to college for. When I got to St. Joe's my freshman year I got an opportunity to start calling the men's basketball games on the student radio station because absolutely nobody else in the meeting that I went to wanted to do anything with sports; they were all music people. So I said, 'OK, I'll do that.' After I started doing it I realized that was what I really wanted to do. I was lucky enough to get a couple internships while I was in college and I met some people after I graduated who helped me break into the business. I've been so unbelievably lucky along the way to end up where I am. There's a lot of people to thank for that because I've gotten a lot of help along the way.
How did you break into the television industry?
The first TV job I ever had was selling sports memorabilia on QVC and Home Shopping and I hosted a really bad television show called A Piece of the Game on SportsChannel where we sold sports memorabilia. That was my first TV job, but I don't even really count that because it was so cheesy and bad. But it did lead me to apply for a job in Reading—WFMZ was opening a new branch in Reading for just Berks County news and they needed a sportscaster, and I got that job. So I was the first sportscaster in Berks County for WFMZ, and that's really where I started to learn what it takes to be a sports reporter or sports anchor.
A lot of people in this business don't get to work where they grew up. What has that meant to you?
I've been so lucky—the furthest I've ever been is an hour and a half from home. When I worked at WFMZ, first at Reading and then at Allentown, I lived in South Jersey the whole time. So I commuted up there, which was kind of a pain in the butt, but I was able to stay close and stay in touch with the folks in Philadelphia who I had gotten to know through my internships. When an opportunity arose back in Philadelphia I was able to jump on it. I was at WFMZ for three years and I came back to Philly to host the Inquirer High School Sports Show, which was on Fox at the time. That parlayed into Comcast and Comcast SportsNet.
You get brief moments during each telecast to make an impact. How do you approach your role?
[Laughs] It's funny: I always say that I wish I could do more, but I also understand that more is not always better. There are times when we try to do something with me and it takes away from the game action, and that's never something we want to do. So we really have to pick our spots. I try to do three or four hits a game; sometimes I do more, sometimes I do less. … I work with unbelievably talented guys in Tom McCarthy, John Kruk, Ben Davis and Jeff Halikman, our producer. I feel like we all work together and make whatever we do a success. I don't have a formula, I just try to make sure I'm genuine and myself and maybe we can have a laugh or two. … I know we don't always hit the mark, but we're certainly trying to hit the mark every time we try something.
The Major League Notebook—where you give updates on news around baseball—is a popular part of the broadcast. How did that come about?
I believe the Major League Notebook started in my second year. The sales department sold it as an update midway through the broadcast, so we developed the Major League Notebook and it took on a life of its own. It's been really awesome. It disappeared for a year or two and then it came back, and I get asked about the Notebook more than I get asked about any other part of my job. Virtually every night, someone will yell from the crowd as I'm walking through the concourse, 'Hey Murph, what's in the Notebook?' It's really amazing. I love it, because it's consistent and I get to do it every night and people seem to enjoy it.
You have interviewed some well-known figures in the stands, including actor Miles Teller earlier this season. Do you ever get starstruck?
I wouldn't say starstruck, only because I've been doing it a long time even before the Phillies and you get to meet a lot of different folks from a lot of different walks of life. I would say I'm more impressed and more humbled by meeting some of our service men and women who I've gotten a chance to interview over the years, or police and fire fighters who have done something heroic. Those are the people who make you say, 'Wow, there are people doing amazing things in this world.' As for the celebrities, I can't think of a bad experience that I've had. They all have been very gracious and up front and they enjoy talking to us. We've had some big ones come through the ballpark over the years and it's always fun. I just interviewed Old Dominion when they were here; I'm a fan of their music and it was great to meet those guys. They were unbelievably down to earth and nice guys. I don't know that I get starstruck, but I do appreciate getting to meet these people, especially when they turn out exactly as you'd hope.
Do you enjoy being out in the crowd and getting to see different parts of every ballpark you go to?
Absolutely. I've now been to every ballpark in Major League Baseball with the exception of Kansas City, which we just found out we'll be heading to next year. Each ballpark has its own unique characteristics, and hopefully over the years we've brought that back to Philadelphia and shown our viewers what's going on in Atlanta or St. Louis. Tom and John or Tom and Ben will be in the booth and once the game starts they don't have a chance to roam around. But I can and I get a chance to talk to Phillies fans and baseball fans all over the country. My experiences in the crowd—even in the most hostile cities, whether it be Chicago or Boston or New York—are always positive. I've literally had one negative experience in the eight years I've been doing this.
Do you have a favorite park to visit?
I think there's different categories, because I don't think you can compare Fenway and Wrigley to anywhere else. I enjoy both of those places very much. Dodger Stadium is also one of the older parks and it's spectacular. With the new parks, I think San Francisco really hit the mark with their location and it always seems like they have a full house. It's a great city too, so put that all together and I think San Fran is near the top. Same thing with Pittsburgh; they really did an awesome job there. So I would say those few away from Citizens Bank, but there are very few ballparks I don't like.
I know you were involved with Holy Cross High School's 60th anniversary celebration last year. It looked at one point like the school was going to close but it is remaining open as Holy Cross Academy. Is that important to you as a graduate?
It is. High school is a pretty special time for most people. It was for me, certainly; I enjoyed every single moment I was at Holy Cross and I think in a lot of ways it puts you on a path to where you end up. I believe Holy Cross did that for me. For a number of years I didn't go back and I wasn't really involved with the alumni association. Then about five or six years ago I was asked to come back and speak, and I did. The memories came flooding back and I realized I had to reconnect with the school. They started going through their struggles … and I talked to some of the people who were charged with keeping the school open. I did very little; they did a ton. But I tried to get the word out and be around when they needed me to do something. It was very satisfying to hear they were successful and the school is going to remain open, because it's an awesome place. … I would've hated to see the doors close. I know a lot of Catholic high schools in Philadelphia have closed over the years and it's like a little piece of you that is no longer there.
You send your own children to Gloucester Catholic, right?
I was just at a Gloucester Catholic soccer game this morning. My daughter graduated from there, she's in college now, and my two sons are a junior and a freshman. When we were meeting about Holy Cross and how to reestablish the alumni and reestablish the spirit that was there when I was in school, we drew a lot from what Gloucester Catholic does. I've seen firsthand what an amazing place that is. If you live in Gloucester County all you hear about is how great Gloucester Catholic is. Then your kids go there and you realize, 'They're right, this place is awesome.' It's not a great building, they don't have great facilities, but there's something about that place that's really special. That was kind of what I was preaching to Holy Cross, that they needed to bottle that up and do some of the same things as Gloucester Catholic, because I think they do it as well as anybody.
How do you like living in Swedesboro?
I love it. It's quiet, there's no traffic, it's not built up, there's lots of farmland. I've always enjoyed it down there.
The Phillies have been struggling a little bit lately, but this is the first time they've been in the pennant race since you've had this job. Are you expecting a big September?
I'm hoping for a big September, I really am, and I believe it's going to happen. I really hope those seven games against the Braves [down the stretch] mean something. Win or lose, get in or don't get in, if we're playing games in late September that are do or die, I can't even imagine how much fun that's going to be. This is my eighth season and we have not been relevant in August or September in any year that I've been doing this, and I've still loved every single minute of it. So I can't imagine how much fun it would be if we are right in the thick of things. We're going through a rough patch right now but I do believe we're going to be there. The Phillies control their own destiny in so many ways so hopefully they right the ship. Either way, this year has been so much fun and if nothing else, I think it shows we're headed in the right direction with the leadership we have and some of the young players we have.
To read the digital edition of South Jersey Magazine, click
here
.
Published (and copyrighted) in South Jersey Magazine, Volume 15, Issue 6 (September 2018).
For more info on South Jersey Magazine, click
here
.
To subscribe to South Jersey Magazine, click
here
.
To advertise in South Jersey Magazine, click
here
.