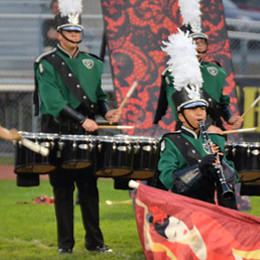 Names to Know
Local people achieving big things in South Jersey and beyond.
Britney Williams
The Paulsboro High School student was honored for coming in first place in the 2018 Gloucester County Commission for Women and Healthy Choices Committee's Fetal Alcohol Syndrome Disorders Prevention poster contest. Williams was awarded a certificate of achievement by Freeholder Jim Jefferson, liaison to the Department of Health and Human Services, for her hard work.

West Deptford Marching Band
The students making up the West Deptford Marching Band were recently honored with a proclamation by the Gloucester County Board of Chosen Freeholders. The group has held the title of Atlantic Coast Open class champions a total of eight times from 2010 to 2017. They've also been Region I champions 10 times from 2006-2017 and were also awarded the ACC Special Award for best music from 2009-2017 and best visuals from 2009-2016.
Abhi Mishra
As a regular player at South Jersey Innovation Center's South Jersey Chess Club in Marlton, Mishra broke the record as the youngest-ever National Chess Master at 9 years old and 2.5 months, which was previously held by Bobby Fischer, the only U.S. world champion who became a master at just 14 years old. Mishra has competitively played chess since age 5 and earned silver medals at both the 2017 World Cadet Championships in Brazil and 2017 Pan Am Youth Championships in Costa Rica.

Kayla Webster
The Washington Town- ship junior was one of 175 local high school students who received the 2018 High School Leader- ship Award from Widener University and the Oskin Leadership Institute, in partnership with NBC10. Webster was honored at the National Constitution Center in Philadelphia and invited to Widener's leadership development conference. At WTHS, Webster is the president of the African American Culture Club and helped establish its NAACP chapter.

John Lynch
The founder of Lynch Foundation and director of sales and entertainment for Wildwoods Convention Center was honored with the Corporation for National and Community Service Lifetime Achievement Award by President Donald Trump. Lynch, a Wildwood Crest resident, has served his community for 29 years and his foundation aims to provide children with educational opportunities beyond the classroom.

Just Kids Program at Tatem Elementary
Students in the Just Kids Program at Collingswood's Tatem Elementary recently won the New Jersey School Age Care Coalition's first annual Celebrate After-school Poster Contest. Their poster—a multi- colored puzzle piece inspired by autism—was one of over 100 submissions from various afterschool programs throughout the state. The students in the pro- gram received a $50 gift card to put toward an event of their choosing.