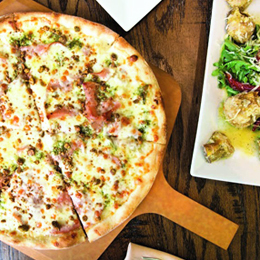 Palate: Take Me to the River
In South Jersey, Italian reigns supreme, so much so that local diners are becoming more and more appreciative of modernized or unique Italian dishes that break with stringent tradition.That makes the recent addition of LaScala's Birra along Cooper River the perfect fit in an evolving dining scene.
LaScala's Birra got its start in the heart of Philadelphia's East Passyunk Avenue, a dining district known for its lauded restaurants lining the street. After several years of success, the newly formed LaScala Restaurant Group (LRG) made the move across the bridge at the start of 2018.

LaScala's Birra took over the space of the former Cooper House, a dining locale built with $3 million in county funding. Opened in June 2016, the Cooper House made it just past its first birthday before shuttering last November. LRG gave the space a makeover, cleaning up the open dining room to feature bright, white walls and old school family portraits and photographs. The outdoor beer garden is equally freshened up, foregoing frills and overdone details to instead celebrate the beautiful view of the Cooper River right outside.

While the space isn't a complete remodel, the menu is a vast departure from that of its previous tenant, featuring Italian dishes, family-style entrées and an extensive pizza menu.

A starter of Arancini played to that theme right away, stuffing homemade risotto with diced Italian ham and shredded mozzarella into perfectly sized orbs that are deep fried and served on a bed of red sauce. The sauce was vibrant and bursting with flavor, and the rice itself was creamy but still light enough to avoid becoming gummy or heavy.

The Crispy Parmigiano Artichoke took marinated artichoke hearts and deep fried each one, serving it with sliced sundried tomatoes, grated Parmesan and a honey-lemon vinaigrette. Parmesan and artichokes are a match made in heaven, though I would have loved some of the ingredients of this dish to have been swapped out for fresh ingredients, as the mild flavors of marinated artichoke and sundried tomatoes were overpowered by the honey and lemon sauce they sat in.

Cheesesteak Eggrolls are a tried-and- true winner around our area, but LaScala's Birra takes them to the next level with a generous pool of real cheese sauce. The eggrolls were stuffed with shredded beef and fried just enough so that they were crispy but not packed with oil, and the cheese sauce was flavorful and creamy thanks to top-quality ingredients.

Our server advised that pasta and other entrées are best when shared, and she was not kidding: A plate of Chicken San Remo was more than enough for the table to divide up happily. A mountain of al dente linguini was tossed in a creamy vodka sauce and chunky tomatoes and served with generous lumps of crab meat, grilled shrimp and two boneless chicken breasts. The crab and shrimp paired perfectly with the pasta and sauce, while the tender chicken added a nice finishing touch.

Then there were the pizzas. Artisan pizzas aren't exactly hard to find these days, but even with all my searching around the area I have yet to find anything quite like the pizza menu offered at LaScala's Birra. Making up around 30 percent of the menu, the pizzas come in a variety of red and white pies, along with specialty Birra Pies that extend well outside of what you're used to and feature ingredients like mac and cheese, spinach and artichoke dip and even a meatball pie with a ricotta-stuffed crust.

La Mortadella is a white pie featuring thin slices of mortadella on a bed of arugula. The pie gets topped with mozzarella and fontina then finished with spiced, toasted pistachios and a drizzling of sweet onion pesto. It was a perfect combination of sweet and salty, with the pistachios and onions balancing out the mortadella and fontina.

Meanwhile, another white pie, the Roasted Duck, took the same house-made onion and arugula pestos and added slow- cooked, shredded duck meat and plenty of mozzarella and fontina cheeses. The duck melted in your mouth and was rich enough to stand out amongst the other flavors, while the arugula pesto added a bit of freshness.

The Three Little Pigs, a red pie, starred homemade porchetta, roasted and sliced alongside capicola and crispy imported pancetta. It was kicked up a notch with spice from chopped chilis, which were cut slightly with shredded mozzarella. At first glance this seems like a lot, but there is the perfect amount of each meat so it doesn't become overloaded or excessive. Just be prepared for a big punch of spice.

Don't leave without trying Birra's specialty dessert, the Zeppoli. Their fried dough balls get an upgrade, stuffed with a creamy chocolate chip cannoli filling and served with chocolate sauce and house-made raspberry sauce. The portion was generous, but we still found ourselves desperate for more of these fluffy bites, stuffed with sweetness and absolutely decadent.

Overall, the name of the game at LaScala's Birra is diversity. This is a spot you could settle into for a long dinner, stop by for drinks and a quick bite after a workout on the river or indulge over late-night drinks and pizza. The number of options available will surely make this spot an exciting new eatery for the summer months ahead.
LASCALA'S BIRRA
5300 N. Park Drive
Pennsauken
(856) 333-6653
LaScalasBirra.com


Published (and copyrighted) in South Jersey Magazine, Volume 15, Issue 3 (June 2018).

For more info on South Jersey Magazine, click here.
To subscribe to South Jersey Magazine, click here.
To advertise in South Jersey Magazine, click here.