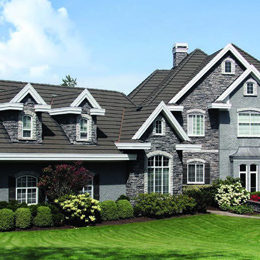 On the Market
The area housing market continues to trend upward and offer opportunity for both buyers and sellers.
If there's one thing that can be counted on when it comes to real estate, it's that the market is always changing. The time of year, national and local economy, and numerous other variables can affect it, and what is the trend in one part of the country may not be the same in another.

Even within South Jersey, there is no blanket consensus to determine how the market is faring. In fact, experts suggest there is even variation between price points in the same area.


Burlington and Camden Counties
If you're looking to buy or sell in the $150,000-$300,000 price range, there is a lot of oppor- tunity in Burlington and Camden counties, says Mark McKenna, who leads the Mark McKenna Team in Marlton.

"The lower price points—the $150,000-$300,000 houses—that's busy all over," he says. "There's some great first-time buyer opportunities out there. Houses are selling overnight if it's priced right."

McKenna says when buyers and sellers get into the $250,000-$400,000 price range— specifically in the Collingswood or Haddon Heights areas—there's eight to nine offers on every property.

"You have to go $15,000 over list [price] and there's no guarantee you'll get it," he says. For the same price in the Marlton or Mount Laurel area, McKenna says houses are not moving as quickly, and in general, the further east of the city you go, the slower the market becomes, thanks to a push to be near the bridge.

"The sense of urgency for buyers to make decisions has changed a little bit," he adds. "The urgency has decreased in a lot of spots and you'll see houses on the market a little longer. Sellers really have to be realistic on pricing; a lot of people are getting too aggressive on their pricing."

Despite some sluggishness in the market, McKenna says his team is on track to have the most transactions they've ever had in a year.

"I think the market is rising at certain price points and in certain select geographic areas," he says. "I think the higher price points, say over $650,000 and strictly in the Haddonfield and Moorestown areas, are also rising right now."

Gloucester County
Nancy Kowalik, of Mullica Hill-based Nancy Kowalik Real Estate Group, says in Gloucester County there is also variance in price ranges.

"In the middle price range, people are really getting hammered," she says. "On the higher and lower ends, they're really doing well."

Kowalik says new construction, especially in the Gloucester County area, is making for a plethora of options in the $375,000-$500,000 price range. For a buyer, that means lot of opportunity. For a seller, that could mean some hardship.

"If you're in that price range and your house is not 'blinged out,' your home is going to languish a bit," she says. "Brand-new construction, whether it's amazing or not, [a buyer] can build what they want."

Kowalik says below $375,000, there is so much competition for homes that price points are being driven up.

"The homes don't need to be as 'blinged' out," she says. "If they are in a good school district and well maintained with a few nice upgrades, you will have people coming to you."

There is a similar situation with houses above the $650,000 mark, Kowalik says.

"Mortgage rates are still low, but we know they're going to go up," she says. "Those move-up buyers know in a short period of time their money is going to buy less house.

"We've had bidding wars on houses in the $800,000 price range," she continues. "Several years ago, you couldn't sell those houses."

Price points aside, Kowalik notes overall, houses with more than an acre of land are also languishing on the market.

"Five to seven years ago, people wanted to live in the country," she says. "Now, they won't want to be far from anything. They don't want the acre lots— we're finding half-acre is fine, and that people want less maintenance and an easier lifestyle."

The Shore
Down the Shore, Stephen Freda, of Sea Isle Realty in Sea Isle, says he's working with one of the shortest lists of inventory he's seen in years.

"When people come and say I want to buy a house, or I want to look at a house, they run into a list of maybe one, two or three properties," he says.

And when it comes to buying to rent, Freda says people looking down the Shore are not nearly as interested in that kind of investment as they used to be.

"Ten to 15 years ago, the percentage of people who were going to rent was very high," he says. "Now, they're no longer renting. They're settling in and using and enjoying the home."

Despite the variances across the state as to how the market is faring, the experts do agree the new tax reform measures have yet to make a major impact in the state but suggest it's something to keep an eye on and be aware of.

"I've had two people so far make a comment about taxes," says Kowalik. "But it has not stopped them from buying in New Jersey. Of course, after people feel the pinch more with taxes, that may change."

As Kowalik suggests, despite the taxes, everything else the state has to offer makes it a great place to live. And no matter how the market is faring, as it has always been with real estate, it's all about location, location, location.


Published (and copyrighted) in South Jersey Magazine, Volume 15, Issue 3 (June 2018).

For more info on South Jersey Magazine, click here.
To subscribe to South Jersey Magazine, click here.
To advertise in South Jersey Magazine, click here.