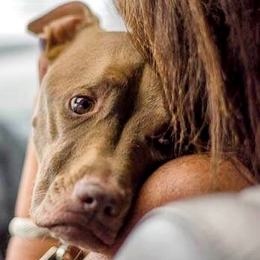 Top Dog
Once abused and neglected, a canine gets a new lease on life thanks to a Haddonfield woman who saw his potential to help others.
As the community outreach director for Lilo's Promise Animal Rescue, Michele Schaffer has seen her share of broken and neglected pit bulls. In fact, because the rescue specializes in the care and remediation of medical needs of behavioral issue dogs, the majority of the dogs Lilo's Promise rescues have a unique story to recovery. But none so much as a special one named Aladdin.

"Aladdin is an amazing little soul," Schaffer says. "He came to me five years ago and I had no idea the changes he would bring to my life."

When Schaffer first met Aladdin he was emaciated, weighing in at only 18 pounds. Abused by his previous owner, he was also missing teeth and had several broken bones. Despite his previous experience with humans, Schaffer says Aladdin loved everyone he met. "When I first met him he was timid, but his tail was always wagging," she says. "And the more positive response he got from people, the more confident he became."

Thanks to his temperament and good nature, Schaffer thought Aladdin would make a great therapy dog, so she enrolled him in a certification class. Within nine months he was certified, and the rest, as they say, is history.

"He's an amazing example of a shelter dog and pit bull," she says. "People have these preconceived notions of both kinds of dogs. They think they're either bad or they had a problem, and oftentimes, that's not the case."

Thanks to Schaffer, Aladdin has also taken on more than just a role as therapy dog—he's now an ambassador for programs with the Ronald McDonald House, Purina, State Farm, and Tito's Vodka, to name a few—and his work is garnering a lot of attention across the country.

"He was named therapy dog of the year by the American Humane Association [for 2017], he appeared on the Today Show and was a special guest on the Harry Connick Jr. Show—the first pit bull ever to appear on the show," Schaffer says. "He was also named pit bull advocate of the year by the Wallace Foundation for his work across the U.S. showing people the true nature of the breed." Aladdin and Schaffer are also a certified response team and were first responders in Orlando after the Pulse Night Club shooting.

"He changes hearts and minds on a daily basis about the way people think of these dogs that are so unfairly judged," Schaffer says.

It was while in Beverly Hills for the 2016 American Humane Association Hero Dog Awards, for which Aladdin was a finalist, that the friendly pitty—who had always walked with a gait thanks to what Schaffer had been told were broken legs—caught the eye of Dr. Brian Beale, of National Geographic Channel's Animal ER.

When Beale stepped in to offer to fix Aladdin's legs, it was discovered that because he had been so badly starved by his previous owner, his legs were deformed due to malnutrition, not a break.

"[Dr. Beale] is an amazing veterinarian who offered to fix Aladdin's legs so he could continue his work without pain," Schaffer says. "He had his first surgery in February and his recovery has been nothing short of amazing. He is working through physical therapy now and will have the other leg repaired after his therapy is complete."

The 6-year-old pit bull from Haddonfield has touched thousands of lives over the past few years and continues to change the pre-conceived notions people have about both pit bulls and shelter dogs. His work is nothing short of amazing, and Amy Arevalo, whose son, Ryan, met Aladdin at the Philadelphia Ronald McDonald House while he was in the area being treated for a brain tumor, can attest to the comfort the dog brings to those around him.

"At a time that was really difficult for him, he could play with Aladdin and it would help get his mind off things," she says. "He really loves animals, and we had been away from our dog for six weeks, so it was nice to see him enjoying and having comfort and a bond with [Aladdin]."

Heather Paul, the public affairs specialist for State Farm Insurance, has also seen how positively people respond to Aladdin. She works with Aladdin through the company's Kindness is Powerful program, which focuses on valuing kindness, positivity and respect, as well as how to be responsible pet owners and pet bite prevention.

"Aladdin is the perfect ambassador for a program like this," she says. "He experienced horrific abuse and cruelty early in his life but rather than feel fear and anxiety around people, Aladdin shares his calm spirit and gentle nature with people.

"He shows how forgiving dogs are and teaches children that all animals and humans deserve respect," Paul continues. "Since he is such a calm and friendly dog, we also demonstrate how children should safely approach and interact with dogs."

Schaffer says people often tell her how lucky Aladdin is to have found her after suffering the abuse he did from his previous owner. But truth be told, she says she feels like she's the lucky one.

"He reminds me every day to treat others with kindness," she says. "He brings people together from all walks of life— professional athletes, musicians, actors and regular people—to make a positive change for animals in our communities. "He is so much more than just my dog," she concludes. "He is an educator, advocate and an ambassador for pit bulls, shelter dogs and victims of abuse."
Published (and copyrighted) in South Jersey Magazine, Volume 15, Issue 3 (June 2018).
For more info on South Jersey Magazine, click here.
To subscribe to South Jersey Magazine, click here.
To advertise in South Jersey Magazine, click here.