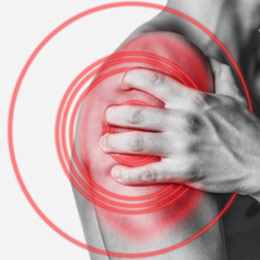 Easing the Pain
The most common orthopedic injuries—and what to do about them.
Orthopedic injuries are quite common. After all, every day our bodies make a vast number of movements and the bones, muscles, ligaments and tendons take a lot of wear and tear. Whether it be from sports or even just an everyday activity, some of these injuries may be serious enough to seek medical treatment.

We spoke to some of South Jersey's best orthopedic specialists about the most common orthopedic injuries and what to do about them.

Dr. Kristen Lott, musculoskeletal radiologist with South Jersey Radiology, says that in her personal experience many of the orthopedic injuries she sees are a result of lack of conditioning. It's the weekend warrior who gets out there and plays three rounds of touch football when they haven't picked up a ball in years. She says that even taking the time to do some more warming up and cooling down with stretching can make a difference in preventative care. Of course, you can't prevent everything but taking some time to ease into your activity might go a long way.

"In the summer we see a lot of sports-related injuries while in the winter we see falls on ice," Lott says. "These are not always preventable but being more aware of your surroundings and of what your body is comfortable doing can make a difference."

Dr. Michael J. O'Keefe of O'Keefe Chiropractic Center agrees. He says that a lot of times people make it more complicated than it has to be—but that a daily stretching routine might be all it takes to prevent common back injuries.

"I think most people assume they have to do a fancy exercise program or join a gym," O'Keefe says. "That's great but even just some standard back stretching exercises before beginning your day's activities could be very helpful in preventing common back problems." O'Keefe says that shifting our mindset to one of "prevention" could make a big difference in maintaining a healthy back. He suggests being more mindful of nutrition and proper weight management since being overweight can cause muscle weakness and instability, making you more prone to back problems. He also says that chiropractic care is a conservative approach to back pain that can alleviate pain and sometimes prevent the need for surgery.
"Much in the same way that you make an effort to clean your teeth in order to maintain their health or to have your car tuned up to maintain its longevity, you should be more proactive when it comes to preventative maintenance of your spine, reducing the likelihood of something more serious happening down the road," he adds.

Continuing Advances
Over the years, orthopedic care has continued to advance. The field has become increasingly specialized with more treatment options than ever before. But that hasn't necessarily meant more surgeries. Even on the surgical side, the trend has been toward less aggressive treatment options first, says Dr. Sean McMillan, chief of orthopedics and director of orthopedic sports medicine at Lourdes Medical Center of Burlington County.

Even those patients who do make it to the operating room are typically able to be treated with minimally invasive procedures. Improved techniques are allowing surgeons to perform complicated procedures in less time with less damage to surrounding tissues, says McMillan. Regarding joint replacement surgeries that means procedures which previously took hours can sometimes be performed in under an hour.

Some of the most common orthopedic injuries that McMillan sees include shoulder pain—which he says is almost always either impingement syndrome or rotator cuff bursitis. He also sees a lot of knee pain, which he says can strike anyone at any age. Sometimes these are just a matter of an imbalance in the muscles that control the knee cap and therefore not something that requires surgery.

"There are often a lot of options for patients outside of the OR which will alleviate their pain," adds McMillan.

As a result, patients certainly should not be wary of seeking medical attention for fear that their problem will require surgery. "If I see 50 patients in a day, maybe only five of them will actually require surgery," McMillan says. "We've really learned how to focus on preventative medicine. That means we're able to avoid taking someone with a correctable problem to the OR."

Dr. Scott Jarmain, medical director of Coastal Spine, adds that a brand-new treatment option for low back pain, specifically lumbar degenerative disc disease, is proving to be very promising. Intradiscal stem cell injections involve the regenerative power of using one's own bone marrow concentrate to relieve low back pain and repair injured discs. Research has shown that patients with moderate to severe chronic lower back pain are averaging 70 percent relief with this procedure.

"Patients are noticing significant pain relief within one month and that relief has been holding at three years so far," Jarmain says.

Considering how new this procedure is, time will tell if patients continue to experience relief for years to come. Though the need to aspirate the bone marrow from the patient makes this procedure more involved than other forms of injections, Jarmain says the benefits are well worth it.

Recovering Better
On the recovery side, the improvements in surgical treatment options for patients who do end up needing surgery have made recovery quicker. Dr. Kenneth Wu, medical director at Kessler Institute for Rehabilitation-Marlton, says that he is seeing more patients make it into rehab and recover quicker with a lot less pain. He says that patients should expect to be up and moving— even in rehab. Of course, he says it's a common misconception that it's best to use bedrest in the recovery phase for an orthopedic injury, such as a back problem.

"There is no study that shows bedrest is beneficial for back pain," Wu says. "Lying in bed due to back pain is not going to decrease your recovery time. In fact, it could potentially make it longer. A prescribed exercise regimen is most likely your best approach to recovery."

Wu mentions that it's also incredibly important that opioids are used with extreme caution during the recovery phase of any orthopedic injury. "Most people can be treated with a good old anti-inflammatory," he adds. "It's critical that providers are aware of the risks of opioid addiction. We see patients who get started on these medications because of back pain and then their reliance on the medication leads to addiction."

McMillan agrees that when it comes to orthopedic pain and the risk of opioid addiction, there needs to be closer attention paid to what's being prescribed.

"At Lourdes we've been focused on opioid-sparing surgery," he says. "We've been able to minimize the need for opioids post operatively. That's a big deal in the face of the nation's opioid crisis. We're changing peoples' fears about having surgery and becoming addicted and we feel that's making a difference."

Published (and copyrighted) in South Jersey Magazine, Volume 15, Issue 3 (June 2018).
For more info on South Jersey Magazine, click here.
To subscribe to South Jersey Magazine, click here.
To advertise in South Jersey Magazine, click here.