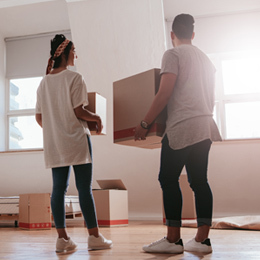 Where Did All The Millennials Go?
Young people are leaving New Jersey in rapid numbers, making it the highest out-migration state in the country. So how do we keep the next generation from leaving us behind?
The average graduate leaves college—along with his or her bachelor's degree, of course—with an approximate debt of $30,000. Today, more than ever, it's becoming apparent that the millennial generation—those born around the years of 1980 through 2000—are faced with particular financial struggles compared to those of the baby boomers and Generation X.

Granted, each generation endured their own personal trials and tribulations, yet seeing as how millennials recently surpassed baby boomers as the largest of the five living generations, they're making a heavy impact on our country—especially in New Jersey.

Based on recent studies, New Jersey now has the highest millennial out-migration in the country—a chunk of that is young people ages 18-24 ditching the Garden State following their K-12 education. In terms of numbers, a total of 1,050,097 millennials have left the state from 2007-2016, according to the U.S. Census Bureau via New Jersey Business & Industry Association (NJBIA), and from 2000 to 2013, the number of people ages 22-34 in the state has declined by 2.3 percent, according to New Jersey Future.

WHY ARE MILLENNIALS LEAVING?
"We are the No. 1 out-migration state for millennials in the nation, which is not something we want to be excited about," states Michele Siekerka, NJBIA president and CEO. "That's our future workforce and if you think about the investment we make in our K-12 education in order to prepare our future work-force in New Jersey—[it's] not a very good return on investment when they leave after they graduate.

"A few factors that we've learned as we've been studying this over the past two years; first of all when we have students graduating from high school, 56 percent who are going on to traditional four-year public or private education do so outside the state of New Jersey," Siekerka adds. "When we talk to students about that, what we find is that this has to do with attractability and affordability of higher education in the state of New Jersey."

Job opportunities also play a hand in millennials seeking other places to call home. "The most attractive states for young adults are states like California, Texas and Florida," says Michael S. Hayes, assistant professor, Department of Public Policy & Administration at Rutgers University-Camden. "A lot of the growing industries, like for example the high-tech industries, are found in states like California and Texas—especially in areas like Austin. There's a lot of demand [and] a lot of young adults are responding to the changes and the wave of markets across the country."

Mario DiNatale, Voorhees Township's director of community and economic development, has two millennial sons, 26 and 30, respectively, who both live out of state due to their job markets. "One is in medical school, one works in New York City so they don't have a choice," he notes. "They need to be in the cities they are either working or going to school in."

As for the job market in North versus South Jersey, Siekerka explains there isn't much of a difference between the two. "It looks consistent through the state," she says. "Some may say you don't have the density down south, therefore you don't have the opportunity in terms of job creation today. They're having to go to maybe Philadelphia or [elsewhere in] Pennsylvania for jobs because South Jersey is just a different economy.

"However, they can work in Philadelphia and live in New Jersey, but the problem is we don't have housing options that are affordable for millennials in the state of New Jersey," she counters. "That's another issue: their ability to afford to live, work and play."

While Hayes believes the mass exodus of millennials is an overall challenge across the Northeast, he notes high-cost living is particular to N.J. "Part of the challenge is [New Jersey] is a high-cost state relative to some of the Northeast states. Housing is expensive—particularly property taxes— [and] New Jersey has the highest property taxes in the entire country.

"One of the biggest challenges for millennials coming out of college is high debt," he adds. "That makes it much more challenging for them to afford housing—especially in states where there's such high property taxes."

Anne Koons, realtor at Berkshire Hathaway Fox & Roach Cherry Hill, argues that New Jersey's taxes are making everyone leave— not just millennials. "What Philadelphia has that we don't have over here in South Jersey, is they've got all this new construction and 10-year tax abatements," she explains. "We don't have any new construction going on in South Jersey and that's what's propelling Philadelphia to have an influx of millennials and even empty nesters."

The cost of living also goes hand in hand with how millennials want to live. In fact, some are trading in their suburban-way of life to that of an urban area, where they're closer to public transportation and amenities including parks, restaurants, bars and more. Cities including Hoboken, Jersey City and Newark stand as prime examples of the state's communities that have turned into millennial hotspots.

"If you look at New York City, for example, the neighborhoods like Brooklyn, the Bronx, Queens, etc., they're already developed to the point where they're expensive so people are now moving to Jersey City or Hoboken as a result," explains Hayes. "Hopefully you'll see that trend happen for cities like Camden City, but that's not going to happen overnight.

… Everything we've learned looking at the economic development literature and all the research is that it takes a long time for areas to grow.

"There isn't an easy solution that the state government can utilize to speed that up," he adds. "It has to happen organically and there's been only limited success with some economic development policies that the state has helped fund cities like Camden

… and how [they've] improved the economic outcomes for current residents."

REVERSING THE TREND
As Siekerka explains, this trend has been building for years as everything is cyclical. "There's probably a decade difference in how [millennials versus previous generations] mature, in terms of their patterns of conduct: their commitment to jobs, to settling down to relationships. Baby boomers and even Gen Xers, they settled down in their 20s—millennials don't. They settle down more in their 30s.

"What has yet to be seen is if this generation is going to migrate back to the suburbs once they start childbearing and their childbearing is 10 years later than child-bearing was a generation ago," she adds.

Locally, DiNatale notes he has seen a fair amount of his sons' friends migrate back to their South Jersey hometowns once they've reached their 30s. "[They] have gone through renting and now they're looking to settle down, have gotten married and they're moving back to Voorhees. I know a lot of them that have actually moved back because they had a great experience here and they love the schools."

Our area's public schools can play a key factor in enticing millennials back, which gives the state an advantage and could potentially slow down the pace of this exodus. Policy interventions, as Hayes explains, are another advantage for the state. "You're seeing the state investing more money and time into South Jersey cities like Atlantic City, trying to help take over and provide them resources to help those areas grow economically."

In Camden, one business in particular is leading the charge for startups. Penji, an unlimited graphic design service, has called Camden home since 2017 and has helped usher new startup businesses into the fold. "Camden has a lot of revitalization going on," explains Penji's CEO, Khai Tran. "The downside of that is there is no one here to offer jobs. … There's no proven model [here] so that's why we decided to be the first startup to actually work in Camden."

With a business model of hiring local students as interns, training and eventually hiring them, Penji also offers networking opportunities by way of events and conferences, which in turn, creates a buzzing interest in the waterfront. "For the city to grow, it's not a short-term plan and it's not a plan that one organization like us could magically make things happen," says Tran. "Our goal is that within the next three to five years, the city starts to gain momentum, other organizations join the city and over time, it can be the next startup hub on the East Coast."

Rebecca Ting, NAI Mertz's vice president—office division, also believes the city has potential. "The Camden Waterfront represents a good opportunity to develop a buzzworthy neighborhood that would attract millennials. It's got potential to be a work-live-play community," she explains, as proven by the city's recently announced 11 Cooper project, a planned mixed-use development offering market-rate and affordable apartments, along with street-level retail space.

"If the early returns on all the development in Camden are positive, it could gain momentum because it's just a train stop or two from Center City," she adds, "and will presumably offer much cheaper housing options than Philly."

WHAT LOCAL TOWNS ARE DOING
Several areas where organic growth is starting to show are towns situated along the high speed line—thanks to recent and current revitalizations.

Out in Voorhees, the town is working to transform the former Echelon Mall. "We're trying to convert this old, tired mall into something where my kids or that generation would want to come and hang out rather than going into Philadelphia," says DiNatale, adding there are talks of including an Xfinity Live! within its food court, along with microbreweries and updated food spots. "Voorhees is very fortunate because we're on the high speed line," he adds. "What we have is an opportunity for millennials to live, play and work in Camden or downtown Philadelphia [by] hopping on the high speed line."

Other towns, as DiNatale mentions, that are reimagining their communities include Collingswood, Marlton and Somerdale. "They seem to be the most progressive towns—[that] doesn't mean there aren't other towns trying to do it— but I think those are the ones beyond thinking about it and they're actually either further along than I am or not quite as far as I am, but they're moving in that direction."

Ting adds that among the South Jersey towns, Collingswood is proving to be a mecca for millennials. "It's walkable with a vibrant downtown, lots of community activities and has the train to Philly. Haddonfield and Moorestown have similar characteristics, but I think housing costs would be a barrier for entry for most millennials."

As for where local millennials are situating themselves today, some are migrating to those very spots. Haddon Township native Robert Mello Jr., 34, and Mantua Township's Samantha Mello, 27, bought their home in Haddon Township last June, choosing the area based on familiarity, proximity to both their jobs and its overall appeal. "It is close to the city of Philadelphia, great restaurants and shopping and it is a close-knit community," explains Samantha.

Brad and Katie Cosey, 32 and 31, respectively, also purchased their first home last summer in Barrington. "We liked the small-town feel and the accessibility to both 295 and Philadelphia," they explain. "It's quiet and family-oriented. We love South Jersey and all of our family is located in this area."

Yet, for some millennials, that type of community just doesn't equate to the city landscape, as Samuel Cordaro, 33, a current Mount Royal resident, is gearing up to move back to Philadelphia. "I just miss the city life," he says. "It's nice having it nearby and we can go in very easily, but there is no substitute for living there."

While there is no quick fix to the state's millennial exodus, experts including Siekerka believe this issue needs to be on everyone's radar. "Whether it's a town looking to attract [millennials] to live there or it's a business looking to attract them to a work environment, pay attention to what they're looking for, lean into it and start providing it for them," she states. "People have to be honest about the type of housing stock that this generation wants and look to re-create it as communities turn over.

"[It's] the pure concept of supply and demand," she adds. "There is a pent-up demand out there for a certain type of product and a certain type of price point. How are we going to make that happen?" That's a question that remains to be answered, and hopefully one that can be solved before the next generation grows up.


Published (and copyrighted) in South Jersey Magazine, Volume 15, Issue 3 (June 2018).
For more info on South Jersey Magazine, click here.
To subscribe to South Jersey Magazine, click here.
To advertise in South Jersey Magazine, click here.