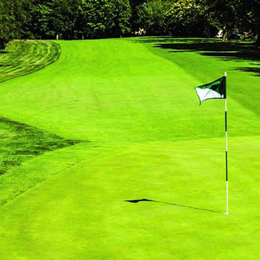 Beach Clubs
We head down the Shore to get an inside look at some of the area's top golf courses.
Atlantic City Country Club
What's New: The club will introduce a new golf simulator facility this month, open to the general public. In addition to three state-of-the-art simulators, the space will also offer shuffleboard and ping-pong.
"First and foremost, I can honestly say that the staff is what truly makes Atlantic City a great place and keeps me coming back. Atlantic City forces you to battle the elements that go along with coastal weather. Another one of my favorite things is the history that the course has not just locally, but for the game itself," says member Nick Rosetti.
Avalon Golf Club
What's New: A new patio by the 18th green with a bar and light menu debuted last season. The club has also added a championship tee to the fifth hole and an extra tee on the eighth hole to give a different view.
"We get a lot of play because we are a public course, but the course is always in good shape," says Jon Werley, a member for 37 years.
Ballamor Golf Club
What's New: Mike Burke is now over- seeing the golf operations at Ballamor, as well as sister course Atlantic City Country Club. The club also has a new food and beverage manager, Steve Chalako, who has worked to update the menu offerings. "Ballamor is, I think, one of the most underrated courses in the area.
It is a hidden gem that most golfers from out of town are unaware of. This course is always in pristine condition and the layout offers something different than surrounding courses as you wind your way through the secluded woods," offers one member.
Blue Heron Pines Golf Club
What's New: Blue Heron Pines is offering a new summer membership program and is paying special attention to the course conditions. They recently obtained new mowers to increase the consistency of the rough, as well as other new equipment to help improve greens conditions. "After a fantastic round of golf at BHP, you are doing it wrong if you do not come into Seven Tap Tavern and have some of chef Jorge's homemade Caribbean bruschetta. There is no better way to relax than with this refreshing, tasty snack after a summer round of golf," opines one member.
Greate Bay Country Club
What's New: Chef Ulrich Lohs has been ele- vated to the position of executive chef and Derek Watts is the new chef de cuisine. Steve Furman joins Greate Bay as the new executive director of hospitality operations. Other new hires include Scott Dunn as director of player development/ sales, J.C. Boggs as outside supervisor and Matthew Carter Thornton as first assistant. In addition to the many new faces, Greate Bay has installed a new draft system in the bar area featuring local craft selections, and the Bay Room and upstairs patio have been completely renovated.
Harbor Pines Golf Club
What's New: Harbor Pines has a new mobile app that alerts you to specials, allows you to use the on-course GPS or to make instant tee times 24/7.
"The greens are in fantastic shape. They run smooth and quick with a lot of undulation. The aprons are soft and the greens are firm, so care- fully calculate your approach shot to stay out of trouble. As for the clubhouse, they treat me like family and I hear the same from other members and public players," says member Ray Hendrix.
Hidden Creek Golf Club
What's New: The club has added eight new forward tees to offer another option for women, juniors and higher handicap players. Hidden Creek has also begun con- struction on a new instruction facility and they have increased the size of the exist- ing chipping green. Furthermore, a fire pit on the Grille Room patio is being built. "Hidden Creek offers 18 incredi- ble holes, each offering something that makes you wonder if it's the best hole on the property. The clubhouse, equally stunning as the course itself, offers the perfect place to unwind after a great walk—regardless of what the scorecard reads," says member Dan Bogdan.
Linwood Country Club
What's New: Linwood's board of direc- tors sold the 97-year-old club to the Dougherty family, the owners of popular A.C. restaurants Dock's Oyster House, Knife and Fork Inn and Harry's Oyster Bar. In addition, Jeffrey Bonicky has joined the club as its new golf pro. Linwood is also the only club in South Jersey to offer you the chance to surf the turf on a GolfBoard—a surf-inspired motor- ized golf vehicle.
"It's a very couples-friendly club," says mem- ber Aaron Domenico. "My wife and I play together and have met wonderful couples who've become friends. We also like that all rounds are less than four hours and the greens are small and the yardage require- ments are not difficult. It's a really enjoyable course to play."
McCullough's Emerald Golf Links
What's New: Eight new forward tee boxes are being constructed on the course, shortening the course to a total of nearly 400 yards. Over the winter, hurricane shutters were installed on the new deck.
"The golf course is always in great shape and the staff is always accommodat- ing," says Mike Unger, a member for five years. "There's always something to do and you see not only a lot of familiar faces, but new ones as well."
May's Landing Golf and Country Club
What's New: A new ladies league has started on Thursday nights, from 4:30 to 6 p.m.
"The course is very playable and the staff—both the pros and the people in the clubhouse—make it a lot of fun to be around," says Sue Hogan.
Sea Oaks Country Club
"Sea Oaks is the kind of place where you are immediately accepted as a member of the 'group' by just showing up. At the bar, the range or on the course you are welcomed as part of a group where relationships form quickly and last forever. There are no strangers at Sea Oaks and no one is left behind by this group of great people," says one member.
The Shore Club
What's New: Formerly known as Wildwood Golf and Country Club, new owners have rebranded as The Shore Club, which means plenty of changes on the horizon. Phase 1 of the makeover includes the refurbishment of the clubhouse lobby, the building entrance and driveway, and Grand Ballroom. Also new to The Shore Club this year is Matthew Pogozelski, who was hired as the club's general manager. Pogozelski comes to The Shore Club from Trump National Golf Philadelphia where he served for eight years as food and beverage manager.
Twisted Dune Golf Club
What's New: Nate Strei has joined Twisted Dune as the club's new superintendent.

Published (and copyrighted) in South Jersey Magazine, Volume 15, Issue 2 (May 2018).
For more info on South Jersey Magazine, click here.
To subscribe to South Jersey Magazine, click here.
To advertise in South Jersey Magazine, click here.