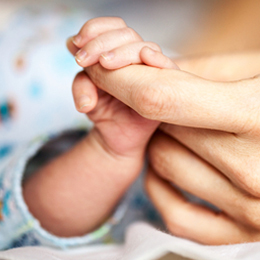 Helping Hands
Those who struggle with infertility are far from alone.
Whether it's in your near future or more of a long-term plan, if you're thinking about having children at some point in your life, then you may also be thinking about fertility. Or, perhaps you're not. After all, oftentimes the topic of fertility—or more specifically, infertility—doesn't actually arise until one faces a struggle. And at that point it's easy to feel alone, afraid, and overwhelmed. But it doesn't have to be that way.
The truth is, the field of fertility medicine has made vast strides that have made it possible to provide help—and hope—to most patients. And there's no reason why the topic has to feel taboo.
"It can be an intimidating and daunting process to start looking into fertility options," says Dr. Lauren Weissmann of South Jersey Fertility Center. "But it's important to know that many of these issues are very common, even if not necessarily talked about. You might feel alone, but you are not."
There are typically four areas that will be evaluated when it comes to assessing fertility: the ovaries, the uterus, the fallopian tubes, and the male's sperm.
"Our testing would include evaluating the ovaries and how they function both with blood work and an ultrasound," explains Weissmann. "It also involves looking at the cavity of the uterus as well as the uterus itself with a simple test performed in the office. We may also perform an X-ray test to look at the fallopian tubes and make sure they are not blocked or damaged in some way. Finally, we'll also perform a semen analysis."
Testing can be relatively simple and quick. Males can produce a semen specimen at home and drop it off and women are able to have all the testing done within a couple of weeks, depending on where they are in their cycle. There's no question that the interest in egg freezing has continued to rise. Dr. Daniel Kaser of Reproductive Medicine Associates of New Jersey says that as more women learn about the profound effect that age has on fertility, they want to learn about what tests are available to assess their fertility status, along with what is involved in fertility preservation options like egg freezing.
Dr. Louis R. Manara, medical director at the Center for Reproductive Medicine and Fertility in Voorhees says that while patients are very eager to know if egg freezing will work for them, there is a "sweet spot" when it comes to timing.
"If a patient is looking to pursue egg freezing for a purpose of preserving child bearing— and they are not undergoing cancer treatment or a medical procedure that would impact fertility—then I would typically advise that they wait until their 30s," Manara says. "If it's a patient between the ages of 28 and 35 and they are concerned about not having found a partner, I would urge that life can change dramatically in that time and it's likely you'll never need those eggs. However, if a patient is 35 or older, the egg quality will begin to decline. I would say 35 is the sweet spot for egg retrieval and freezing."
Kaser stresses the importance that there is no one test that can predict infertility, but there are several that estimate the remaining egg number in the ovaries. Currently, the best test to estimate the remaining egg number can be done with a simple blood test called anti-mullerian hormone (AMH).
More Exciting Advances
Besides delaying one's family with egg freezing, there are other exciting advances in the field of reproductive medicine. The success rates for in vitro fertilization (IVF) have continued to rise, mainly attributed to technical developments in the field like blastocyst culture, genetic testing for the embryos called comprehensive chromosomal screening (CCS), and frozen embryo transfer.
"With CCS," Kaser explains, "we can be confident in transferring a viable embryo back into the uterus and dramatically improve the chance of pregnancy and reduce the chance of miscarriage. We routinely perform CCS testing for IVF patients, which maintains exceptionally high ongoing pregnancy rates while trans- ferring fewer embryos."
Indeed, with CCS and other developments, single embryo transfers are on the rise. And that is a good thing. Kaser assures that "patients no longer have to worry about twins or triplets through IVF," which is important because a multiples pregnancy can have serious complications for both mother and baby.
Another exciting advance in the state of New Jersey comes in the form of new legislation. A new statute that has been advanced would enable individuals to enter into agreements for surrogate parenthood via gestational carriers. This could potentially be big news for women with recurrent miscarriage, uterine factor infertility, medical problems that would prevent safely carrying a pregnancy and same-sex male couples in the state of New Jersey who are looking to work with a third party for IVF.
Published (and copyrighted) in South Jersey Magazine, Volume 15, Issue 2 (May 2018).
For more info on South Jersey Magazine, click here.
To subscribe to South Jersey Magazine, click here.
To advertise in South Jersey Magazine, click here.