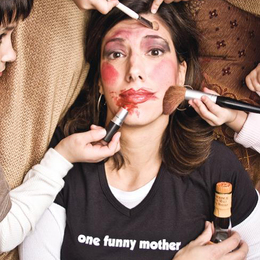 Wonder Wo-mom
It's Mother's Day—just hand me my wine and a cape.
I wish I had a cape. It would make those moments when I've had to stick up for my kids seem so much cooler, instead of feeling like a loose cannon.
Every mom has had those moments, right? Those moments where instead of "thinking" about what you should do you just react—like a mama bear. When it happens, we feel like a raving lunatic but chances are we've just hit our limit. I believe my kids should learn hard lessons sometimes, but when those moments feel instinctively uncomfortable, even for me, as a parent, I react.
That's what happened a few weeks ago in a CVS parking lot. I have three kids and my daughter, Brooke, has some special needs. It always feels weird saying "special needs," but I frankly haven't figured out a better way to say it yet, so it is what it is.
She has ADHD, anxiety, OCD, a processing disorder and a learning disability. She has difficulty remembering and compre- hending information, as well as issues with executive functioning skills (organizing, sequencing). It's taken me years to even figure it all out. We've spent years fighting for her in private schools, we moved our entire family five years ago to get her into a better school district and we've spent thousands of dollars on trying to get her tested, vision therapy, advocates and tutoring.
Why am I mentioning that this Mother's Day? Because my breakdown at CVS is all I've been thinking about for the last few weeks.
To briefly sum up my moment: I left a meeting at my daughter's school heart-broken, tired and feeling quite helpless. That part was not a surprise. I had done that tons of times before; leaving the parking lot crying, feeling lost and not really sure who to talk to about it. It's what I did next that has stuck with me. I was crying so uncontrollably (which is not really like me), I had just hung up with my husband and I went live on Facebook.
I'm not sure why. I mean, I go live on Facebook often with videos celebrating the funny, ridiculous sides of motherhood. But this was not funny. It was actually awful. In that moment, I just felt like I couldn't be the only mom who cries in parking lots after IEP discussions. So, I went live.
I don't remember much from that broadcast. Frankly, I can't watch it without starting to cry. It feels like an out-of-body experience. I have never exposed that part of my life in such a raw way and even while it was happening, I wasn't sure it was a good decision.
What followed was surprising, sad and touching. Since then the video has been viewed over 300,000 times and I have received hundreds of emails from other moms and dads sharing their experiences with IEP meetings and managing their child's educational experience and sadly, how many of them have cried in their cars.
I think I used to measure my motherly skills by a different scale. I know I am a great sleepover host, I can make home- made popcorn like a champ and my laundry skills ensure that everyone will have clean underwear (most of the time). But raising a child with special needs has been a challenge. The bar seems so high that I feel like I have to work so hard to feel like I've had any semblance of success. Most days I feel like I work so hard just to maintain. Maintain calm. Maintain self- esteem. Maintain motivation. Maintain joy. Maintain that God made you this perfect way for a reason.
I imagine that's what all parents feel like when they are raising a kid who is "a little dif- ferent." Crying in the parking lot didn't make things better … but it showed me how many other parents struggle in silence (and in CVS parking lots) with the same issues.
I don't think I've ever appreciated Mother's Day more than this one. Maybe it's because I feel like I'm willing to fight the good fight no matter what, maybe it's because I know now I'm not alone or maybe it's because I've heard from so many lovely mothers and daughters sharing their own stories telling me that after all the crying it will be OK.
I needed to hear it that day, in that CVS parking lot. I needed to hear it that day and every day.
I'm going to continue to share our family's experience with anxiety and learning disabilities because I need to hear it's going to be OK; my daughter needs to hear that she's normal and if we all start talking about it more maybe it won't be some- thing my daughter feels like she needs to hide.
She told me the other day that most kids don't know that she's in special ed, somewhat proud. She's already started saying she would like less help from her aide so that the kids wouldn't figure it out. We talked about how she needs to learn how she learns and that these amazing, wonderful teachers are there to help her if she's strong enough not to care what other people think.
I hope she continues to not care. I hope she finds value in the beautiful, artistic brain she was born with and becomes who she was meant to be. If I can accomplish that, it will always be a great Mother's Day.
Published (and copyrighted) in South Jersey Magazine, Volume 15, Issue 2 (May 2018).
For more info on South Jersey Magazine, click here.
To subscribe to South Jersey Magazine, click here.
To advertise in South Jersey Magazine, click here.