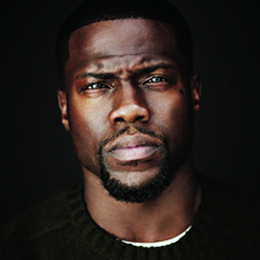 A Laughing Matter
Kevin Hart went from humble beginnings to become the biggest name in comedy, yet he's not even close to being satisfied.
In Hollywood, Kevin Hart is one of today's top comedic actors, stealing scenes regularly from heavyweight co-stars the likes of Dwayne Johnson and Will Ferrell. On stage, he is stand-up comedy's undisputed champ, selling out shows around the world and has been cited by Forbes as the highest-paid comedian, outshining even Jerry Seinfeld. His charm and wit have allowed him to make others smile since he was a young boy, even when his childhood, driven by his overprotective mother and mostly absent father, didn't always afford him the same joy.
But, if nothing else, his experience growing up in the rough streets of North Philadelphia taught him to never give up on his dreams. Hart is concrete proof that with grit, determination and a strong belief in yourself, you can carve out your own path to success, despite humble no-frills beginnings and a myriad of apparent stumbling blocks.
The 38-year-old was born to a "strict, hard-working, bossy single mother," and a "charming, funny and optimistic," but truant father, and yet, for him, it turned out to be a winning combination.
A man who knows how to take truckloads of lemons and turn them into buckets of lemonade, Hart explains how some of his father's "poor judgements" turned into positives. "If my dad hadn't made a lot of those mistakes he made, I wouldn't be in the position that I am today."
By mistakes he means, among other mishaps, bringing him gifts that were not properly purchased and were immediately confiscated when his mother found out.
He explains in his clever and hilarious 2017 best-selling memoir, I Can't Make This Up: Life Lessons,that after his father, Henry, and older brother's repeated run-ins with the law, his mother worried that these and other peer influences would harm her impressionable young son. So, she made sure that he had no idle time that could allow him to get in trouble. Instead of hanging around the neighborhood with friends after school, she insisted that he go to basketball practice and join the swim team and kept an eagle eye on him.
"The timing was so tight that if I didn't catch the bus and the train and make it to swim practice on time, she'd know that I was doing something I wasn't supposed to be doing," he writes in the book. "The schedule she designed didn't have room for anything but hustle. That's where it all began."
On weekends, his mother still didn't let her son out of her sight. If there wasn't a swim meet, he tagged along with her to work, church, shopping, friends' homes and Bible study groups. "There was no escape—no hanging out with friends, no room for any error, no nothing on my own. If it didn't fit into my mom's plans, it wasn't happening."
His mom, often described by Hart as both loving and intimidating, was around to see her son's star rise. She died of cancer in 2007, and he has followed in her footsteps as a doting, protective and loving father of three children under age 13.
After graduating from high school, Hart's first paying job was as a salesman at City Sports on Walnut Street in Center City and his charming, witty and engaging personality gave him a big boost. He began pursuing a career in stand-up comedy after performing at an amateur night at a Philadelphia club. At the time he could barely afford to share an apartment with a friend or buy nice enough clothes to impress the girls he met, but that would soon change.
Starting out in stand-up comedy Hart was well-served by his strict upbringing. His strong work ethic, tenacity and perseverance got him over the hump.
"When you look at the people who get to a successful position in life," he says, "those are the people who became comfortable," accepting repeated rejection, he says. "People who allow themselves to turn around or backpedal from whatever their dreams or goals were, because the word 'no' keeps getting thrown at them, are the people that, nine times out of 10, don't make it."
Hart's first gig was in 1998, at age 19, at the former Laff House on South Street under the name of "Lil Kev." Things did not go well. His career suffered a slow start, as he was booed off stage repeat- edly, once even having a piece of chicken thrown in his direction.
After an early period of attempting to imitate other comedians, he found his own rhythm by delving into his insecurities and life experiences, which has led him to become the superstar he is today.
In Hart's eyes, survival—in a demanding, unforgiving business like stand-up comedy and film acting—is all about being prepared for the mountain of yes's that make up for the mountain of no's. "For me it's this simple: Ultimately, the strong survive and the weak don't."
His sage advice to anyone embarking on a difficult career choice: "Stay true to your dreams regardless of what you're told along the way. Nobody knows you better than you, and take advantage of, and appreciate, what's given to you," he says. "I think it's so [amazing] that I'm responsible for bringing joy to peoples' lives. If I can make people smile, I'm making the world better in my own way. So, that's what kept me going during the tough times.
"I am proof that quitting is not a choice," he says. "I am [for] always wanting to give it my all, always wanting to improve and always pushing the limit. I stay grounded by surrounding myself with grounded individuals. Consistency is the key. Staying focused on reaching goals and being successful is important."
Coming home a conquering local hero has been more than a thrill for Hart, and a true example of this was last July 6, his birthday, which was dubbed "Kevin Hart Day" in the city.
Along with his son, he attended the celebration in North Philadelphia which included the unveiling of a giant mural created by Mural Arts Philadelphia, just steps from his childhood home. The mural shows Hart's likeness and the three words that encompass his philosophy: Live. Love. Laugh.
He spoke, with true gratitude, during his special day about his love for the neighborhood that shaped him, saying he was "blown away" by the recognition, and it is more than likely he will return home for "Kevin Hart Day" this July.
In the meantime, Hart is a busy guy who has standup dates, numerous movies and other projects going on back-to-back.
Among his memorable humorous and animated movies are: Central Intelligence, Ride Along, Grudge Match, The Wedding Ringer and The Secret Lives of Pets.
One of his recent movies, Captain Underpants: The First Epic Adventure, an animated superhero comedy feature film based on the best-selling children's novel series of the same name, by Dav Pilkey, was the perfect vehicle for Hart's comedy.
"I tried to change the name of the movie to Kevin Underpants," he jokes, "but unfortunately nobody else bought it. Ultimately, what was so great about the movie is that we all went back to being a kid again, a time when you have every right and opportunity to be as crazy and as wild as you want to be."
Hart says that he has fond memories of his own fourth grade experiences, that resemble his character of George. "Yes, as a kid I was a prankster. I didn't want to stop laughing; I loved laughing in school and making other people laugh, and in school that's the worst thing you can do in the class is be the funny guy, because then nobody is focusing. Everybody was passing around letters or pulling chairs from underneath the teacher. Or was that just me?"
There's no denying that Hart's star is shining bright these days. Hart is in the midst of an impressive run that will see him on stage from now through Thanksgiving. Area stops include Boardwalk Hall in A.C. on Memorial Day Weekend, Camden in mid-July and Philadelphia in late November. Dubbed the "Irresponsible" tour, it's easy to gather that audiences can expect him to address the headlines he made late last year after being allegedly extorted by a person claiming to have footage of him being unfaithful to his wife Eniko Parrish.
The tour is already selling out, but that's nothing new to Hart. In 2015, he became the first comedian to headline and sell out an NFL stadium (The Linc). After that, he hasn't looked back and gone on to regularly sell out arenas and stadiums from Orlando to Oslo. It was always part of the plan, even when that plan seemed destined for failure.
"I can't lie, and say I haven't dreamed of doing it. When people say something can't be done, that's what makes me want to do it," explains Hart. "The dream of doing stadiums came when I did [the] 'Seriously Funny' [tour in 2009]. At the time people said, 'You can't do this,' so that just made me say 'Watch me do this.'"
Hart says that no matter how much he achieves in his career, his family and close friends come first. "I'm big on relationships, and building trust and rapport with those I work with," he says. "I work with people who collaborate to get the best results in 'our' project. I'm big on being part of a team."
Hart has a daughter, Heaven, 12, and son, Hendrix, 9, from his marriage to his first wife, Torrie. He and Eniko welcomed their first child, a son, Kenzo Kash, last November, and the proud papa has been seen on television and in magazines cooing at his infant son.
"My family is my priority. At the end of the day, nothing else comes first," he says. "Everything I do is for them. I want the legacy of the last name of Hart to hold value and I want to set up something different for my family that we didn't have in the past. I want to break the mold and create a lasting legacy. That is my biggest dream."
For those who call Hart one of the hardest working men in Hollywood, he says the key to juggling everything is never resting on his last victory. "I'm very humbled and appreciative of what I have been able to accomplish thus far in my career, but I'm also not a person to sit back and be content with what I have," says Hart. "At the end of the day I want the name Hart to be something that my kids will always be proud of."
After all of the roller coasters in his personal and professional life, Hart says he loves that the power of comedy brings people from all walks of life together.
"When one can bring an amazing, loving environment simply by making people laugh, it's a powerful thing," he says. "I live by the three L's: Living, Loving, and Laughing. Love is contagious. Laughter is contagious. My being able to deliver that to them is amazing."

Published (and copyrighted) in South Jersey Magazine, Volume 15, Issue 2 (May 2018).


For more info on South Jersey Magazine, click
here
.
To subscribe to South Jersey Magazine, click
here
.
To advertise in South Jersey Magazine, click
here
.