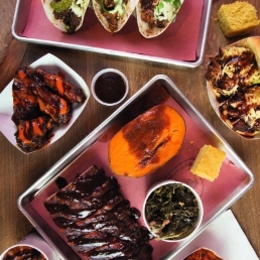 Quick Bite: Oink and Moo BBQ
Barbecue is experiencing a bit of a boom in South Jersey in the Last several years
Barbecue is experiencing a bit of a boom in South Jersey in the Last several years. Once only a Southern staple, limited to big box chains and the occasional dive spot, it's become easier than ever to find competition-quality barbecue all over our area.
One of those new names in town is Oink and Moo BBQ, a unique take on classic barbecue and grab-and-go street fare. And while it may be new to South Jersey, the restaurant has miles of experience already under their belt.
Oink and Moo got its start as a humble food truck in 2012, traveling through New Jersey and making its way into the New York City and Philadelphia markets and earning a bit of local celebrity in the process. Owner and creator Josh Sacks' single truck quickly grew into a fleet of three vehicles, as well as his first brick-and-mortar location in North Jersey's Florham Park in 2015. Their new Voorhees location followed two years later in 2017, establishing the restaurant as South Jersey's newest spot for smoked and slathered fare.
While classic barbecue stands front row center, Oink and Moo sets itself apart by drawing from its roots as a food truck. That means you'll find ribs and pulled pork alongside grab-and-go snacks like tacos and chili.
The Oink and Moo sliders give you a taste of brisket and pulled pork, both of which are hickory smoked, slathered in house-made barbecue sauce and finished with chopped cole slaw. It was difficult to differentiate between the two meats, as both came topped with the same flavors, but there was no lack of smoky, hickory flavor. The cole slaw was a much-needed addition, as the meat was a bit dry, and it added some moisture to each bite.
The Trifecta tacos served up one of each taco on the menu and benefited from three totally different flavors, which was where the sliders suffered. The pulled pork taco came finished with a sweet and tangy pineapple barbecue sauce and a lighter cilantrolime cole slaw, which again helped add some moisture to the dry pork. Skirt steak tacos came with seared, well-seasoned beef, finished successfully with slaw and a vibrant, slightly spicy chimichurri sauce. The star amongst the tacos was the chipotle chicken option, as the chicken was tossed in a rich chipotle sauce and livened up with pickled poblano peppers and a chipotle-lime sour cream.
A plate of smoked wings are tossed in your choice of sauce, including barbecue, spicy honey and their signature "Moo-Tang" sauce. I opted for a classic Buffalo sauce, and while the Buffalo itself was lost, the wings did not disappoint. They were massively meaty and the smoke penetrated through each bite.
If you ask me, the pièce de résistance of any barbecue joint are the ribs, so of course a half rack was necessary to wrap up the entrées. Like the chicken wings, Oink and Moo doesn't mess around with size, serving up hulking ribs that were hickory smoked and served dry, though you can request the barbecue sauce of your choice. The ribs were moist and tender, with a punch from lots of pepper. The attention to detail shone through and made them the standout of the evening.
One of the highlights of any barbecue meal is the sides, and Oink and Moo sticks with tradition with their mac and cheese, greens and baked beans. The mac and cheese was baked and nicely cheesy, but was missing that creaminess I've come to love with home-style spins on the classic comfort food. Meanwhile, the baked beans came with a thinner sauce than traditional beans, but were still packed with flavor from fresh and well-balanced ingredients. The highlight came from the greens, which incorporated both kale and collard greens in a pork-based stock that was loaded with shredded pork in each bite. It was a smoky and salty concoction that was like an elevated take on traditional collards.
While a small menu works for a food truck, the limited selection of meats, repeated in one variety or another across multiple meal options, was a bit uninspiring in a restaurant setting. I'd like to see more options like the ribs and some slab meats for a sit-down setting. That being said, Oink and Moo excites with unique plates and still manages to do the classics justice. There is plenty of potential as this up-and-coming chain continues to grow, and it should be interesting to see where these
new opportunities take the menu.
Oink and Moo BBQ
910 Haddonfield-Berlin Road | Voorhees
(856) 282-7630 | OinkAndMooBBQ.com
Photography by Alison Dunlap
Published (and copyrighted) in South Jersey Magazine, Volume 14, Issue 11 (February 2018).
For more info on South Jersey Magazine, click here.
To subscribe to South Jersey Magazine, click here.
To advertise in South Jersey Magazine, click here.